Student Spotlight: Rhasaan Bovell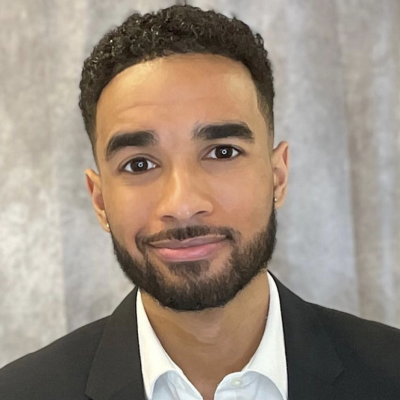 April 18, 2022
Rhasaan Bovell is a doctoral student in biomedical and biological sciences from Silver Spring, Maryland. He attended Yale University as an undergraduate and now studies reproductive science with an emphasis on applications for wildlife conservation.
What is your area of research and why is it important?
My research focuses on reproductive science, with a particular emphasis on applications for wildlife conservation. This work is important because as populations of endangered species continue to decline in both natural and zoological settings, we become increasingly reliant on assisted reproductive approaches (e.g. sperm/egg preservation, artificial insemination, in-vitro fertilization/embryo transfer) to ensure these species' long-term survival. However, successfully employing these approaches in endangered species is exceptionally challenging, highlighting the need for better understandings of how these animals reproduce in nature and how we can best increase their chances of producing viable offspring while under human care.
What are the larger implications of this research and what is its impact?
The big picture significance of this type of work is that it can serve as a last hope for species on the brink of extinction. These interventions, in combination with upstream policy initiatives that increase protections for these animals and their natural habitats, can help to reverse the damage humans have long caused to their environments. The status of a single species can drastically affect the health of an entire ecosystem, and by ensuring the perpetuation of native species, even those for whom all hope may seem lost, we can begin to restore ecosystems to more natural states.
How did the idea for the inaugural Black Excellence Research Symposium come about and what did it take to make it a reality?
The Black Excellence Research Symposium was the brainchild of Andrea Darby and Breanna Green, the president and academic excellence chair of the Black Graduate and Professional Students Association, respectively. When they put out a call for planning committee members, I knew immediately that I wanted to help make their vision a reality. Serving on the planning committee allowed me to engage with students all over campus, as well as faculty and administrators across Cornell's academic departments. My biggest task was advertising the event and recruiting student speakers, but other members tackled departmental collaborations and sponsorship, logistical considerations, graphic design, and faculty engagement.
Is there anything else you'd like to share about the experience of helping to organize this symposium?
Planning a symposium in a matter of weeks was certainly a challenge, especially when coupled with the uncertainties of the pandemic, but in spite of the obstacles, I'm very proud of the planning committee and the work that went into making this event a success. We really wanted to showcase Black researchers at all levels and from a variety of fields, and I'm grateful to all of the students who were willing to share their work, as well as our keynote speaker, Dr. Amal El-Ghazaly, who offered an amazing faculty perspective on the transitions from undergraduate to graduate to postdoctoral research. Finally, I'm grateful to everyone who came out to support our speakers, and I'm excited for this event to continue in the future!
What are your hobbies or interests outside of your research or scholarship?
Research has been pretty all-consuming, but I'm making more of an effort to create a life outside of the lab/classroom. To that end, I've been trying to explore Ithaca's food scene. I love to eat, and I think broadening my palate is a great way to experience other cultures and push myself out of my comfort zone. Outside of food, I am always on the lookout for new experiences. Ithaca is very different from my hometown, but I've used that to try things I would not have done otherwise. I've enjoyed some of these experiences more than others, but they all offered new insights and perspectives that I will take with me wherever I go next.
Why did you choose Cornell to pursue your degree?
I chose Cornell because it offered me a unique opportunity to conduct research that is jointly mentored by investigators in Ithaca and at D.C.'s National Zoo. As a researcher interested in applying my science toward wildlife conservation, I can't imagine a better opportunity than working directly with endangered species and experiencing firsthand how real-world conservation scientists tackle the challenge of reproduction in high-stakes settings.