Students, Alumni Discuss Anti-Asian Racism and Allyship
October 15, 2021
By Katya Hrichak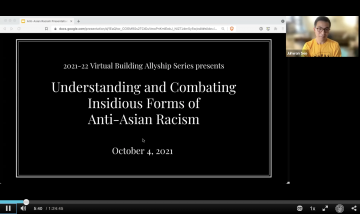 Anti-Asian racism has been brought to the forefront in recent months, but its history in the U.S. extends much further back. A panel of graduate students and Cornell alumni gathered on Oct. 4 for a discussion about anti-Asian racism and allyship.
The session, "Understanding and Combating Insidious Forms of Anti-Asian Racism," was part of the Building Allyship Series, which provides Cornell community members the opportunity to engage in dialogue and become critical allies.
"We want to acknowledge that real change begins with changing our perspectives," said organizing committee member and biomedical engineering doctoral student Marguerite Pacheco. She introduced moderator Juhwan Seo, sociology doctoral candidate, who then provided information about anti-Asian racism and proposed ways in which individuals can support their Asian peers and colleagues.
Key takeaways from the session are below, but those interested in learning more can watch the event recording.
What should we know about anti-Asian racism?
The forms of racism vary by individual as there is broad diversity among those identifying as Asian and Asian-American.
This diversity makes stereotypes, including the "model minority" stereotype, harmful as well as exclusionary.
"Asian" and "Asian-American" can refer to individuals of East, South, Southeast, Central, and West Asian descent.
What are some forms of anti-Asian racism?
Interpersonal forms include microagressions, bias and discrimination, violence, and hate crimes.
Community-level forms include neighborhood disinvestment, surveillance, policing, and voter suppression.
Structural forms include issues of discourse, immigration policy, health care, economy, and global geopolitics.
What can individuals do to combat anti-Asian racism and serve as critical allies?
Aspiring allies can understand and remind others that there is not one singular type of Asian or Asian-American individual.
Students and instructors can reach out to peers and colleagues to offer support proactively rather than in reaction to an event, such as the 2021 Atlanta shootings.
Instructors can recognize when correcting a student's grammar and structure that recommending the writer consult a native English speaker can be harmful.
All members of the Cornell community can look out for and speak up against more subtle forms of anti-Asian racism, such as not being able to distinguish two students, mispronouncing students' names, and assuming that all Asian and Asian-American students speak the same language
Aspiring allies can engage in bystander intervention training and continue to engage in opportunities to expand their awareness and learn strategies for combating anti-Asian and other forms of racism, discrimination, and violence.
"We don't want to tokenize experiences of Asian scholars. It's critical that we respect each others' experiences in history," Seo said. "We hope that hearing from the panel can help you understand our experiences and how you can be an ally."
Panelists included Clement Chow '03, Ph.D.; Elvisha Dhamala, Ph.D. '21; Jason Marvin, biomedical engineering doctoral candidate; Kavya Krishnan, soil and crop science doctoral candidate; and Vinh P. Pham, comparative literature doctoral candidate.
The next session of the Building Allyship Series, "Marginalization and Racialization of International Scholar Identities within a U.S. Context," will take place on November 18 from 12:00 – 1:30 p.m.
Initiated by the Graduate and Professional Student Assembly Diversity and International Students Committee, the Building Allyship Series is a collaboration of the Graduate and Professional Student Diversity Council and the Graduate School Office of Inclusion and Student Engagement. The Society for Asian American Graduate Affairs was also a lead partner for the Oct. 4 session.
Access additional information and resources on the Graduate School's Building Allyship and Practical Steps for Supporting Social Justice & Addressing Inequities resource pages.