Alum Offers Advice for Trans Allyship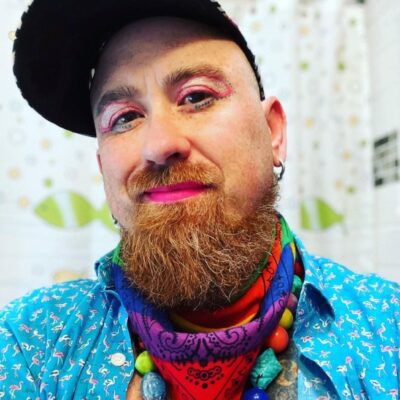 November 6, 2023
By Katya Hrichak
Trans people face discrimination from a variety of sources, including legal action intended to curb their rights, but there are many ways to support the trans community, according to Leo Taylor, Ph.D. '15, who delivered the 2023 Building Allyship Initiative Keynote talk on Oct. 4 in the Biotechnology Building. Taylor's keynote, "Supporting Trans and Nonbinary People During Turbulent Times," shared his story as a trans person and journey to finding his individual allyship approach and provided lessons for aspiring allies to this community.
According to Taylor, in 2023 alone, 574 anti-trans bills have been presented so far in 49 states. Of those, 83 have passed, 125 have failed, and 366 are still active. These bills target gender-affirming care, bathroom use, participation in sports, and choice of pronouns, as a few items on a long list.
In the face of these actions, said Taylor, there are numerous ways for people who want to be allies to support the trans community.
"If there's one thing that I can recommend that you do, one skill that you start working on right away, it's listening. We don't learn how to listen," he said. "Listen not to respond, but to understand, and listen with compassion and suspend all that judgment."
While all aspiring allies can strive to become better listeners, Taylor emphasized that not everyone has to share the same approach to providing support. Some individuals may feel empowered by attending protests and calling or writing legislators, but others may feel more empowered by engaging in dialogue or developing media literacy.
"Allyship is a unique path," he said. "Each one of you should have a very customized approach to how you handle allyship."
To begin finding one's own allyship path, Taylor recommended taking the following four steps: Know yourself, including what motivates you to be an aspiring ally as well as your limits and limitations; learn, both about what you can bring to your allyship approach and about the group you want to support; grow and seek feedback, making positive changes as needed; and engage in consistent self-care, understanding that you must take care of yourself in order to best help others.
"Learn your history," he encouraged the audience. "Follow trans people on social media, read books, read memoirs. Learning about our stories will reveal to you just how unique each person is, and it will identify areas for you to focus on your aspiring allyship."
Anyone interested can watch a recording of the keynote talk on Cornell's Video on Demand.
Initiated by the Graduate and Professional Student Assembly Diversity and International Students Committee in 2019 as a way to increase the understanding and practice of critical allyship, the Building Allyship Initiative is a collaboration of the Graduate and Professional Student Diversity Council and the Graduate School Office of Inclusion and Student Engagement. This talk was co-hosted by QGrads, Cornell's LGBTQ student organization.
Related: