Careers Beyond Academia Expanded for All Ph.D.s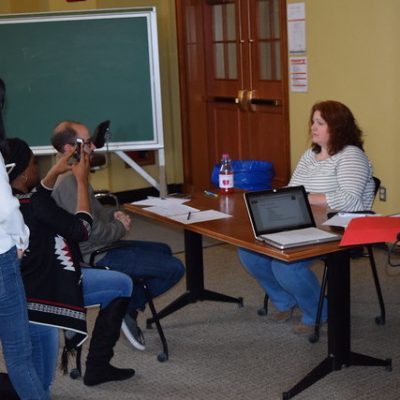 By Katya Hrichak
In the past, the majority of doctoral candidates defended their dissertations, earned their Ph.D.s, and continued on to hold faculty positions. Over the past few decades, however, private sector employment of Ph.D.s nationwide has risen to nearly equal that of educational institutions.
Although many Cornell students still find academic positions upon graduating, the number of graduates entering educational careers has declined over the last 20 years. The Graduate School established Careers Beyond Academia to help doctoral students and postdoctoral scholars from all fields and disciplines explore non-academic careers.
Careers Beyond Academia grew out of an NIH-funded five-year project known as Broadening Experiences in Scientific Training (BEST), which provided opportunities for STEM Ph.D. students and postdocs to explore a variety of employment sectors. Now, as part of the Graduate School, it has expanded to help all Ph.D. students and postdoctoral scholars, regardless of their discipline, build skills for a broad variety of careers.
"Research students learn to dive deeply into their subject areas. They collaborate, communicate, analyze, innovate, and discover new areas regardless of their field. The new unit, Careers Beyond Academia, is helping students translate these skills into careers in industry, non-profit, and government," said Barbara A. Knuth, dean of the Graduate School.
"With this expansion across all disciplines, the Graduate School helps Ph.D.s and postdocs from all fields find future success in both faculty and non-faculty positions. The Center for the Integration of Research, Teaching, and Learning (CIRTL) at Cornell supports faculty career preparation while Careers Beyond Academia supports preparation for careers across many sectors," she said.
Careers Beyond Academia's programs help doctoral students and postdocs become more aware of various career options, explore and test drive potential careers, and develop skills that will empower them long before they enter the job market to excel in their positions.
Whether participants already know what career path they are interested in pursuing or are just beginning the process, Careers Beyond Academia offers small group and individual consultations and programming for all stages. During early stages of career exploration, career panels, round table discussions, and interactive workshops help participants explore options and build confidence and skills. As participants are exposed to various careers and connect with professionals, they might visit an employer, immerse themselves in a shadowing experience, or create their own experiential development opportunity with funding from Careers Beyond Academia.
"We look forward to addressing the specific professional development needs of the social sciences, humanities, and arts while continuing synergies to include all disciplines and adapting lessons learned over the past six years. This expansion is a boost for all graduate students and postdocs across campus and reflects the national conversations that we are all branches from the same tree," said Susi Varvayanis, executive director of Careers Beyond Academia.
More information on where Ph.D.s and postdocs are employed after leaving Cornell can be found on the Doctoral Career Outcomes and Postdoc Career Outcomes dashboards.
Alumni interested in mentoring, attending a career panel or round table, or providing experiential opportunities for graduate students and postdocs can visit the new Careers Beyond Academia website for more information or email gradcareers@cornell.edu.
Katya Hrichak is a communications assistant in the Graduate School.