Alumni Newsletter Spring 2019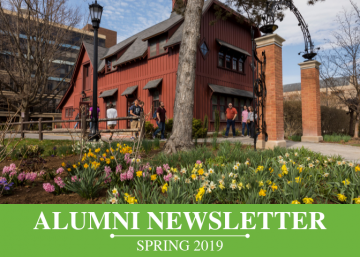 Plant Breeding Graduate Student Wins 2019 3MT
Ten students compete in fifth annual Three Minute Thesis Competition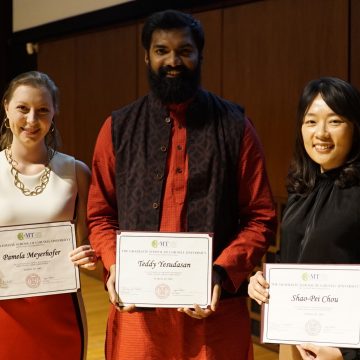 "Growing up in southern India, all I saw were white potatoes, and so when I came to Ithaca as an international student and went grocery shopping for the first time at Wegmans, I was shocked to see potatoes that came in different colors," began Teddy Yesudasan, a research master's student in plant breeding and genetics, at the fifth annual Three Minute Thesis (3MT) competition. Alongside nine other students selected from 22 preliminary round competitors, Yesudasan had to present his thesis research in just three minutes to a…
---
Longtime Big Red Barn Manager Retires
Kris Corda retires from position after 30 years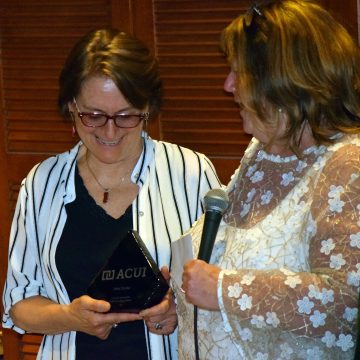 After 30 years, Kris Corda retired from her position of Big Red Barn (BRB) Graduate and Professional Student Center manager in January 2019. Among many achievements during her tenure, Corda created the BRB Fellows program, which effectively expanded the BRB's programming to include events centered on socializing, art and music, culture, and family. In 2018 alone, the BRB hosted more than 200 events. In recognition of her dedication not only to Cornell but to the Association of College Unions…
Read more about Corda's retirement and award
---
Grants Help Graduate Students Do Research Around the World
Students win travel grants to support research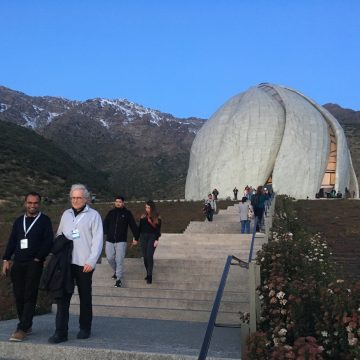 Twenty-six Cornell graduate students won more than $42,000 in the most recent cycle of Research Travel Grants, which provide students up to $2,000 to conduct thesis or dissertation research away from campus. In a typical year, 70 to 80 students receive these competitive grants from the Graduate School. Although many students use their grants to conduct research abroad, some students make use of their award traveling in the United States, sometimes remaining in New York state. For Amanda Davis, a doctoral student in…
---
Alumna Addresses Importance of Mentoring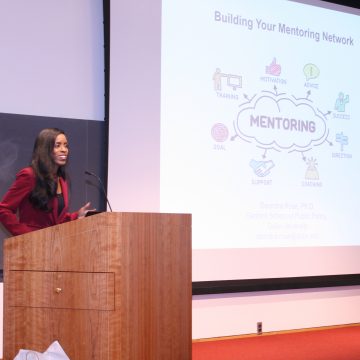 "If you had given me the opportunity to participate in today's seminar when I started graduate school, I would have said, 'I don't need a mentor; I've got it all figured out," said Deondra Rose, M.A. '10, Ph.D. '12. Now an assistant professor of political science and public policy at Duke University, Rose returned to campus to address a roomful of graduate students and postdocs about the importance of mentoring. Rose's talk, the second in the Maximizing Your Mentoring Series, featured humor and anecdotes about the mentors…
---
Using Stories Toward Greater Inclusion
Paired video monologues and facilitated dialogue raise awareness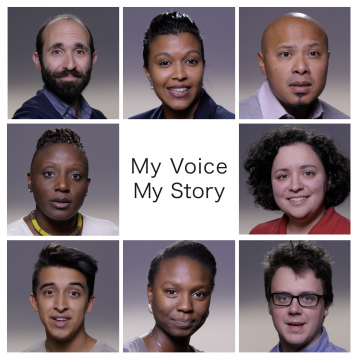 "Our identities affect how we experience the world around us and how others perceive us," said Sara Xayarath Hernández, associate dean for inclusion and student engagement and co-facilitator of the My Voice, My Story (MVMS) session. "Whenever we look at or engage with someone, we make multiple assumptions about their identities and experiences based on our perceptions of them. However, perceptions are not always accurate, not all identities are obvious, and everyone is susceptible to the negative implications of…
Read more about My Voice, My Story
---
From Carriage House to Student Center: The Big Red Barn Over the Years
The evolution of the Big Red Barn from 1874 to 2019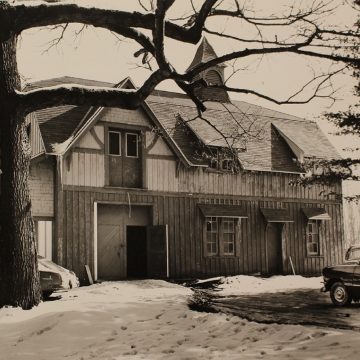 When the Big Red Barn (the Barn) was constructed in 1874, it was unlikely anyone knew how integral it would become to life at Cornell, particularly for graduate and professional students. At that time, its sole function was to serve as President Andrew Dickson White's carriage house and stable. The Barn saw many transformations in its 144-year history, from a shelter for large animals to a cafeteria, an alumni center to a storage facility. It was not until much later that the Barn became the Graduate and Professional…
Read more about the history of the Big Red Barn

Arts & Humanities
John Wyatt Greenlee is a doctoral student in medieval studies who examines cartographic and spatial history in English history.
Learn more about Greenlee's work
Life Sciences
Doctoral student Lory Henderson is researching foodborne pathogen L. monocytogenes in the dairy industry to combat foodborne illness.
Learn more about Henderson's work
Physical Sciences & Engineering
Doctoral student Menansili Mejooli's research uses multiphon microscopy to study the complex interactions and behaviors of live cells within the body.
Learn more about Mejooli's work
Social Sciences
Laura Simmons-Stern, an M.P.S. student, focuses on sustainable international development in relation to climate change resilience.
Learn more about Simmons-Stern's work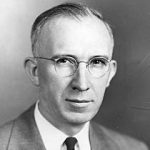 Forrest Hill, Ph.D. '30, Agricultural Economics
Ithaca can sometimes feel far removed from the rest of the world—sheltered, in a way, from larger conflicts and problems. But this does not have to be the case. For Forrest Hill, Ithaca was home, and Cornell was his beloved institution. But that did not stop him from trying to alleviate…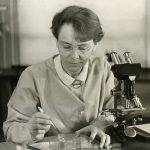 Barbara McClintock, M.S. '25, Ph.D. '27, Botany
In the cultural imagination, the image of the lone genius tends to skew male: the writer clacking away on his typewriter into the night with a bottle of whiskey, the eccentric painter who is single-mindedly devoted to his art, or the engineer who builds a world-changing machine in his garage over…

Changing Your Fixed Mindset into a Growth Mindset
Takeaways from a professional development symposium talk
Catherine Thrasher-Carroll, mental health promotion program director at Cornell Health's Skorton Center for Health Initiatives, spoke on how to develop a growth mindset to achieve success in graduate school and beyond.
Read complete tips from Catherine Thrasher-Carroll

Solar Panels Proposed for 2,000 Bed North Campus Residential Expansion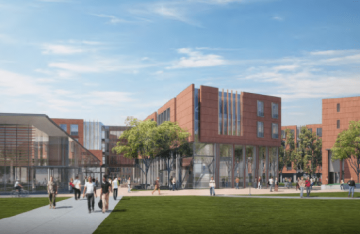 From the rooftops of Cornell's proposed North Campus Residential Expansion (NCRE), the university hopes to gather enough solar energy to offset the new buildings' electricity use by up to 35%, create about 1 megawatt of electricity annually, and further reduce the university's carbon…
---
$1.5M Grant Will Link Dryden and Cornell Trails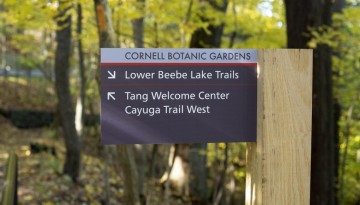 The Town of Dryden has been awarded a $1.5 million grant to help build a critical section of the 10.5-mile Dryden Rail Trail, following the decommissioned Lehigh Valley Railroad that linked Ithaca to Dryden via Freeville. When the rail trail…
Read more about the Rail Trail

Democracy Scholar Wins Guggenheim Fellowship
Cornell Chronicle, 4/23/19
Alumni: Suzanne Mettler, Ph.D. '94
Alumni Reflect on Willard Straight Occupation, 50 Years Later
Cornell Chronicle, 4/23/19
Alumni: Harry Edwards, Ph.D. '73
Ethics Speaker: Effective Team Leadership is an Ethical Duty
Cornell Chronicle, 4/5/19
Alumni: Kristin Behfar, Ph.D. '03
Carol Kim Appointed University at Albany Provost
University at Albany NewsCenter, 3/29/19
Alumni: Carol Kim, Ph.D. '92
Steve Currall Named University of South Florida President-elect
University of South Florida News, 3/22/19
Alumni: Steve Currall, Ph.D. '90
Book Marks Tompkins County's Place in Suffrage Movement
Cornell Chronicle, 2/26/19
Alumni: Elaine Engst, M.A. '72
Study Shows Hope for Fighting Disease Known as Ebola of Frogs
EurekAlert, 2/15/19
Alumni: Anna Savage, Ph.D. '12
Digital Ag is Cornell's Newest Radical Collaboration Initiative
Cornell Chronicle, 2/14/19
Alumni: Susan McCouch, Ph.D. '90 and Mike Gore, Ph.D. '09
Brain Blood Flow Finding Gives Hope for Alzheimer's Therapy
Cornell Chronicle, 2/11/19
Graduate Student: Mohammad Haft-Javaherian
Alumni: Jean Cruz-Hernandez, Ph.D. '17
Study: Mosquitos Can Hear up to 10 Meters Away
Cornell Chronicle, 2/6/19
Alumni: Paul Shamble, Ph.D. '15
Eugene A. Fitzgerald Appointed SMART CEO & Director
Biospace, 2/1/19
Alumni: Eugene A. Fitzgerald, Ph.D. '89
Streaming Chill Vibes? Spotify Data Says the Season is the Reason
Cornell Chronicle, 1/24/19
Graduate Student: Minsu Park
Alumni: Scott Golder, Ph.D. '17 and Jennifer Thom, Ph.D. '10
Green Tea Steeped in Bottled Water Increases Antioxidants
Cornell Chronicle, 1/10/19
Alumni: Melanie Franks, M.P.S. '18