Student Spotlight: Hirokazu Togo
Food Safety for an Equitable Society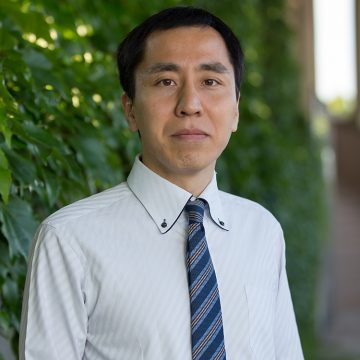 Hirokazu Togo is a master of public health student from Tokyo, Japan. After attending the Obihiro University of Agriculture and Veterinary Medicine in Japan, he chose to pursue an M.P.H. at Cornell with a concentration in food systems for health.
What is your area of research and why is it important?
While a physician treats people who are sick, public health practitioners focus on preventing people from getting sick or injured from the start. Public health achieves this goal by promoting healthy lifestyles, researching disease/injury prevention, and responding to infectious diseases from the community level up to the global level. My particular interest is food safety and how we can prevent food poisoning from happening. This is because food is fundamental for our lives, and through promoting safe food, I want to contribute to an equitable society.
How did working with the New York State Department of Health (NYSDOH) and Cornell Food Safety Center of Excellence complement your work as an M.P.H. student?
During my practicum at NYSDOH in the summer last year, I assessed the performance of the department's foodborne disease surveillance. The assessment was challenging because it required me to have comprehensive knowledge about disease surveillance and software skills to analyze data. I realized, however, that the M.P.H. curriculum equipped me with competence to perform the assessment. I synthesized knowledge and skills that I gained through the M.P.H. program and submitted two high-quality policy analysis reports to the department. This working experience allowed me to put my academic experience into practice and helped me become a competent worker.
What are your hobbies or interests outside of your research or scholarship?
I enjoy playing basketball. Last winter, I and another M.P.H. student joined a vet school basketball competition. I also like playing Shogi (Japanese chess). When I feel tired or struggle with my study, I can change my mindset and refresh my mind by playing Shogi.
Why did you choose Cornell to pursue your degree?
I wanted to study with diverse students with a wide variety of academic and professional backgrounds and to learn from interdisciplinary public health practitioners at one of the top universities in the world. This was because, in a current global society, public health issues are not solved by one individual, one city, one country, or even one discipline. The Cornell M.P.H. program boasts of recruiting diverse background of students to create a transdisciplinary learning environment and collaborating across colleges and campuses that prepare graduates to tackle complex public health issues. For these reasons, I decided to pursue an M.P.H. degree at Cornell.
What is next for you?
Upon graduation this May, I will return to my previous office with the Tokyo Metropolitan Government to take a lead role to promote preventive food safety policy. My long-term goal is to contribute to an equitable society where anyone can enjoy eating foods without any concern for safety not only in Japan, but also all over the world. This idea may not seem like anything special for many people. However, I believe that it is important to ensure the safety of things we as a society take for granted, and it is my role to ensure the safety of food we consume every day by utilizing the knowledge and experience which I gained through the M.P.H. program.