Ten Inducted into Bouchet Graduate Honor Society
By Katya Hrichak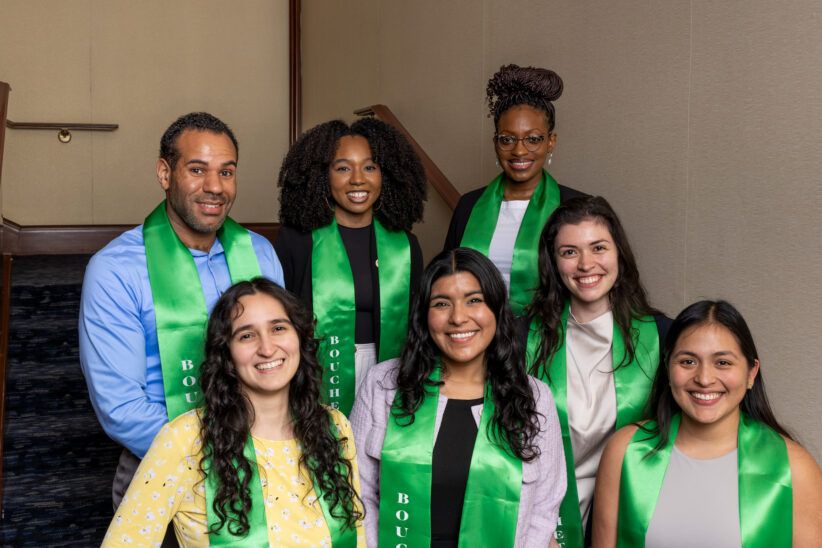 Eight Cornell doctoral candidates and two postdocs have been selected for induction into the Cornell chapter of the Edward Alexander Bouchet Graduate Honor Society.
The Bouchet Society recognizes outstanding scholarly achievement and promotes diversity and excellence in doctoral education and the professoriate. Its network of scholars exemplifies academic and personal excellence, character, service, and advocacy for those from backgrounds historically underrepresented in the academy.
The scholars were inducted at the annual Yale Bouchet Conference on Diversity and Graduate education hosted at the Yale Graduate School of Arts and Sciences campus in New Haven, Connecticut on March 31 and April 1. During the two-day program, eight of the scholars gave poster and oral presentations. Scholars and their invited mentors and loved ones were honored at the Cornell Bouchet Scholar Recognition and Celebration on April 6 at Cornell.
"It was so exciting to be able to celebrate our scholars in person again after several years of remote recognition," said Sara Xayarath Hernández, associate dean for inclusion and student and faculty engagement. "We are incredibly proud of each of our inductees and everything they have done to make Cornell—and academia more broadly—a more welcoming space for all."
Cornell's 2023 Bouchet Scholars:
Olaoluwatoni (Toni) Alimi, postdoc in classics and philosophy
Macy Castaneda, doctoral candidate in mechanical engineering
Verdie Culbreath, doctoral candidate in English language and literature
Stephanie Fuchs, doctoral candidate in biological and environmental engineering
Karla García-Martínez, doctoral candidate in biomedical and biological sciences
John Kennedy, doctoral candidate in romance studies
Zakhary Mallett, postdoc in city and regional planning
Chinasa T. Okolo, doctoral candidate in computer science
Mikaela Spruill, doctoral candidate in psychology
Angie Torres-Beltran, doctoral candidate in government
"Being a Bouchet Scholar means to be a member of a community working toward transforming academic spaces to not only make them more accessible, but to ensure that these spaces and their constituents are committed to operating under a diverse and equitable lens," said Fuchs. "I am incredibly grateful to be invited to join a society whose mission is to advocate for and uplift underserved scholars."
As members of the Bouchet Society, Scholars become part of a broader network devoted to leadership, advocacy, and inclusion. Becoming part of this network is one of the most meaningful parts of being inducted for García-Martínez, as well as other scholars looking to make positive changes in academia.
"I knew going into graduate school that academia was not as diverse as it could be and that left me with two options: either leaving it as it is or leaving it better than it was before," said Torres-Beltran. "I worked toward the latter. I wanted to make sure that diverse students had the necessary resources and support they needed as they navigated undergraduate or graduate school."
Yale and Howard Universities established the Bouchet Society in 2005 to recognize the life and academic contributions of Edward Alexander Bouchet, the first African American to receive a doctorate from a U.S. university. He earned his degree in physics from Yale in 1876.
Outside of the society's founding universities, Cornell was among the earliest universities to establish a chapter of the Bouchet Society, inducting its first members in 2006.