Alumni Newsletter Fall 2021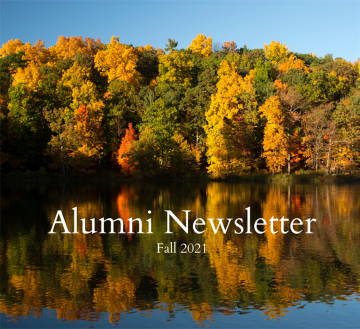 Fall colors at Beebe Lake. Photo courtesy of Cornell University.
---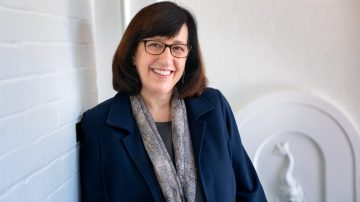 President Welcomes the Cornell Community
Dear Cornellians,
It's been wonderful to see the campus come alive over the past week, as our new and returning students, and so many of our faculty and staff, have arrived and returned to campus. Whether you are here in Ithaca, in New York City, in Geneva, or somewhere else in the world, welcome to all of you! I'm so glad to have you as part of our community, beginning this new academic year together.
After so many months of hybrid instruction, remote offices, and a de-densified campus, returning to a fully in-person semester is a major transition that has taken a great deal of hard work and preparation by all of our faculty and staff—including those who have been working on campus throughout this pandemic.
View archive of President Pollack's statements
---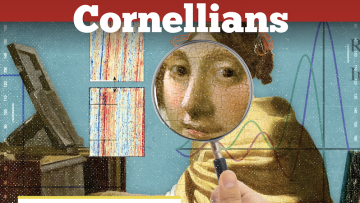 Introducing: Cornellians
Cornell's new alumni hub brings news together in one online format
The new digital-first alumni publication, Cornellians, which replaces Cornell Alumni Magazine (CAM) and Ezra, launched in early October.
This month's featured stories on graduate alumni in Cornellians:
---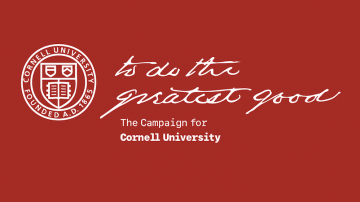 To Do the Greatest Good
Over the next five years, Cornell University seeks to raise at least $5 billion and connect at least 200,000 Cornellians to one another and the university. Together, we will help Cornell remain an educational beacon, a source of solutions, and a bridge to the world.
View the video and learn more.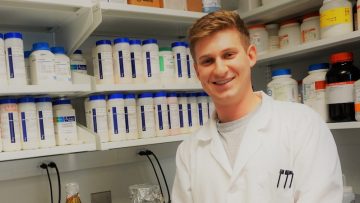 Swiping, Swabbing Elevates Food Safety.
Jonathan Sogin, food science and technology doctoral candidate, develops innovative swabs that use light to detect food spoilage.
In the Emptiness of Space, Voyager 1 Detects Plasma 'Hum'
Stella Ocker, doctoral candidate in astronomy, discovers 'hum' that may reveal structures and properties of interstellar medium.
Platform Teaches Nonexperts to Harness AI.
Swati Mishra, doctoral candidate in information science, researches how to teach nonexperts to use algorithms for machine-learning.
Nearly 1,000 Gather for Conversation on Safer Fieldwork.
Monique Pipkin and Amelia-Juliette Demery, doctoral candidates in ecology and evolutionary biology, develop best practices for staying safe while conducting fieldwork.
---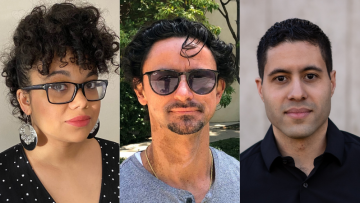 'Lights Along the Path': Bouchet Alumni Give Back
Character. Leadership. Advocacy. Scholarship. Service.
Excellence in these five areas are a prerequisite for induction into the Edward A. Bouchet Graduate Honor Society, but Bouchet Scholars at Cornell demonstrate these traits well beyond graduation. Many Bouchet alumni remain committed to the society and give back by acting as mentors for current students.
Read more about Bouchet alumni.
---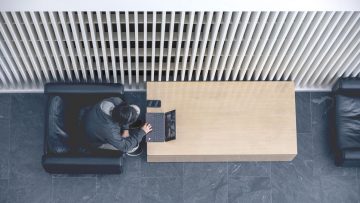 Photo courtesy of Cornell University.
Grants Help Students Present Research Online
Travel plans were on hold but professional development didn't have to be. Andrew Foley planned to attend the Academy of Management conference in Vancouver, Canada, but the pandemic interrupted his plans. Instead, he presented his paper at the conference's online alternative, using Graduate School Conference Travel Grant funding toward associated expenses.
Read more about online conferences.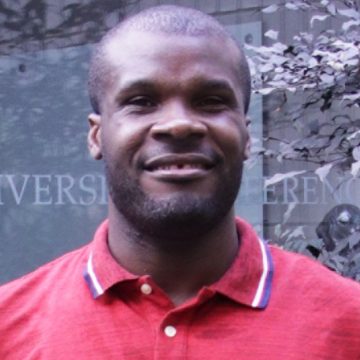 Life Sciences
Improving Diversity of Cassava
Alex Ogbonna, a doctoral candidate in plant breeding, aims to improve crop adaptation in cassava to address global food insecurity.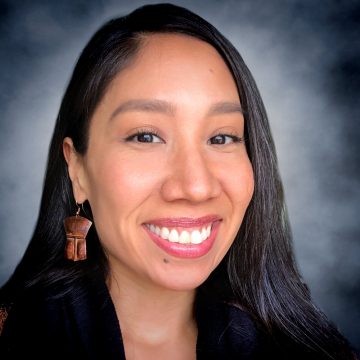 Social Sciences
Protecting Endangered Languages
Charlotte Logan, a doctoral student in linguistics, seeks to strengthen Haudenosaunee language revitalization efforts.
Read more about Charlotte Logan.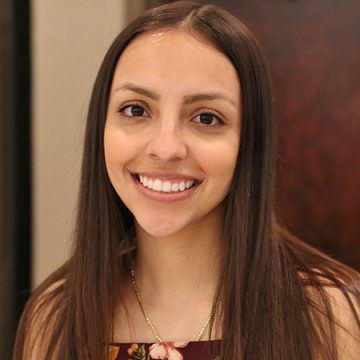 Arts & Humanities
Overcoming Unequal Structures
Lyrianne González, a doctoral student in history, studies the generational and racial legacies of agricultural guestworker programs.
Read more about Lyrianne González.
Physical Sciences & Engineering
Understanding the Origin of Life
Ngoc Truong, a doctoral candidate in geological sciences, studies the evolution of planetary bodies to learn how life originated on Earth.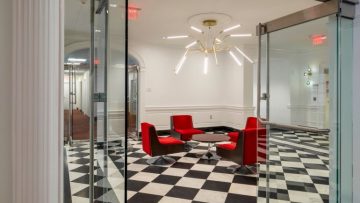 Photo courtesy of Cornell University.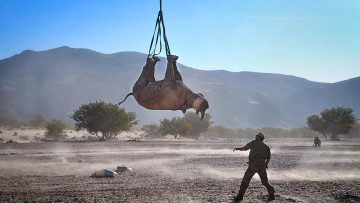 'Upside-Down Rhinos' Study is Latest Big Red Research to Win an Ig Nobel
Cornellians, 11/5/21
Alumni: Julia Felippe, Ph.D. '02; Michael Smith, Ph.D. '17; Raymond Goldstein, Ph.D. '88; John Perry, Ph.D. '68; Daniel Simons, Ph.D. '97; and Justin Kruger, Ph.D. '99
Big Data Can Render Some as 'Low-resolution Citizens'
Cornell Chronicle, 10/28/21
Alumni: Ranjit Singh, Ph.D. '20
Machine Learning Predicts Antibiotic Resistance Spread
Cornell Chronicle, 10/22/21
Alumni: Juan Felipe Beltrán, Ph.D. '19
Sim City for Food Science Takes on Listeria Outbreaks
Cornell Chronicle, 10/14/21
Alumni: Renata Ivanek, Ph.D. '08; Genevieve Sullivan '16, Ph.D. '20; Martin Wiedmann, Ph.D. '97; and Claire Zoellner, Ph.D. '17
Warming Atlantic Forces Whales into New Habitats, Danger
Cornell Chronicle, 9/1/21
Alumni: Erin Meyer-Gutbrod, Ph.D. '16
Female Hummingbirds Look Like Males to Evade Harassment
Cornell Chronicle, 8/25/21
Alumni: Jay Falk, Ph.D. '20; Michael S. Webster, Ph.D. '91; and Dustin R. Rubenstein, Ph.D. '06
Who Reads the Spelling Bee Words?
New York Times, 7/8/21
Alumni: Jacques A. Bailly, Ph.D. '97
Alumna Wins New Mexico Special Election for U.S. House Seat
CALS News, 6/3/21
Alumni: Melanie Stansbury, M.S. '07
See more alumni in the news stories.
Have you seen a Cornell Graduate School alumnus or alumna featured in the news recently?
Let us know, and we'll include the details in the next Alumni Newsletter! Submit your news story.
---