Alumni Newsletter Summer 2020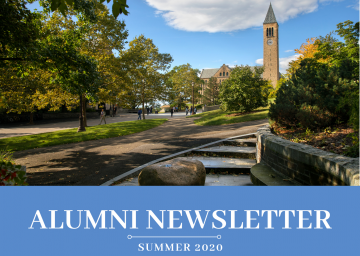 Kathryn Boor Named Graduate School Dean, Vice Provost
Position to include new role of vice provost for graduate education
Kathryn Boor '80, the Ronald P. Lynch Dean of the College of Agriculture and Life Sciences (CALS) and a professor of food science, has been named dean of the Graduate School and vice provost for graduate education, Provost Michael Kotlikoff announced June 8.
Boor's term will begin when her successor at CALS is in place and will run through June 30, 2025. The Executive Committee of the Cornell Board of Trustees approved Boor's appointment June 5.
---
Cornell Plans to Reactivate Ithaca Campus for Fall Semester
Mix of virtual and in-person classes set to begin Sept. 2
The suspense is over: Cornell plans to welcome students back to its Ithaca campus for a fall semester blending in-person and online instruction, confident that decision best serves public health, President Martha E. Pollack announced June 30.
From classrooms to residence halls to dining facilities, no aspect of campus life will be quite the same as before the coronavirus pandemic abruptly forced a shift to virtual instruction in early April, Pollack said in a message to the Ithaca and Cornell Tech campuses.
Read more about Ithaca campus reactivation

The Graduate Community Responds to COVID-19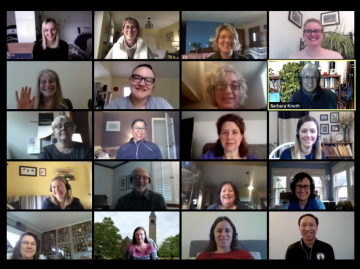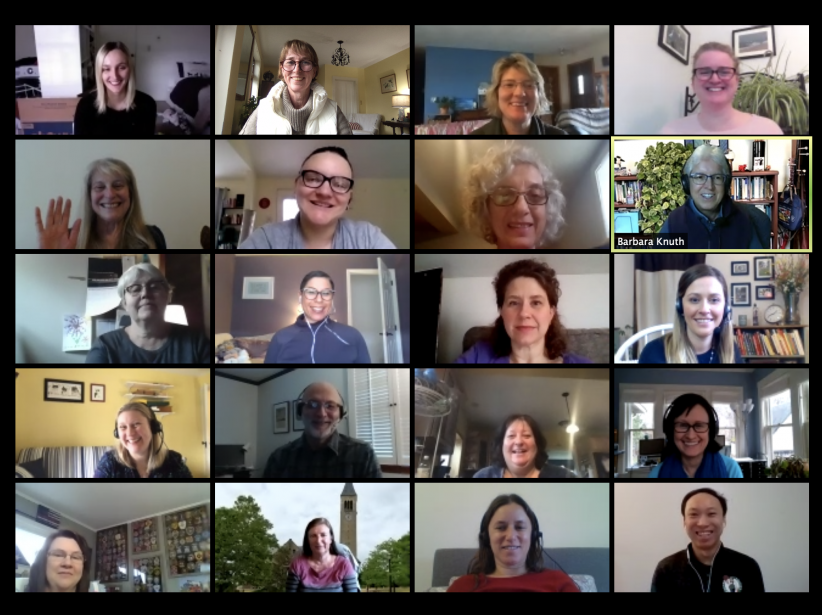 Stories and News
University COVID-19 Information

Leadership Makes Statements Against Racism
University President Martha Pollack:
Graduate School Dean Barbara A. Knuth:
---
Resources for Action and Understanding About Race and Anti-Racism

Supporting All Students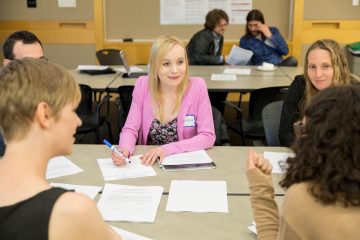 ---
Graduate Students Help Drive Cornell's Research Mission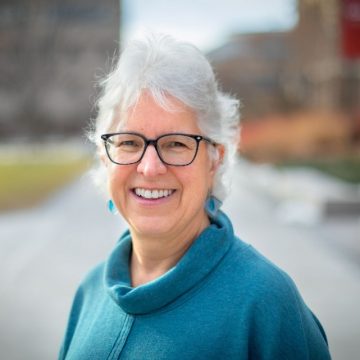 By Dean Barbara A. Knuth
I am inspired daily by the scholarly work of our graduate students. Their innovations and intellectual energy are vital to Cornell's research productivity.
Their inquiry and scholarship span the globe, tackling topics from using the human body's own immune response to fight diseases such as osteoarthritis (Tibra Wheeler, biomedical engineering) to gene sequencing grapevine diseases to improve plant health in Finger Lakes vineyards (Breanne Kisselstein, plant pathology), to applying scientific dating methods to reconstruct the sociocultural history of the prehistoric Caucasus region (Annapaola Passerini, anthropology).
Read more about graduate student research

Arts & Humanities
Exploration of Sight and Sound
Piyawat Louilarpprasert is a D.M.A. student in music from Bangkok, Thailand who explores sonic arts and visual studies to create new compositions with musical creativity and cultural diversity.
Read more about Piyawat Louilarpprasert.
Life Sciences
Tribe Freedom Through Energy
Michael Dunaway is a doctoral candidate in natural resources who finds ways for Native American tribes to determine which renewable resource technology is best suited for their reservation.
Read more about Michael Dunaway.
Physical Sciences & Engineering
New Therapeutic Targets for OA
Tibra Wheeler is a doctoral student in biomedical engineering from Bluffton, South Carolina whose research focuses on understanding the role of the immune response in osteoarthritis.
Read more about Tibra Wheeler.
Social Sciences
Cooperation in Financial Crises
Aditi Sahasrabuddhe is a doctoral student in government from Goa, India who studies the politics of international finance with a focus on cooperation for financial crisis management.
Read more about Aditi Sahasrabuddhe.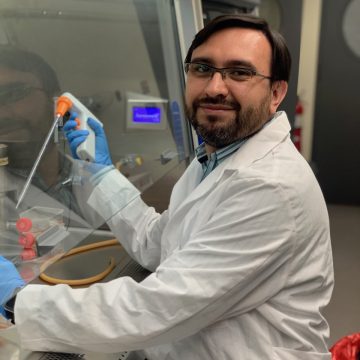 Vaccine Discovery for Coronavirus
Javier Jaimes, Ph.D., is an alumnus of the microbiology program at Cornell. As a postdoctoral scholar in microbiology and immunology, he is studying virology with a concentration on coronaviruses.
Read more about Javier Jaimes.
Program Creation and Education

Brooke Zanetell, Ph.D., is an alumna of the natural resources program at Cornell. Now, she is an assistant professor in the natural resources program at the University of New Mexico-Taos, which she helped to create.
Read more about Brooke Zanetell.
'Speak and Be Heard': Communication Tips from Eliza VanCort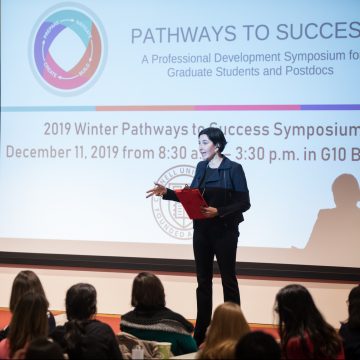 Eliza VanCort, a motivational speaker with a focus on communication, offered graduate students and postdoctoral scholars tips on lifting idea to become better communicators during a Pathways to Success Symposium.

'Connectedness': Cayuga Health Joins Fight Against COVID-19 in NYC
More than 50 doctors, nurses and other health care professionals from Cayuga Health in Ithaca have joined their Weill Cornell Medicine and NewYork-Presbyterian/Weill Cornell Medical Center counterparts to care for New Yorkers diagnosed with COVID-19.
The team from Cayuga Health, which operates Cayuga Medical Center in Ithaca, arrived April 8 by Cornell's Campus-to-Campus bus. Team members have since been receiving on-the-job training in preparation for working in an expanded intensive care unit – one of several that collectively have more than doubled NewYork-Presbyterian's normal ICU capacity – to care for the sickest patients.
Read more about Cayuga Health in NYC
---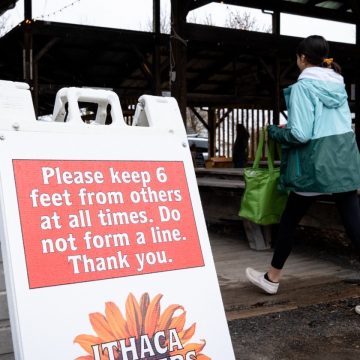 Photo Gallery: Ithaca Farmers Market, From a Distance
The Ithaca Farmers Market (IFM) has been open, with some significant rule changes in place, to help serve the food needs Tompkins County residents during the COVID-19 outbreak that has paralyzed the world.
"Overall, it seemed like people got in, got the groceries, and went on their way, which is a success for us and our vendors," said Laura Gallup, marketing and events coordinator for IFM. "This is totally uncharted territory for us — just like everyone else — but we feel proud and happy to be able to stay open and be a grocery outlet for our community. Many customers noted that the market felt much safer than crowded grocery stores."
View photos from the Farmers Market opening

Startup's Contact Tracing Tech Tracks Workplace Distancing
Cornell Chronicle, 7/28/20
Alumni: Jason Guss, Ph.D. '18, and Apoorva Kiran, Ph.D. '17
Study Finds Food Safety Practices Benefit Small Farmers
Cornell Chronicle, 7/7/20
Alumni: Elizabeth Bihn, Ph.D. '11
Coffman Highlights Cornell Efforts to Protect Wheat Worldwide
Cornell Chronicle, 7/1/20
Alumni: Ronnie Coffman, Ph.D. '71
Cornellian's Dairy Waste Startup Wins NSF Phase II Funding
Cornell Chronicle, 6/17/20
Alumni: Juan Guzman, Ph.D. '17
NYC Mayor Appoints McComas to Climate Change Panel
Cornell Chronicle, 6/12/20
Alumni: Katherine McComas, Ph.D. '00
Film by Alum-owned Media Studio Wins Webby Award
Cornell Chronicle, 6/8/20
Alumni: Jennifer Moslemi, Ph.D. '10, and Marita Davison, M.S. '06
Food Science Professor's 'Instant Ice Cream' Gains Patent
Cornell Chronicle, 5/28/20
Alumni: Michael E. Wagner, Ph.D. '15
See more alumni in the news stories.
Have you seen a Cornell Graduate School alumnus or alumna featured in the news recently?
Let us know, and we'll include the details in the next Alumni Newsletter! Submit your news story.