Donor-Funded Fellowship Helping Doctoral Candidate Improve Grapevines' Climate Resilience
By Katya Hrichak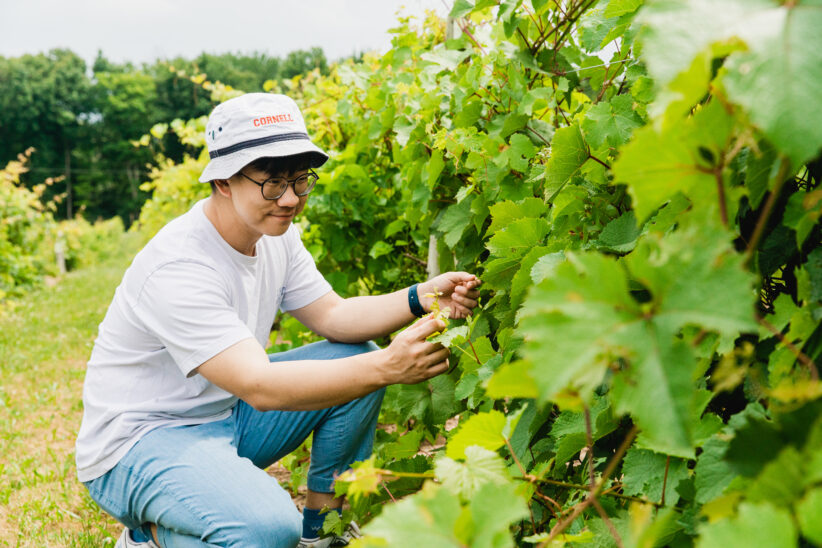 A fellowship funded by an anonymous donor is helping doctoral candidate Hongrui Wang safeguard the future of grape growing in New York state.
Supported by the Bruce Reisch 1976 Graduate Fellowship in Grapevine Improvement, Wang is able to delve into the most pressing research questions about climate-related threats to grape growing. The fellowship was established in 2021 and provides graduate student recipients with tuition, fees, insurance, and a stipend throughout the course of their graduate studies. The gift, named in honor of Professor Bruce Reisch '76, will fund one student at a time in perpetuity.
"The most important aspect of the fellowship is that it allows me to develop research projects based on my interest and my understanding of research gaps with the aim to improve the sustainability of the grape industry," said Wang.
Grapevines are big business in New York. The state's $6.5 billion grape and wine industry employs more than 70,000 people and brings in $1.8 billion annually in tourist expenditures and $1.3 billion in state and local taxes, according to the most recent report from the New York Wine and Grape Foundation.
In his research, Wang creates useful tools that can help grape growers manage their crops. He has incorporated artificial intelligence (AI) to develop an automated grapevine freezing tolerance prediction model. He's also deciphering how genetics influences cold response in grapevines using transcriptomics, which will help grape growers throughout much of the U.S. and, soon, in parts of Canada.
"AI helps us predict, quantify, and even mitigate these threats through analyzing vast amounts of data on grapevine and weather interaction in real-time," he said. "This isn't just about understanding plants, it's about introducing and leveraging modern technology to safeguard the current and future grape and wine production and industry livelihoods."
Wang said the fellowship is an integral piece of his accomplishments in graduate school. While supported by the fellowship, Wang has published three peer-reviewed papers, developed two websites with his co-advisors, generated an online database with the support of his advisors, and received the Best Viticulture Oral Presentation Award at the 2023 American Society for Enology and Viticulture National Conference.
"His studies in the physiology and the genetics of cold hardiness will not only provide better guidance to growers throughout North America, but will also help breeders to develop more climate-resilient grapevine varieties," said Wang's co-advisor, Bruce Reisch '76.
Wang's other co-advisor, Jason Londo, points out that the website provides information daily to grape growers on the winter hardiness status of grapevines. Originally limited to grapevines across New York state, the website's expansion has had large impacts.
"As a result of this access, it makes Cornell the go-to place for information on winter hardiness in grapevine and serves as a collaborative template for regional research," he said.
"Gifts to Cornell in support of graduate students are vital to making advancements in critical areas of study," said Benjamin Z. Houlton, the Ronald P. Lynch Dean of the College of Agriculture and Life Sciences. "Our students move research forward, creating positive, long-lasting effects on the region, the nation, and the world, and receiving financial support like this can be the catalyst."
Gifts of any amount support graduate students in pursuit of their degrees. Visit Cornell's Giving website to explore your options.