Expanding Opportunities while Expanding Horizons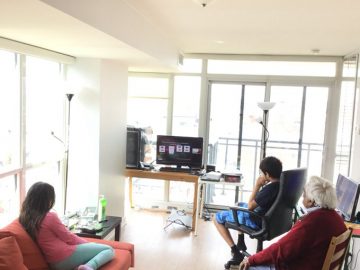 By Katya Hrichak
When COVID-19 arrived, Cornell shifted to remote like most of the country. Faced with cancelling or reformatting the Expanding Your Horizons (EYH) conference, the 30+ graduate student organizers made the decision to go digital.
The conference, broadcast live through Zoom on April 18, offered around 500 listeners a full day of engaging talks, panels, and workshops. Normally offered by lottery system to a select number of 7th to 9th grade girls in New York state, this year's conference attracted listeners of all genders from 25 states, Puerto Rico, and Canada, with ages ranging from four to 86.
"Our biggest success was getting to reach a much wider audience than normal," said Berit Goodge, a doctoral student in applied physics and EYH conference chair. "The presenters did a phenomenal job of coming up with creative ways to keep their remote talks educational and engaging. There was never a dull moment with questions and comments rolling in via the Q&A chat all day."
The active Q&A chat was a favorite for organizers, presenters, and participants alike. Aran Hubbell, chemistry and chemical biology doctoral student and EYH finance chair, was "particularly interested to see such a high interest level" demonstrated through the 1,416 questions and comments submitted throughout the day.
"Instead of answering one or two questions like I would for an in-person workshop, I was able to receive and answer questions from over 60 people," said Samantha Norris, physics doctoral student and leader of the "How to Make a (Really) Tiny Robot" workshop. "I know online talks can feel impersonal, but the ability to personally answer individual questions more than made up for it."
The pivot to an online format meant numerous run-throughs and days of troubleshooting, but organizers agreed being able to reach a broader audience made the experience worthwhile.
"Before COVID-19, our family used to attend public lectures, workshops, and hackathons at our local universities, science center, and museums in Toronto," said Vikas Nath, who attended the digital conference with his 13-year-old son, 10-year-old daughter, and father. "The Virtual EYH caught our attention as it was a full-day event that we could set aside time for. All the topics were so fascinating. They were presented so well that the only thing we could wish for was that the event could have gone on for two days!"
After such a successful conference, organizers are now considering how to bring the same spirit of accessibility and openness to future, in-person events.
"The feedback really showed that we are accomplishing the ultimate goal of EYH: simply to share the joy and passion we have for STEM with as many people as possible," said Goodge.
Anyone who missed the event but is interested in learning more can visit the EYH website or view recordings of all the talks, panels, demonstrations, and more from the conference on the EYH at Cornell YouTube channel.