Alumni Newsletter Spring 2022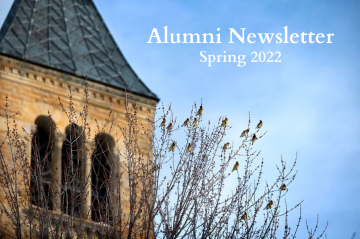 Photo courtesy of Nöel Heaney/Cornell University.
---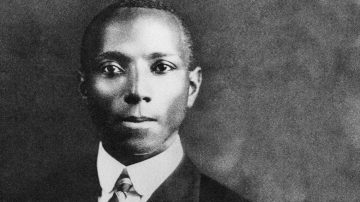 Photo courtesy of Howard University.
Fellowship Honors Cornell's First Black Doctorate, Ph.D. 1921
At age 18, Thomas Wyatt Turner, the son of formerly enslaved sharecroppers, walked 50 miles from his Maryland home to start his undergrad career at Howard University.
That determination, demonstrated throughout his life, catapulted Turner in 1921 to become the first Black person at Cornell to earn a doctorate and the first Black person in the nation to earn a degree in botany.
Read more about Thomas Wyatt Turner, Ph.D. 1921.
---
More Graduate School News
---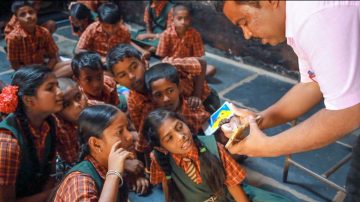 A teacher in a low-income school uses a smartphone to teach about soil. Photo provided.
In India, where teachers increasingly rely on their personal devices to do their jobs both in and outside the classroom, growing smartphone use is causing teachers to feel more stress and burnout, new Cornell research has found. "Their work is being shaped by the technology," said Rama Adithya Varanasi, a doctoral student in the field of information science.
Read more about classroom smartphone use in India.
---
More Research with Impact
---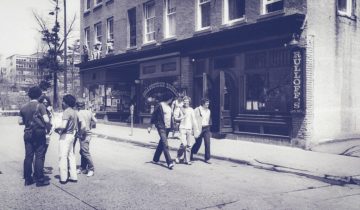 College Avenue's now-demolished Chacona Block circa 1980. Photo courtesy of Cornell Division of Rare and Manuscript Collections.
In February, Ithaca Beer Company opened its new brewpub on College Avenue–featuring modern décor, a patio for outdoor dining, and a menu that showcases its libations and locally sourced ingredients. Dubbed the Taproom, the eatery is located on the ground floor of the newly constructed building that replaced the Chacona Block.
Read more about Collegetown eateries and watering holes.
---
More Cornell and Ithaca News
---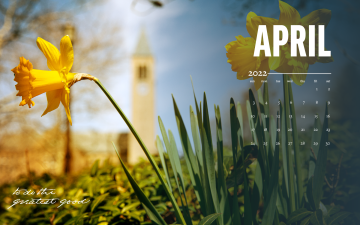 Download monthly desktop wallpapers on Cornell's Alumni website.
Free Printables, Activities, and Downloads
Cornell's Alumni website has a section devoted to free content, including printables and activities, holiday cards, podcasts and playlists, digital downloads, and GIFS and stickers.
Explore the available downloads.
---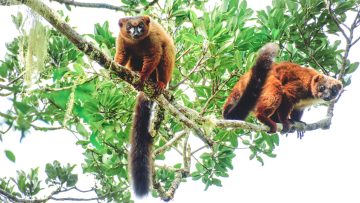 Red-bellied lemurs. Photo provided.
Erik Patel's fascination with lemurs has the lowliest of origin stories: he first encountered the arboreal primates on a 2000 trip to Madagascar, when he volunteered to gather fecal samples for a fellow grad student's research project. "I signed up to help collect poo–and I had a great time," the 2011 Ph.D. alum recalls with a laugh.
Read more about Patel's career saving lemurs.
---
More Alumni in the News
Meet the Neutrinos: Kids' Book Introduces Mystery Particles
Cornell Chronicle, 3/22/22
Alumni: Eve Vavagiakis '14, M.S. '17, Ph.D. '21
Carmakers Race to Control Next-Generation Battery Technology
The New York Times, 3/7/22
Alumni: Siyu Huang, M.S. '11, Ph.D. '13, M.B.A. '14
NoViolet Bulawayo Believes Freedom Begins With Imagination
The New York Times, 3/3/22
Alumni: NoViolet Bulawayo, M.F.A. '10
Eight Books That Reevaluate American History
The Atlantic, 2/25/22
Alumni: Danielle Fuentes Morgan, Ph.D. '16
New 3D Body-mapping Tech Helps Consumers, the Environment
Cornell Chronicle, 2/23/22
Alumni: Jie Pei, M.A. '16, Ph.D. '20; Susan Ashdown, M.A. '89; and Fatma Baytar, Ph.D. '11
Asian Studies Alum Wins Emmy for Journalism Work
A&S Communications, 2/1/22
Alumni: Dexter Thomas, Ph.D. '20
Alum Is an Evangelist for the Wonders of National Parks–'After Dark'
Cornellians, 1/20/22
Alumni: Tyler Nordgren, Ph.D. '97
COVID Variant Siblings Show Different Levels of Virulence
Cornell Chronicle, 1/13/22
Alumni: Javier Jaimes, Ph.D. '18
James Larison '70, Ph.D. '01, Reflects on his Career as a Nature Filmmaker
Cornellians, 1/13/22
Alumni: James Larison '70, Ph.D. '01
Kiely Inducted into Academy of Community Engagement Scholarship
Cornell Chronicle, 1/10/22
Alumni: Richard Kiely, Ph.D. '02
See more alumni in the news stories.
Have you seen a Cornell Graduate School alumnus or alumna featured in the news recently?
Let us know, and we'll include the details in the next Alumni Newsletter! Submit your news story.
---