Graduate School Associate Dean Wins National Leadership Award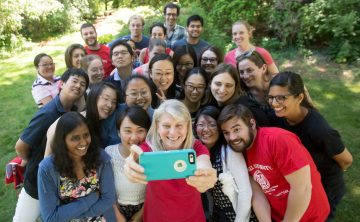 The Board of Directors of the Council of Graduate Schools (CGS) has announced that Dr. Jan Allen, associate dean of academic and student affairs of the Graduate School at Cornell University, is the 2020 winner of the Assistant and Associate Deans Leadership Award. Allen received the honor at a ceremony held as a post-meeting event of the virtual CGS 60th Annual Meeting.
The award was created by the CGS Board of Directors to recognize individuals who have shown exemplary commitment to graduate education by demonstrating creativity and innovation in response to institutional challenges and/or limited budgets or resources; building partnerships both internal and external to the graduate school; identifying and obtaining resources, both internal and external to the graduate school; effectively advocating on behalf of graduate education; fostering inclusiveness in the graduate community; and engaging student voices (including diverse voices).
Dr. Allen becomes the award's second recipient for her valuable contributions to the Cornell University graduate community. Her many accomplishments include designing and implementing high-impact writing, professional development, and mentorship programs with little-to-no additional funding; partnering with Cornell's teaching center, writing center, and research office to deliver high-quality graduate student programs; and chairing Cornell's task force on supporting international graduate students, leading to the creation of the English Language Support Office staffed by three instructors and 15 peer tutors. Allen has served as president and an executive committee member of the Northeastern Association of Graduate Schools, where she is currently a senior advisor. In addition, she has presented at dozens of seminars and workshops on graduate professional development and leadership and work/family issues.
"Jan is known throughout the graduate education community, nationally and internationally, for sharing her professional expertise widely to help graduate students recognize and overcome common hurdles to writing and to implement best practices for writing productively," said Dr. Kathryn Boor, dean of the Graduate School and vice provost for graduate education at Cornell University. "Her innovative writing programs, dedication to mentoring for professional development, and generosity of spirit are just a few reasons why Jan is so deserving of this award."
"Dr. Allen's 23 years of service as an assistant/associate dean across four institutions of higher education is a testament to her exemplary dedication to graduate education. The committee was particularly impressed with her conflict resolution work and her tireless commitment to collaboration whenever possible. She promotes respect for students by helping them learn to engage professionally in challenging situations, using skills to advocate for themselves and with their faculty advisors," said Dr. Thomas Jeitschko, selection committee chair, and dean of the Graduate School and associate provost for graduate education at Michigan State University.
Nominees for the award must be a current assistant or associate-level dean at a CGS member institution (Regular or Associate) with primary administrative responsibility in graduate education. Assistant or associate deans whose graduate deans currently serve on the CGS Board are not eligible to be nominated for the award during the dean's active years of board service. Nominations are made by CGS member institutions and are reviewed by a committee selected by the CGS Board of Directors. The winner receives a $1,500 honorarium and is invited to plan and participate in a session at the CGS Summer Workshop on a topic of their choosing.
CGS gratefully acknowledges Liaison's financial support of the Assistant and Associate Deans Leadership Award. Liaison, a higher education enrollment marketing and admissions management company, is a CGS Sustaining Member.
The Council of Graduate Schools (CGS) is an organization of approximately 500 institutions of higher education in the United States and Canada engaged in graduate education, research, and the preparation of candidates for advanced degrees. The organization's mission is to improve and advance graduate education, which it accomplishes through advocacy in the federal policy arena, research, and the development and dissemination of best practices.