Multilingual Students Find Expanded Support
English Language Support Office expands to assist both U.S. and international students
By Katya Hrichak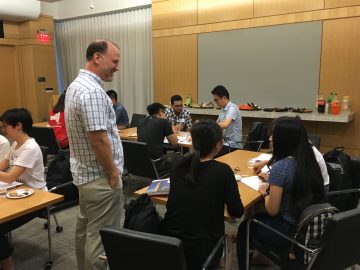 Cornell's English Language Support Office (ELSO) has expanded to support all multilingual graduate students – both from the U.S. and abroad. Previously available only to international students for whom English was not their first language, now multilingual graduate and professional students from anywhere in the world can participate in ELSO programs, including tutoring, workshops, and classes.
Located within the John S. Knight Institute for Writing in the Disciplines in the College of Arts and Sciences, ELSO offers writing and speaking assistance to support multilingual students in all stages of their graduate careers.
"Multilingual domestic students share some of the same writing challenges as international students, but may be more hesitant to express these needs to their advisors and faculty," said ELSO Director Michelle Cox. "ELSO creates a safe space for asking questions, seeking support, and learning collaboratively with other students."
Through ELSO, students have access to courses, tutoring, workshops, speaking groups, and additional English language support. Both Daler Kaziev, a master's student in natural resources, and Yingyi Zhong, a doctoral student in nutrition, began taking courses with ELSO early in their respective programs and have since become even more involved.
"When I began academic courses, I realized that my written English and comprehension was not sufficient," said Kaziev. "That was challenging, so I decided to take ELSO courses."
Kaziev took classes to improve his writing, speaking, and comprehension skills, and found the participation in ELSO helped with understanding lectures, writing course papers, and other academic work. Now, he serves on the ELSO Advisory Board.
When Zhong was preparing to start her degree, she saw that ELSO offered a program as part of orientation for incoming graduate students. As a "huge fan" of writing services, she signed up right away. After taking several courses, Zhong has been hired by ELSO to assist with programs and projects.
"I started to get more involved after I noticed that not only do the ELSO staff provide multilingual graduate students with communication support, but each instructor really cares about the community," she said.
In addition to finding academic support and professional opportunity through ELSO, Zhong met most of her friends through the courses. The supportive network formed through participation in ELSO programming has continued to provide connection while working remotely.
"We work from home and are not with our friends, but some of my writing group friends I know from ELSO started to work together online," said Zhong. "This creates a great sense of community and accountability for all of us."
The new expansion of support invites all multilingual graduate students to join this community and similarly find academic, professional, and personal success.
"This is a time when we should all be thinking about ways to provide further support to linguistically diverse students," said Cox. "We hope that domestic multilingual graduate and professional students know that they are now eligible to enroll in our courses, use our tutoring services, attend our workshops, and participate in the Speaking Groups Program."
To learn more about English language support for graduate and professional students, visit the ELSO website.