Longtime Big Red Barn Manager Retires
By Katya Hrichak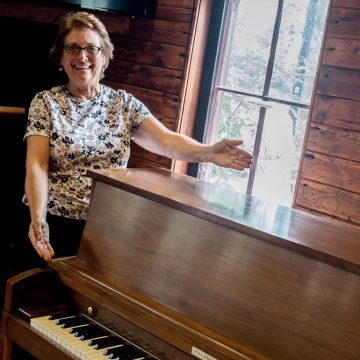 After 30 years, Kris Corda retired from her position Big Red Barn (BRB) Graduate and Professional Student Center manager in January 2019. Among many achievements during her tenure, Corda created the BRB Fellows program, which effectively expanded the BRB's programming to include events centered on socializing, art and music, culture, and family. In 2018 alone, the BRB hosted more than 200 events.
In recognition of her dedication not only to Cornell but to the Association of College Unions International (ACUI) as well, the ACUI presented Corda the Emeritus Award during the annual meeting held March 30 in Indianapolis, Indiana.
The award, presented to individuals who have committed 10 years of employment to the profession and are either retiring or have recently retired, recognizes student activity and campus union professionals for their leadership and dedication to serving students and advancing the campus community who have also rendered exceptional service to ACUI.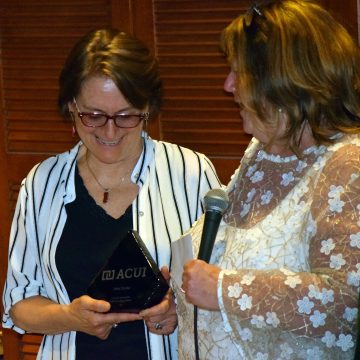 "I was privileged to work at Cornell – one of the first universities to have a graduate/professional student center. We were one of the frontrunners on how to address the non-academic needs of graduate/professional students," Corda said. "I became a resource for countless colleagues at universities that were just starting up programs for graduate/professional students."
Having held her position from 1999 to 2019, Corda shared many successes and ideas with other ACUI members during her years of membership, spanning writing skills workshops to family programs to speed dating and happy hours specifically geared toward graduate and professional students.
"The experience of working with graduate/professional students from all over the world who are doing such amazing research is beyond anything I could have imagined when I started my career," Corda said. "Looking back, it could not have been any more rewarding or self-gratifying. I am proud of the work that I did, but most especially the people that I met and learned from."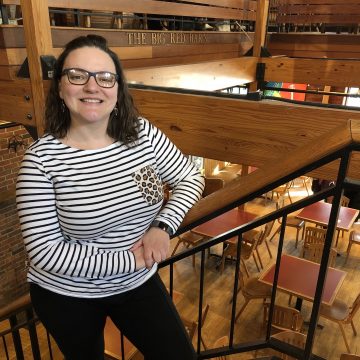 Following Corda's retirement, Jennifer Forbes took on the position of BRB manager. Although she brings with her new ideas to enhance the BRB's offerings, she intends to maintain the programs that students have already grown to know and love.
"It should be what the students need and want," she said. "That's my goal."
Associate Dean for Academic and Student Affairs Jan Allen welcomes Forbes, her commitment to the purpose of the BRB, and her ideas for furthering its mission.
"We have been so fortunate to have Kris Corda leading the BRB for 20 years, and we continue to feel so lucky that we have Jen starting in this position," said Allen.
Katya Hrichak is a communications assistant in the Graduate School.