Two Cornell Alumni Named Schmidt Science Fellows
By Katya Hrichak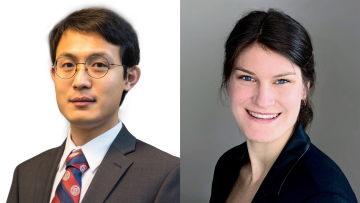 Chosen from among exceptional early-career scientists from around the world, alumni Xiangkun (Elvis) Cao, Ph.D. '21, and Berit H. Goodge, Ph.D. '22, were selected as 2022 Schmidt Science Fellows to support their work in making discoveries that will enhance the quality of life for all. Upon completion of a Ph.D. in the natural sciences, computing, engineering, or mathematics, fellows take on a one- to two-year postdoctoral placement during which they focus on collaborative, interdisciplinary research that marks a pivot from their doctoral studies.
"I'm very excited to be part of the Schmidt Science Fellows community," said Goodge, an alumna of Cornell's applied physics program. "My research at Cornell has always involved close collaborations across several departments and a diverse range of expertise, so I know firsthand how that approach can drive science forward in unexpected ways."
Goodge's placement will begin in October at the Max Planck Institute for Chemical Physics of Solids in Dresden, Germany. She will build upon her Ph.D. work in Lena Kourkoutis' Electron Microscopy Group in applied and engineering physics using and developing electron microscopy techniques to examine the atomic structure and electronic properties of novel quantum materials to now design and synthesize the new compounds herself.
T. Alan Hatton from the Massachusetts Institute of Technology will advise Cao on carbon capture while Edward H. Sargent from Northwestern University will advise him on carbon utilization during his postdoctoral appointment, also beginning in October. Cao studied microscopic precision in the simultaneous delivery of light and fluids by optofluidics as a mechanical engineering doctoral student in David Erickson's lab in the Sibley School of Mechanical and Aerospace Engineering and looks forward to learning from his co-advisors as he shifts into chemical engineering.
"I'm passionate about the opportunity to study integrated carbon capture and utilization from molecular to process levels with Alan and Ted," Cao said. "The Schmidt Science Fellowship provides me the research autonomy to develop my own scientific vision under the guidance of the experts in the field I plan to pivot into."
The Schmidt Science Fellows program is an initiative of Schmidt Futures, delivered in partnership with the Rhodes Trust. Learn more about the program on the Schmidt Science Fellows website.