Alumni Newsletter Fall 2018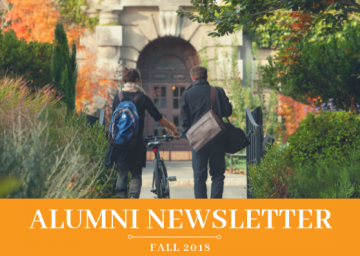 Donating Time, Developing Community
A look behind the scenes at 2018 Graduate School Orientation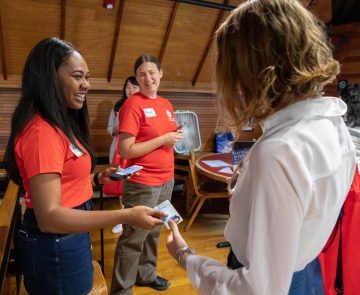 What does it take to orient 1,600 incoming graduate and professional students? Eleven-hundred red bags, thirteen-hundred cups of coffee, and a team of 80 student and staff volunteers working tirelessly to ensure the Graduate School's Orientation for new Fall 2018 students goes according to plan.
Read more about Orientation 2018
---
Graduate School Makes Commitment to Data Transparency
Joining the Coalition for Next Generation Life Science
President Martha E. Pollack has committed the university to a new multi-institution initiative to make public data pertaining to career outcomes for life sciences doctoral students and postdoctoral researchers.
View doctoral career outcomes data
Read more about data transparency
---
Recruitment Resource Fair Informs Admitted Students
A pilot resource fair for admitted students introduces Graduate School offices and organizations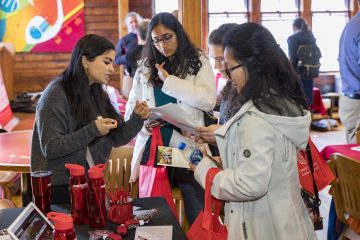 Knowing exactly what resources are available at a large institution like Cornell can be a challenge. For prospective graduate students who have been admitted and are in the process of making their decision about where to attend graduate school, showcasing Cornell's resources can help students make the best choice based on their individual circumstances.
Read more about recruitment resource fair
---
Big Red Barn Fellows Bring Events, Sense of Community to Campus
Fellows develop programming for graduate and professional community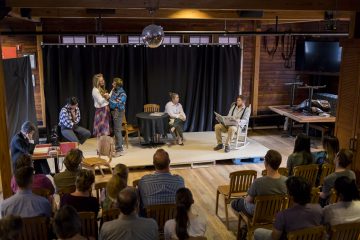 On a Saturday evening in late spring at the Big Red Barn (BRB), graduate students and other members of the Cornell community came together for a performance of A View from the Bridge by Arthur Miller. The performers weren't professional actors, but volunteer graduate students of varying fields expressing their creative sides for this first-of-its-kind BRB event.
Read more about Big Red Barn Fellows

Arts & Humanities
A Journey to Cornell for Creative Writing
Nneoma Ike-Njoku, a first-year MFA student in creative writing, hails from Lagos, Nigeria. Ike-Njoku is a part of that rare group of people who knew from a very young age exactly what they wanted to be when they grew up. For Ike-Njoku, her goal was always consistent: to tell stories.
Read more about Ike-Njoku's work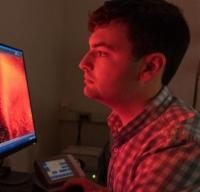 Life Sciences
Exploring the Brain, Changing Behaviors
Ryan Post, a fourth-year PhD student studying neurobiology and behavior, initially wanted to be a teacher, but he felt pulled to pursuing a doctoral degree. He also wanted to study how the brain works and why anhedonia—the inability to feel pleasure—occurs.
Physical Sciences & Engineering
Cornell Part of $25M NSF Effort to Untangle Future Physics Data
Particle accelerators such as the Large Hadron Collider (LHC) at the European Organization for Nuclear Research (CERN) produce massive amounts of data that help answer long-held questions regarding Earth and the far reaches of the universe.
Read more about the NSF effort
Social Sciences
Congressional Oversight, Faltering?
Although Claire Leavitt has always held a keen interest in politics, it was only toward the end of her undergraduate degree that she began envisioning a career in the sector. "I was a history major as an undergraduate and did not even take a single politics course in college…"
Read more about Leavitt's work

Unspoken Needs: Enabling (Aging) Women Leaders
At the GPWomeN-PCCW Speaker Series on February 23, 2017, Dr. Jennifer Leeds offered tips on enabling aging women leaders.
Read complete tips from Dr. Jennifer Leed

New Bike Share Program Officially Hits Ithaca Streets
Ithaca's new bike share program has launched. Beginning Monday, more than 200 dockless bicycles from LimeBike will be available to rent.
---
Ithaca's Summer of Cranes
It's not a typical sight in an upstate New York city, let alone a smaller one that has its share of contentious development debates and stern opposition. Yet, they stand tall against the summer breezes; the construction cranes that dot Downtown Ithaca, along with a bevy of smaller projects as reinvestment continues in Ithaca's urban core.
Read more about summer construction

Tech companies favor CU social science grads
The College of Arts and Sciences, 8/30/18
Alumni: Tom Lento, PhD '11, Christopher Sundita MA '15
Cryo-electron microscopy sheds light on new batteries
Cornell Chronicle, 8/15/18
Alumni: Michael Zachman, Ph.D. '18, Zhengyuan Tu, Ph.D. '17, and Snehashis Choudhury, Ph.D. '18
Cornellians vie for $2.5M in clean-energy competition
Cornell Chronicle, 8/8/18
Alumni: Gabriel G. Rodríguez-Calero, Ph.D. '14, Juan Guzman, M.S. '14, Ph.D. '18, Mitchell Ishmael, M.S. '15, Ph.D. '17, and Levon Atoyan, M.S. '16, Ph.D. '18
Through work, research and life, Meghnaa Tallapragada stresses the importance of being multi-dimensional
Clemson University website
Alumni: Meghnaa Tallapragada, Ph.D.
Decade-long galaxy survey releases final catalog
Cornell Chronicle, 7/2/18
Alumni: Elizabeth Adams, Ph.D. '14; Gregory Hallenbeck, Ph.D. '14; Kelley Hess '05; Lyle Hoffman, Ph.D. '83; Shan Huang, Ph.D. '13; Michael Jones, Ph.D. '16; Brian Kent, Ph.D. '08; David A. Kornreich, Ph.D. '01; Lukas Leisman, Ph.D. '17; and Emmanouil Papastergis, Ph.D. '14.
Fetal T cells are first responders to infection in adults
Cornell Chronicle, 6/24/18
Alumni: Norah Smith '02, Ph.D. '11
Newark Principal Fights Achievement Gap, Nets $25K Award
Patch, 6/7/2018
Alumni: Jody-Anne Jones, M.P.S. '06
Woulda, coulda, shoulda: the haunting regret of failing our ideal selves
Cornell Chronicle, 5/24/18
Alumni: Shai Davidai, Ph.D. '15
SACNAS Life Member Dr. Erika Camacho Selected to Receive American Association of Hispanics in Higher Education Award
SACNAS website, 3/2018
Alumni: Erika Camacho, Ph.D. '03
Dial P for privacy: the phone booth is back
NY Times, 3/10/18
Alumni: Lauren Emberson, Ph.D. '11
Prince Charles gives Cornell reef research a royal shout-out
Cornell Chronicle, 2/16/18
Alumni: Courtney Couch, Ph.D. '13
UNE hires new provost
Portland Press Herald, 2/23/18
Alumni: Joshua Hamilton
For the win (or tie): Most avoid risk, despite better chance at reward
Cornell Chronicle, 2/12/19
Graduate Student: Jesse Walker
Alumni: Jane Risen, Ph.D. '07