Students, Alumni Celebrate Black Graduate Excellence
Two days of alumni panels celebrate the BGPSA and its members
By Katya Hrichak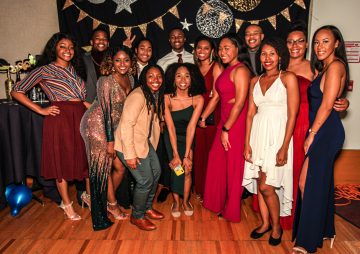 Earning a doctorate involves years of long days and dead ends, but finding a community can smooth the path. For several alumni, joining the Black Graduate and Professional Student Association (BGPSA) helped pave the way to success at Cornell and beyond.
"Celebrating Black Graduate Excellence at Cornell," a two-day series of alumni-filled panels, honored the contributions of Black graduate students, the BGPSA, and its members – including the Renaissance Ball they founded.
Since they couldn't gather in person for the Renaissance Ball, the Graduate and Professional Student Diversity Council and the Graduate School Office of Inclusion and Student Engagement celebrated over Zoom with discussions about the BGPSA's history and legacy and the Black graduate student experience at Cornell.
The Ball, now one of the council's most eagerly anticipated events, was founded by the BGPSA in 2011. When Chavez Carter, Ph.D. '16, arrived at Cornell, he was surprised to find that the BGPSA was relatively inactive. With Cameron Bardliving, Ph.D. '13, and Dexter Thomas, Ph.D. '20, they transformed it into a strong organization with an active campus presence.
"If you see a gap at Cornell, Cornell's the place that will let you fill that gap," said Carter, now director of medical relations at La Roche-Posey USA.
Unlike Carter, Thomas did not have a background in student leadership and engagement, but "it became very clear that it was necessary" to develop a strong BGPSA and lasting initiatives for current and future students.
"The Renaissance Ball didn't exist. We created something because we needed to create it," said Thomas, now a correspondent at Vice Media, Pulitzer Prize winner and two-time Emmy nominee.
The space these alumni shaped became an integral part of graduate student life at Cornell for them and the students that followed. Both Enongo Lumumba-Kasongo, Ph.D. '19, and Lory Reveil, Ph.D. '19, started their programs without outside assistance. When they hit roadblocks, they realized they needed support from peers who understood what they were going through.
"My first semester, I thought I could put my nose to the ground, do my work, and figure it all out. By December, I was not feeling good," said Lumumba-Kasongo, a postdoctoral fellow in the department of music at Brown University and also a rapper known as Sammus. "I was missing a community."
Reveil agreed: "It became a community that was very uplifting and very nurturing, both academically and socially." Since graduating, Reveil has become director of scientific and regulatory affairs at the American Frozen Food Institute.
Giving back to the BGPSA was another common thread among the panelists. Creating a welcoming space helps new students find a sense of belonging and continues the BGPSA legacy.
"The way I see it, you always have time for service," said Bardliving, assistant professor at Thomas Jefferson University and director of product development and operations at Jefferson Institute for Bioprocessing.
Whether by assuming leadership roles, founding a yearly celebration, or even offering to rap for a video, as Lumumba-Kasongo suggested, the alumni hope current students become active in the BGPSA and benefit from the legacy they helped create.
"It's not just about us being there; it's about us being seen and heard. Sometimes it is on us to stretch and make that space for us, and I definitely think that BGPSA has been a vehicle that has allowed that to happen," Reveil said. "That is what the legacy has meant for me: Creating that space for people of color and not just counting us as a number, but really seeing and hearing us."