Workshops Offer Judgement-free Zone to Learn How to Be an Ally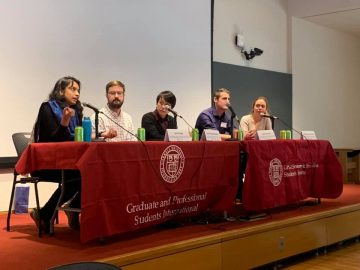 By Katya Hrichak
Soil and crop sciences doctoral candidate Eugene Law noticed a pattern when facilitating an Intergroup Dialogue Project workshop. Students wanted to become better allies to those from historically marginalized communities, but did not know how to start the conversation. This reluctance to ask questions can make students feel less effective as potential allies.
In response, Law, with other members of the GPSA's Diversity and International Student Committee (DISC) and in collaboration with the Graduate School Office of Inclusion and Student Engagement, developed the Building Allyship workshop series. The series, says Law, creates a place where both experienced and potential allies can learn from each other without fear of judgment.
The four-session series began with a discussion on the fundamentals of allyship in October, led by Luca Mauer, a nationally recognized author and speaker on topics of inclusion and allyship and the founding director of the Center for LGBT Education, Outreach, and Services at Ithaca College. This was followed by a session in November on being an ally to international scholars. Beginning with the November session, each Building Allyship workshop features a panel of two students who identify as part of the highlighted community and two community members they have identified as allies. Each part of the series is arranged in partnership with an organization represented on the Graduate and Professional Student Diversity Council.
"These events are intended to provide a safe space for members of the Cornell community to learn about and discuss how to be allies to others and, through this, how we can empower each other," said Gwen Beacham, a doctoral candidate in biochemistry, molecular and cell biology, who helped organize the events.
The series will continue with a third session on February 5 focused on the first-generation community and final session on March 17 on the LGBTQ community, but organizers hope to extend the series to upcoming academic years.
"The Building Allyship Series is a great opportunity for the entire Cornell community to engage in productive dialogue focused on how to better understand and support one another," said Sara Xayarath Hernández, associate dean for inclusion and student engagement. "By creating understanding and bridging gaps, we all benefit."
GPSA DISC was formed in 2013 as a result of the Graduate and Professional Community Initiative, which requested further support be provided to the diverse graduate and professional student body. The Building Allyship Series was developed to help achieve these goals.