Big Red Barn Fellows bring events, sense of community to campus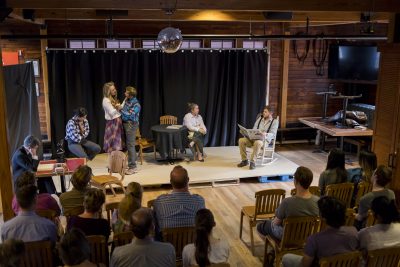 By Sally Kral
On a Saturday evening in late spring at the Big Red Barn (BRB), graduate students and other members of the Cornell community came together for a performance of A View from the Bridge by Arthur Miller. The performers weren't professional actors, but volunteer graduate students of varying fields expressing their creative sides for this first-of-its-kind BRB event.
The play was organized and directed by Andrew Harding, a Ph.D. candidate in the field of Asian Literature, Religion & Culture and the Big Red Barn's Cultural Fellow. "Theatre and acting have always been an important part of my life, so as soon as I accepted the Cultural Fellow role I knew that I wanted to direct a play," Harding said.
He started by holding an acting workshop in the fall and from there developed a cast who rehearsed for several weeks and also built the set and props.
"The response to the play was overwhelmingly positive," Harding said. "This kind of event was a new addition to the BRB calendar so I was initially worried that we would struggle to get an audience, but in the end it was the most well-attended BRB cultural event of the year."
Harding added that since the performance in May, he's been contacted by several graduate students who would like to be involved with a play next year. "It's been very encouraging and exciting. It would be fantastic to see the play become an annual fixture in our extracurricular calendar."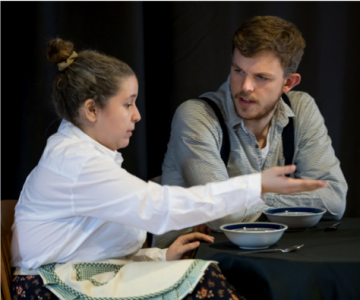 Due to the popularity of the request, Harding is a step closer to making this a reality with plans to host another acting workshop this fall on September 27at 7:00pm at the Big Red Barn.
Harding is one of five Big Red Barn Fellows that organize events at the Barn and bring a sense of community and belonging to campus. In addition to the Cultural Fellow, there is an Art & Music Fellow, hosting such events as the monthly art exhibits at the Greenhouse and the annual prisoners art show; a Family Fellow, hosting the pumpkin carving party, family holiday party, kids' science day, and more; and two Social Fellows, hosting such BRB staples as Speed Dating, TA grading breaks, Chocolate Fest, the faculty-student wine and cheese reception, and the year-end BBQ.
"It's been so rewarding to get to know and see the art of my fellow grad students—it never ceases to amaze me how students manage to not only work and do their research but also explore and develop their artistic sides," said Irene Del Real Contreras, the current Art & Music Fellow and a Ph.D. student in Geological Sciences.
Kris Corda, director of the BRB, first developed the Fellows in 2000, when she hired a Family Fellow because the large number of events the BRB was hosting necessitated more staff involvement. By 2002 she had added the Cultural, Art & Music, and Social Fellows, and in 2011 added the second Social Fellow. Each Fellow is expected to host at least one program a month. In the 2017-2018 academic year, the Fellows hosted a total of 46 events.
"Working at the Barn has been one of my favorite things about being a grad student at Cornell," Del Real Contreras said. "It gets me out of my office, I've been able to meet graduate students from other departments, our boss is absolutely wonderful, and the extra money at the end of the month is always well received—I can't imagine my time at Cornell without the Barn."
Echoing this sentiment, Harding said, "I can't really overstate how important a role the BRB plays in the lives of grad students at Cornell. It provides an opportunity for community at the heart of a professional environment that's not always conducive to one, and for that reason alone it deserves to be treasured."
Sally Kral is a communications and outreach assistant in the Graduate School