Student Spotlight: Menansili Mejooli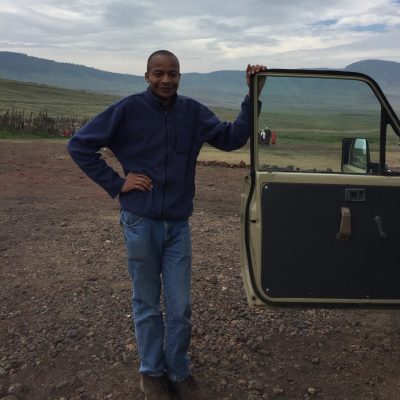 December 17, 2018
Menansili Mejooli is a doctoral student in biomedical engineering from Arusha, Tanzania. After earning his undergraduate degree in Shanghai, China, he decided to pursue further education at Cornell after a chance encounter with former Cornell graduate students while working at the Arusha Technical College in Tanzania.
What is your area of research and why is it important?
Multiphoton microscopy has become the tool of choice for seeing how live cells behave within the living body. It enables 3D live imaging of cellular dynamics in the brain and other organs. However, currently we can only see what a subset of the cells are doing at a time, even though many types of cells are present. The fluorescent labels for cells have wide emission spectra that limits the number of labels that can be distinguished simultaneously. This, in turn, limits the number of cell types or other tissue structures that can be visualized at once. My research addresses this limitation and enables studies of complex multi-cellular interactions.
What inspired you to choose this field of study?
Through my work in repairing hospital equipment in Tanzania and training technicians in the field, I had opportunity to visit various hospitals. During these visits I realized the importance of imaging equipment in disease diagnosis and treatment. Many lives were lost due to misdiagnosis resulting from lack of imaging devices, which is one of the major challenges in Tanzania hospitals. As an engineer I came up with the idea to develop affordable imaging devices for low income countries such as Tanzania, so I chose an imaging-related project in order to have a solid grounding in imaging devices design.
What is the exchange program between the Arusha Technical College (ATC) and Cornell's Meinig School of Biomedical Engineering and what do you aim to accomplish with it?
This is a program where Cornell students will go to Tanzania to partner with ATC students in internships at local hospitals and get firsthand experience in the application and repair of hospital equipment. ATC students will visit Cornell and will get to experience state-of-the art techniques and learn design skills. This will offer mutual benefits for both sides. The student teams from Cornell and ATC will work together during these mutual exchange visits and will then complete their senior design projects through this international collaboration. This will provide students on both sides with experience of multinational projects and different cultures.
What does it mean to you to be a recipient of the Africa Fund Fellowship?
This is both an inspiration and motivation for me that someone recognizes the significance of the research I am doing, and the outreach work I have done so far. It energizes me to do even more. In addition, it reassures me that I have their support, that Cornell got my back in this work and outreach that I am doing. It makes me realize what I have accomplished is valuable to the Cornell community which makes me grateful to have contributed to the mission of Cornell University.
What are your hobbies or interests outside of your research or scholarship?
I love outdoor activities such as hiking, going on a safari–I grew up in rural area and I am from the Maasai tribe, so we love to kinda 'hangout' with wild animals when we have time.
I also love to play guitar and sing, watch documentaries about animals, science, and history, and read the Bible.
Why did you choose Cornell to pursue your degree?
When I was working at ATC in 2013, two Ph.D. students from Cornell, Julie Kohn and Mary Clare McCory, visited ATC and I happened to be their host. While talking with them I got interested in studying at Cornell so I asked Julie if she could connect me with a professor in order for me to learn more about and ultimately apply to Cornell. Julie linked me up with Professor Chris Schaffer, so I applied and got accepted as a master's student and then went on to do the Ph.D. after master's program graduation.
What is next for you?
I plan on working in either academia, health-care, and/or industry, depending on how opportunities open up after my graduation. In academia I will be offering training in bioinstrumentation and bioelectronics, in which I will train future engineers and technicians to design and develop low-cost, good-quality medical diagnostic and imaging devices. I also plan on working in medical devices manufacturing industry, either full-time or part-time. My goal in the medical device industry is to design and develop, through interaction with doctors and hospital staff, low-cost, premium quality medical devices to address challenges facing healthcare providers in low income communities.