51 NSF Graduate Research Fellows Recognized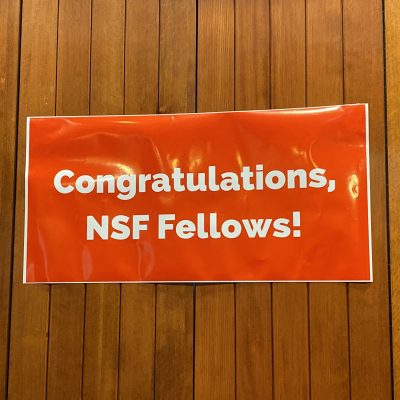 By Katya Hrichak
New and current awardees of the National Science Foundation (NSF) Graduate Research Fellowships Program (GRFP) gathered at the Big Red Barn for a reception in October. This year's group of new NSF GRFP recipients consists of 51 students, adding to the more than 200 NSF GRFP recipients already on campus.
"We are proud of our students' many accomplishments and look forward to celebrating all of their future achievements," said Barbara A. Knuth, dean of the Graduate School. "Cornell is fortunate to have so many NSF fellows on campus. For students who are interested in applying, we provide writing resources to help support their applications."
In 2019, the NSF awarded about 2,000 fellowships selected from among more than 12,000 applicants, providing recipients with three years of financial support within a five-year fellowship period. Every year since 2012, the Graduate School has offered proposal-writing workshops to help students interested in applying for these fellowships.
Lissette Lorenz, a science and technology studies doctoral student and recent NSF GRFP recipient, credits the Graduate School workshops as the motivation she needed to start writing.
"These workshops pushed me to make progress on my NSF application even when I was not feeling ready to write," she said. "During these workshops I learned that an ugly draft is better than no draft, and once I had a first draft, I could slowly improve it over the course of one year."
The NSF GRFP fellowship provides the flexibility for Lorenz to begin her fieldwork a year early and complete a Japanese language-intensive program during her third year. Her research focuses on the social impacts of nuclear disasters in Japan.
For Sam Gutekunst, a doctoral candidate in operations research and information engineering, the NSF GRFP not only lets him focus on his research, but also provides time for professional development, including teaching 100-person freshmen electives.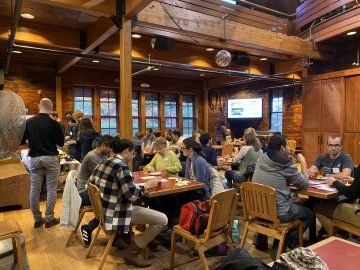 "This award has been freeing in that it means I get to pursue the research that I'm interested in. Having the NSF award has also freed up some of my time to teach," he said. "I think pragmatically it's good. I want to go for liberal arts jobs, so having that teaching experience is great."
Gutekunst volunteered to serve on several Graduate School-organized NSF GRFP application writing panels and participated as a reviewer during peer review and consultation sessions.
"It is very beneficial to aspiring NSF GRFP applicants to hear from previous recipients about what made their applications successful," said Associate Dean for Academic and Student Affairs Jan Allen, who runs the fellowship programming. "By offering these sessions every fall, we hope to facilitate interactions that lead to strong applications and more Cornell recipients."
The Graduate School will continue to offer programming in future years to encourage and assist fellowship seekers and recipients on campus and, by next year, more resources and advice will be available online as well.
Although 2019 workshops have concluded, resources are available for students interested in pursuing funding, including successful applications available for review in 350 Caldwell Hall and the Productive Fellowship Writer listserv. The Productive Fellowship Writer listserv is a new resource, providing a four-week series of emails designed to support students in the fellowship writing process.
"I highly encourage anyone who faces any resistance during the writing process to take advantage of all the wonderful writing opportunities the Graduate School has to offer," said Lorenz. "Not only the boot camps and the workshops, but the daily Write-Ins at the Big Red Barn, the Productive Writer listserv, and the writing resources in 350 Caldwell Hall played a big role in helping me get the NSF Fellowship."
Related Resources: