Admitted Students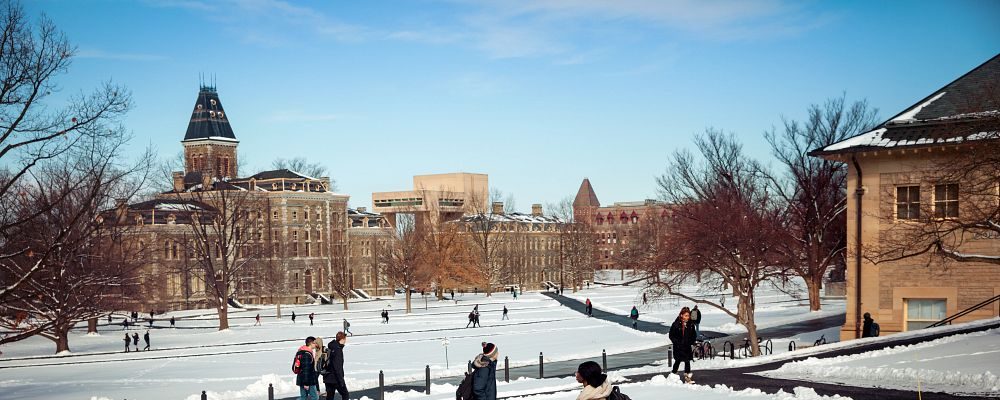 Welcome to Cornell!
Congratulations on your acceptance into Cornell…and welcome! We are excited that you will begin your graduate program soon and look forward to working with you.
Cornell is planning a remote start to the spring semester. The semester will start as scheduled, but in person classes will not begin until the week of February 6. Please check with your program about specific dates. Cornell is committed to the health and safety of our campus and surrounding communities. Please see the Vaccination at Cornell page or Cornell's COVID-19 website for current information on campus requirements and public health guidance.
You are beginning to receive information about Cornell and the Ithaca area to help you transition to graduate study. Orientation begins with a virtual welcome from the Graduate School deans on January, 20. At the start of the spring semester we will host our Graduate School Primer: Navigating Academia Workshop Series. These workshops serve as a primer for graduate study at Cornell and includes information on expectations and tips for success as well as available resources and support to help you now and during your degree program.
Orientation does not replace your field's orientation program; it supplements it. We hope it will help you experience the benefits of a larger, interdisciplinary community. Please consult your field's website for field, college, and program-specific orientation programs. Please also make sure to keep track of your new student to do list.
You will receive an email with instructions for Graduate School Orientation participation in mid-December and again in early-January 2022.
Orientation Highlights:
Wednesday, December 15, 2021 – Orientation Hub opens
We use Cornell's learning management system, Canvas, to house modules including information, resources, tips, and links to register for our formal program and the Graduate School Primer workshops. Access the Orientation Hub. You will need to use your NetID to enroll.
Thursday, January 20, 2022 – Graduate School Welcome
The formal program, presented via Zoom from 10:00 – 11:00 a.m. ET, features Graduate School Dean and Vice Provost for Graduate Education Kathryn J. Boor and the Graduate School's associate and assistant deans who will help you understand Cornell's structure, funding, and much more. At registration, you will be asked to submit questions that you would like to be addressed during a special Q&A discussion section of the program.
Graduate School Primer: Navigating Academia Workshop Series (via Zoom)
This workshop series is designed exclusively for first-year graduate and professional students and covers topics like understanding doctoral funding, mentoring, time management, and much more. Sessions are all online via Zoom. View the Graduate School Primer page for more information and registration links.
---
For Our International Student Community:
Spring 2022 Orientation for International Students
Saturday, January 22, 2022, 8:00 a.m. – 12:00 p.m., B25 Warren Hall (Register by January 18)
Join the Office of Global Learning for our orientation for new and transferring international undergraduate, graduate, and professional students arriving at Cornell in spring 2022. You will learn important information on U.S. immigration and taxes, health and safety, academic integrity, and wellness and inclusion. We will also have a student panel discussion addressing such topics as transitioning to the U.S. and to a new academic culture. Attendance is not required but strongly recommended.
---
Information available in the Orientation Hub:
Cornell's public health requirements, including vaccinations, pre-arrival, and arrival information.
Important Cornell offices and resources.
Social events sponsored by the Big Red Barn Graduate and Professional Student Center.
---
Stay Informed
Graduate School Announcements posts Monday nights (ET)
All new students will begin receiving the weekly Graduate School Announcements in mid-January.
Websites
---
Public Health Requirements
Keeping students, faculty, and staff safe
Cornell is planning a remote start to the spring semester. The semester will start as scheduled, but in person classes will not begin until the week of February 6. Please check with your program about specific dates. All new students must be compliant with the COVID-19 vaccine requirement by December 15, 2021. Additionally, Cornell requires all students who have been vaccinated against COVID-19 to get a booster. The booster requirement must be met by January 31, or 30 days after you become eligible. Proof must be uploaded to the Daily Check. For more information, visit the Vaccination at Cornell website.
Please check Cornell's COVID-19 Information page frequently for the most recent information.
Important resources:
---
Find Your Community
Knowing where to look can give you a head start
With 23,600 students, Cornell is large. One tip for incoming students is to establish your networks early by getting out and meeting new people. The programs, organizations, and resources below are designed to bring people together.
---
If you have any questions, or need any support regarding accommodations, please contact Janna Lamey, senior assistant dean for graduate student life (607-255-5184 or janna.lamey@cornell.edu).