Colman Leadership Program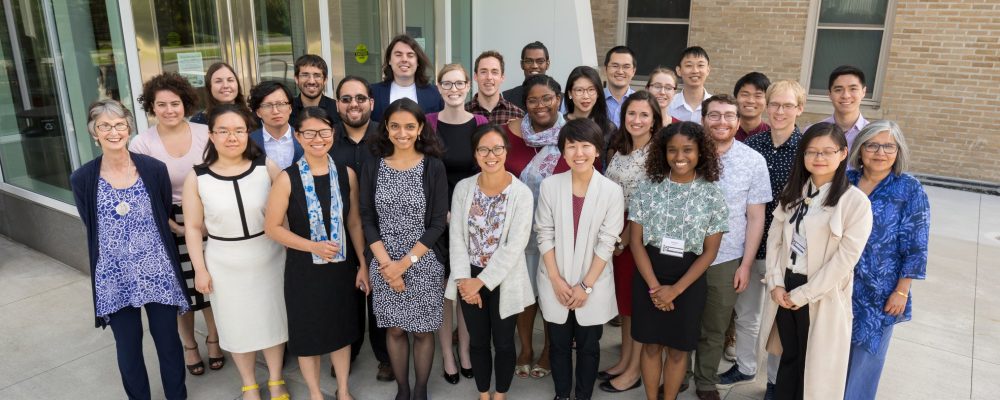 In spring 2012, John and Jane Colman founded the Colman Family Endowed Fund for Leadership within Diversity Programs in Engineering (DPE) to establish the Colman Leadership Program for Ph.D. students in engineering and other related STEM fields. In summer 2015, the Graduate School Office of Inclusion and Student Engagement established a partnership with DPE to launch a June offering of the Colman Leadership Program open to all Ph.D. and M.F.A. students from across all graduate fields.
Every January and June, the Colman Leadership Program seeks to enroll up to 30 students in an intensive four-day immersion program focused on providing participants with skills and knowledge that will support their development as leaders in graduate school and beyond. Although students with the fellowships and affiliations listed below receive priority consideration for enrollment in the program, the Colman Leadership program has the capacity to serve a broader base of students. Therefore, students from all backgrounds (domestic and international) and disciplines are strongly encouraged to apply.
Cornell Colman Fellowship
Cornell Sloan Fellowship
Cornell GEM Ph.D. Fellowship
Dean's Excellence Fellowship
SUNY Diversity Fellowship
McNair Graduate Fellowship
Mellon Mays Graduate Fellowship
Provost Diversity Fellowship
Bouchet Honor Society
Program Goals
The Colman Leadership Program introduces students to a range of practical skills, theory pertaining to leadership, and special topics relevant for application in both academic and professional contexts. With a varied format including readings, interactive group activities, case studies, discussions, student presentations, and professionally conducted workshop sessions, program participants will learn about leadership, develop practical skills for negotiation and conflict resolution, and discuss modes of translating collaborative teamwork and the positive, productive employment of the diverse perspectives and backgrounds students bring to the program. Specifically, program participants focus on the following:
Understanding self-awareness as a leadership skill
Extending self-awareness to effective interpersonal dynamics
Appreciating fundamental group dynamics
Understanding of how to create teams from groups
Appreciating diversity in all contexts
Differentiating between role authority and leadership in an organizational context
Learning skills of integration and synthesis
Program Schedule
The January and June offerings of the Colman Leadership Program are open to all Ph.D. and M.F.A. students across all graduate fields. The online application for the January program opens in November while the online application for the June program opens in late April/early May.
Should You Apply?
You have a choice of leadership development opportunities at Cornell via multiple offerings of courses and programs. We would like you to choose the best of these options for yourself. If you are considering applying to the Colman Leadership Program, you should know that it is an immersive learning laboratory type of experience. It is predicated on discovery, integration, and synthesis and not on prescriptive norms of leadership. We quote from former participants below to help you decide.
It is for you if you are seeking what these participants have described:
"The Colman program works hard to equip attendees with language to understand themselves and others. One of the key strengths of the program, however, is to not only supply definitions/clarifications but to emphasize the malleability of any of these terms and behaviors: in different contexts you may display different styles of thinking, processing, and acting. The program also reinforces that everyone in a group or organization is constantly expressing these strengths and values and shifting on a spectrum; in understanding those human dynamics, we can be more communicative, empathetic, and effective leaders and conflict mediators. The program does present a lot of useful models, but I think I walked away with more self-discovery and perspective than discrete, applicable models. To be clear, I don't think this is a failure in the program, but a philosophical difference (emotional intelligence versus a set of theories)."
"The program did not meet my expectations – it EXCEEDED them. I thought I'd walk away with some tips on how to inhabit the role of a classic leader and mold myself to some expected archetype. Instead I learned how all of us have leadership potential and can not only find our flavor of leadership within ourselves, but inspire it in others by appreciating their strengths."
The Colman Leadership Program might not be for you if you are not prepared to engage in intensive self-discovery experiences, or are seeking to develop specific managerial skills and a forum to practice those skills.
Contact
Sara Xayarath Hernández, Associate Dean for Inclusion & Student Engagement, Cornell Graduate School: sh267@cornell.edu, (607) 255-5417 (Lead contact for the June offering)
Jami P. Joyner, Director – Diversity Programs in Engineering: jj334@cornell.edu office, (607) 255-6403 (Lead contact for the January offering)