Visiting and Getting Around
Ithaca is located in central New York at the southern tip of Cayuga Lake, approximately four hours north of New York City and south of Toronto.
Visiting
Automobile Rental
A number of auto-rental businesses serve the Ithaca area, including Affordable Used Car Rental of Ithaca (607-273-1300); Autorental America; Avis (airport); Enterprise; Hertz (airport); and National.
Getting Around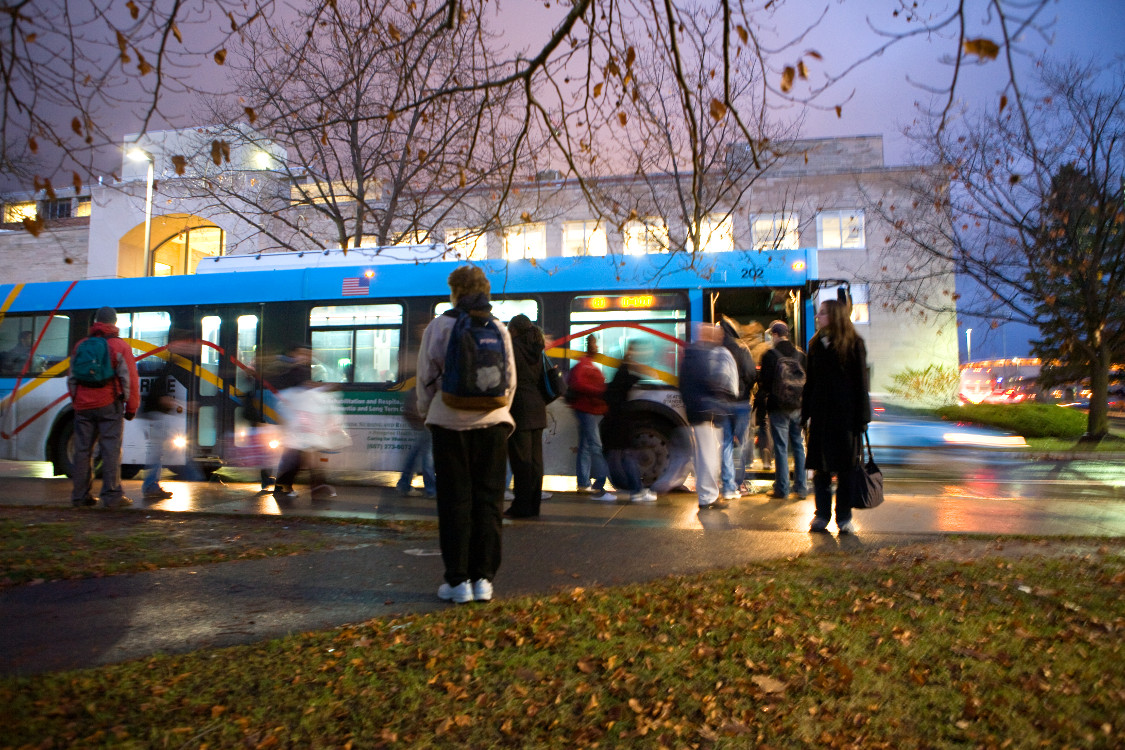 Tompkins Consolidated Area Transit (TCAT) operates 37 routes serving the Cornell campus, Ithaca, and the surrounding communities. Exact change is required for the $1.50 fare (including one transfer). Cornell's "Blue Light Bus" service offers free admittance for Cornell ID-holders on TCAT's night-time Routes 92 and 93, which serve the campus and its fringes. Frequent riders may purchase economical system-wide passes, available at supermarkets, City Hall, and Cornell's Willard Straight Hall, among other locations. Most TCAT buses are handicapped-accessible, and TCAT offers special paratransit services for people with disabilities (607-273-1878). All TCAT buses are equipped with two front-mounted bike racks, which give bicycling commuters more options. *All registered Cornell students receive unlimited rides on all TCAT buses after 6 p.m. weekdays, and anytime Saturday and Sunday when using their CU ID card at the farebox.*
Walking and Biking
Walking and biking are often the quickest, easiest, and healthiest ways to get around town and campus. Marked bike lanes and shared bike/motor vehicle lanes are marked on many area roads. Bike owners are required to register their bikes with Cornell (free online registration form). Cornell has a system of marked bike lanes (white bike and rider symbol) and shared paths (yellow bike and rider symbol). Cycling on all walkways with no symbol is prohibited by municipal law and university regulations. Dismount zones are marked in heavily trafficked pedestrian areas (red circle and slash over bike and rider). Commuter bike paths also connect the campus to certain eastern residential areas. Bikers are required by law to use headlights at night.
Owning a Car in Ithaca
Fortunately, Ithaca and Cornell have good public transit, and the most important locations are within walking and biking distance of those who live near campus. If you do bring an automobile, it must be registered and insured, either in New York or in your home state. International students seeking information on driving in the United States should contact the Department of Motor Vehicles (below).