Housing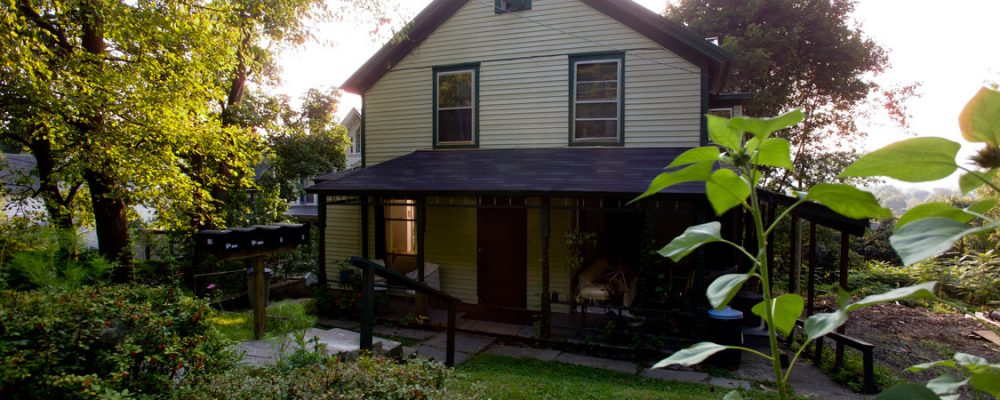 University Housing
Approximately 5% of graduate students live in university housing. Cornell's graduate and professional student residences offer many opportunities that off-campus housing may not. The multinational graduate school communities are in close proximity to campus facilities, libraries, and classrooms.
The largest residence, Hasbrouck Apartments, has a community center with television rooms, a service center, study and meeting rooms, laundry areas, vending machines, and recreational facilities. Living arrangements are available to accommodate single students and students with families.
The Housing Office assigns housing on a first-come, first-served basis, so place your request early.
Off-Campus Housing
Most of Cornell's graduate students live in the Ithaca area in residences that are not university-owned. Many areas around the Cornell campus are within walking distance, so owning a car may not be a necessity; however, the hills in Ithaca can make walking to and from certain areas difficult at times. Not having a car can also restrict access to shopping and other area services. Although the Ithaca area does have public transportation and CarShare, service is limited in certain areas and on weekends.
As with on-campus housing, it is better to look for off-campus housing early. Available housing includes apartment complexes, multiple-unit houses, single-unit houses, room rentals, mobile homes, lake houses, and cooperative living units. Ithaca's neighborhoods and the surrounding region have distinct characteristics that are best investigated in person. Cornell's Off-Campus Living Office website provides apartment listings and excellent advice about searching for housing, understanding lease terms, and interacting with landlords.
Off-Campus Neighborhoods
Collegetown
Abutting the southwest end of the Cornell campus, Collegetown is akin to a miniature city featuring shopping, restaurants, and other services. This convenient location is very popular with students (mostly undergraduate), which increases rent, noise, and congestion. Living in the lower Collegetown area provides good exercise because you'll have to walk uphill to campus; you'll also be close to downtown's shops and restaurants. Luxury/average apartment complexes, multiple-unit houses, and room rentals prevail in this area. (Up to a 15-minute walk to campus.)
East Hill and Belle Sherman
Located just east of Collegetown, this residential area is a mix of family homes and a few apartment complexes. This neighborhoods tends to be quieter, and is within walking distance of the shops, grocery stores, and other services of East Hill Plaza, Judd Falls Plaza, and Collegetown. (A 15-minute mostly level walk to campus.)
Downtown and Fall Creek
These peaceful residential neighborhoods are located at the base of East Hill. They are within walking distance of the Commons, public library, shopping, parks, and other city services. Many graduate students prefer this area for its lower rents and city neighborhood feel. Most of the rental units are subdivided houses, single-unit houses, or apartments over shops. Bus service is frequent in this area. (A 20 to 30-minute uphill walk to campus.)
Cornell Heights/Cayuga Heights
Both historic neighborhoods border the Cornell campus to the north. Cornell Heights contains some apartment buildings and apartments within houses. It is also home to many fraternities and sororities, so residents are at times subjected to loud music and parties.
Cayuga Heights is a residential area where many faculty live. The neighborhood has a few apartment complexes and rooms/apartments within houses. Walkable shopping areas and other conveniences are somewhat limited. (Up to a 30-minute level walk to campus.)
Northeast and Lansing
North of Cayuga Heights, this suburban area includes varied large and small apartment complexes, residential neighborhoods, and retail areas (The Shops at Ithaca Mall, Triphammer Marketplace, and Cayuga Mall). Somewhat remote from campus, this area also tends to be less expensive. Bus lines run regularly. (Lengthy, level walk to campus; bus or car recommended.)
South Hill
South Hill is home to Ithaca College (IC), and IC students inhabit many of its apartment complexes. Although less convenient for Cornell students without cars because of its distance to campus, some graduate students choose to live here and walk to downtown Ithaca, then take public transportation to campus. (A 15-minute downhill walk to downtown; 10-minute bus ride to campus.)
West Hill and Cayuga Lake (West Shore)
Although living on the lake has obvious aesthetic and warm-weather benefits, these are inconvenient residential areas for Cornell students. Rent tends to be less expensive, but winter heating bills can be astronomical. Be aware that units advertised as "cottages" are probably not insulated; "houses" probably are. Check with New York State Electric & Gas (NYSEG, 800-572-1111) for average yearly heating bills. Few buses run here.
Farther Afield
Because of the lower rent and more rural atmosphere, among other reasons, some graduate students choose to live in areas surrounding Ithaca. All require a commute by car or by public transportation (which runs less frequently in outlying areas). Some towns and villages nearby include: Brooktondale, Candor, Danby, Dryden, Groton, Lansing, Newfield, and Trumansburg.
Finding Housing
View Inside Scoop accessible transcript.
Each year, a panel of students (including international students) with many different living arrangements share their experiences and offer guidance on factors to consider when evaluating housing options.
This program is sponsored by the Graduate and Professional Student Assembly Diversity and International Student Committee, Graduate School, and Off-Campus Living.