Effective Communication Skills: Important Now, Essential Later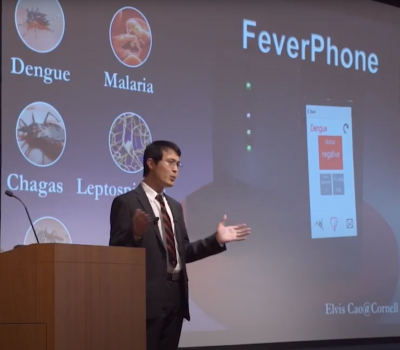 By Katya Hrichak
Research. Analysis. Communication. Organization. Management.
Many university career websites list the translational skills they expect students will learn as a byproduct of earning their advanced degrees. At Cornell's Graduate School, a newly enhanced workshop series helps students identify and hone their research communication skills, focusing on communicating complex ideas to general audiences.
"Promoting Your Research with Compelling Communication (aka, 3MT and Beyond!)" features sessions that teach students how to present and promote research more effectively. Although students do not have to participate in the Spring 2021 Three Minute Thesis (3MT) competition to attend the workshops, the skills learned are directly applicable.
"I learned how to tell a better story from participating in the 3MT," said Xiangkun (Elvis) Cao, mechanical engineering doctoral candidate and 2017 3MT People's Choice Award winner. "The key skill I learned was to quickly adapt my talk styles to different audiences."
Cao got lots of practice with adaptation as he rewrote his opening sentence 20 times before finding the right start. Since participating in the 3MT, he has used this skill of adapting talks for numerous pitches and contests, for which he received recognitions as the national graduate division winner by Sigma Xi, national third place winner by the AAAS, and a first place award by the Atkinson Center, among others.
"Without the 3MT experience, I hardly imagine that any of these recognitions would be possible," he said.
Organizers said helping students learn these skills and their application in different scenarios is a primary goal of the workshop series.
"We hope the sessions help students in all aspects of their careers and their lives, including with class projects, fellowships, teaching assistantships, research – and, of course, job interviews, whether in academia or industry," said Denise DiRienzo, experiential program director for the Graduate School's Careers Beyond Academia. "We hope to help them develop skills and really gain confidence."
Past sessions have included turning research into an elevator pitch and learning what you need to do to enter the 3MT competition. Future sessions will focus on developing presentations with an emphasis on accessibility, technology, slide design, and improved stage presence.
Each of the skills addressed will prepare students for the 3MT, in which they must describe their thesis or dissertation in just three minutes to a general audience using one static slide.
"For Spring 2021, our preliminary and final 3MT competition rounds will be conducted remotely, so it's a good year to offer training and coaching sessions on using technology to communicate your research at a distance," said Jan Allen, associate dean for academic and student affairs. "Beyond the 3MT, these workshops are for all students who want to develop or enhance skills in effectively presenting in class, at conferences, at job interviews, and giving the proverbial 'elevator pitch'."
Alexandra Molina, a doctoral student in biomedical and biological sciences, attended the session, "How to Turn Your Research into an Elevator Pitch (and What's an Elevator Pitch?)". Like Cao, Molina found the workshop helped her tailor the presentation's first few lines to different audiences.
"I consider effective science communication to be the most valuable thing I can attempt to perfect while pursuing my Ph.D.," she said.
For more information on upcoming sessions and the 3MT, visit the Promoting Your Research with Compelling Communication webpage. Questions about the Spring 2021 3MT, which invites December 2020 graduates to participate due to the canceled Spring 2020 competition, can be directed to grad3mt@cornell.edu.
Related: