Highlights from Announcements 1/21/20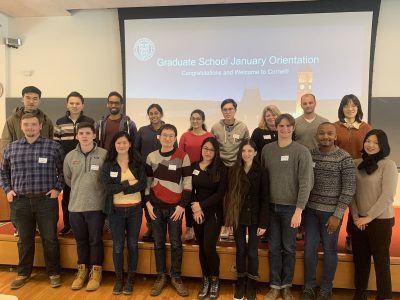 Welcome, New Students!
The Graduate School's January Orientation welcomed an incoming group of students to campus on Friday, January 17. After listening to a presentation about Graduate School resources and what to expect at Cornell, small groups convened to discuss methods for success during their graduate school careers. The group represented 12 fields and six degree programs and arrived on campus from around the globe.
---
Workshops Offer Judgement-free Zone to Learn How to Be an Ally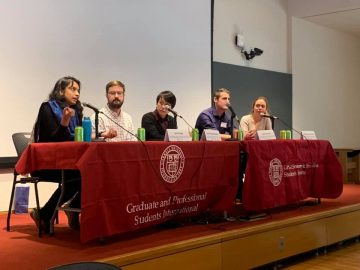 Soil and crop sciences doctoral candidate Eugene Law noticed a pattern when facilitating an Intergroup Dialogue Project workshop. Students wanted to become better allies to those from historically marginalized communities, but did not know how to start the conversation. This reluctance to ask questions can make students feel less effective as potential allies.
In response, Law, with other members of the GPSA's Diversity and International Student Committee (DISC) and in collaboration with the Graduate School Office of Inclusion and Student Engagement, developed the Building Allyship workshop series. The series, says Law, creates a place where both experienced and potential allies can learn from each other without fear of judgment.
---
Careers In… Industry
By Najva Akbari, doctoral candidate in applied physics, and Susi Varvayanis, executive director of Careers Beyond Academia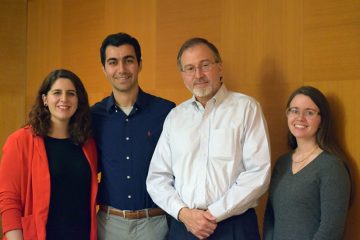 Organized in concert with the Engineering Graduate Student Association (EGSA), Careers Beyond Academia held a discussion to explore careers in industry featuring panelists Bailey Cooper, Ph.D. '16, biomedical engineering; Ebrahim Nemati, Ph.D. in electrical engineering from UCLA; and Cornell chemical engineering alumnus Kent Göklen, Ph.D., MIT.
The speakers shared the pros and cons of working in this environment and how they transitioned from academia. Participants brought their own questions which were discussed throughout the session. Moderated by Najva Akbari, Ph.D. candidate in applied physics, who also invited the speakers through a request for funding from Careers Beyond Academia, the panelists addressed many common questions and gave frank advice from their personal experiences on several tricky topics.
Read the full Careers Beyond Academia spotlight
---
Student Spotlight: Mary Kate Koch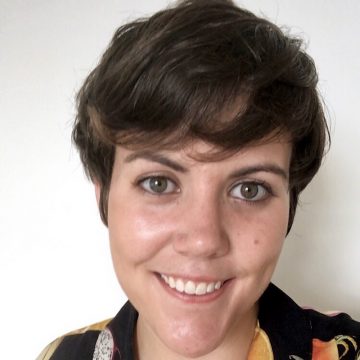 Mary Kate Koch is a doctoral student in human development from Portland, Oregon. After earning a degree from Gonzaga University, she chose to pursue further studies in developmental psychology at Cornell because of her field's faculty and the university's geographical location.
Read the full student spotlight
Interested in what other graduate students are doing both on and off campus?
Check out our student spotlights, Q&As with current students about their research, hobbies, and experiences at Cornell.
---
Kudos!
Soil and Crop Sciences Doctoral Candidate Places in Student Poster Contest
Eugene Law, doctoral candidate in soil and crop sciences, presented preliminary results from his Teaching as Research project on scientific literacy in the weed science classroom at the Northeast Plants, Pests, and Soils Conference earlier this month in Philadelphia, Pa., and received second place in the student poster contest. Law received a CIRTL at Cornell travel grant to present preliminary results from this ongoing work.
---
Medieval Studies Doctoral Student's Work Featured in Recent Podcasts
Medieval studies doctoral student John Wyatt Greenlee's dissertation focuses on eels in English medieval and early modern history. Recently, his research has been featured in a couple of notable public forums. In December, Slate's Political Gabfest podcast, "The 'Read My Letter' Edition", talked about his work for several minutes (minute mark 50:09). More recently, the popular British podcast ,"No Such Thing as a Fish", dedicated a section of their show to his work (minute mark 24:15 of "Episode 303: No Such Thing as a Suckling Column").
---
Doctoral Alumna Selected to Forbes 30 Under 30 – Science 2020 List
Sharon Li, Ph.D. '17 was selected to Forbes' 30 Under 30 – Science 2020 list. According to Forbes, "For machine learning to work, large amounts of data have to be labeled by people to "teach" computers what they're looking at. Li aims to remove this human bottleneck by building algorithms that can work with minimal labels. She's successfully done this with large image datasets, and will be joining the University of Wisconsin Madison in 2020 as an Assistant Professor." Read Li's Forbes profile or view the Science 2020 list for more information.