Highlights from Announcements 10/9/18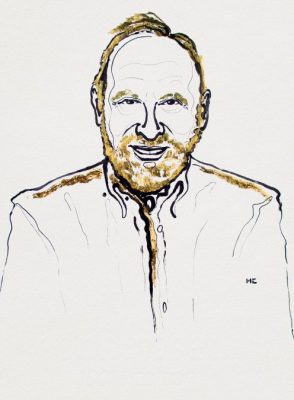 Arthur Ashkin, Ph.D. '52, Shares Nobel Prize in Physics
Arthur Ashkin, Ph.D. '52, whose invention of "optical tweezers" realized his own science fiction dream of being able to move objects with light, was among three physicists named by the Royal Swedish Academy of Sciences as winners of this year's Nobel Prize in physics. The announcement was made Oct. 2 in Stockholm.
Ashkin, who at age 96 sets a record as the oldest Nobel winner in the award's 112-year history, shares the award with Gérard Mourou of both École Polytechnique, Palaiseau, France, and the University of Michigan; and Donna Strickland of the University of Waterloo, Canada, for their method of generating high-intensity, ultra-short optical pulses.
Stassun Advocates for Holistic Admissions Process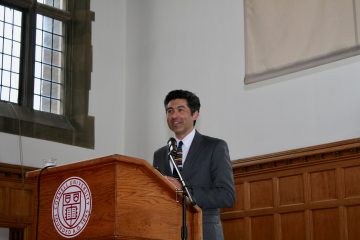 Keivan Stassun, professor of physics and astronomy at Vanderbilt University, recently shared data on diversity in doctoral programs along with his experiences transforming admissions processes to overcome barriers for underrepresented minorities as the founder of the Fisk-Vanderbilt Master-to-PhD Bridge Program.
In his Oct. 2 lecture, "Holistic Admissions: Achieving Diversity at the Ph.D. Level," Stassun illuminated the problem by pointing out that nationwide only 20 African American women graduated with doctoral degrees in physics over a recent five-year period, according to a study from the American Physical Society and the American Institute of Physics.
Read the about the lecture and GRE's at Cornell
McGraw Tower Lights Illuminate the Wonders of DNA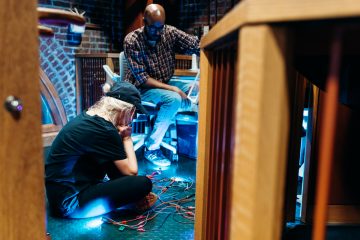 For one weekend, the McGraw Tower clocks told more than just time.
On the evenings of Sept. 28-29, two graduate students and two postdoctoral fellows from four different departments presented a new media light installation depicting a nucleotide-by-nucleotide "walk" through human genomes. Flashing lights programmed by the students represented different populations from around the world. The light installation – called "ATGC" – was part of the 2018 Cornell Council for the Arts Biennial.
The installation represented genomes of 32 diverse human populations, one genome per LED. The light showed genetic similitude and variation of the four nucleotides in DNA: A, T, G and C. The nucleotides lit up as red (T), blue (C), green (A), and white (C) using LED lights that blink to depict a journey through the DNA of these 32 genomes.
Kudos!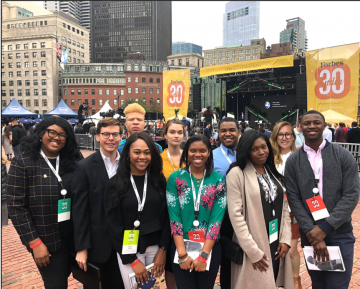 This year a number of current and alumni Cornell graduate students were selected as Forbes 30 Under 30 Scholars to attend the Forbes Under 30 Summit in Boston, MA from September 30-October 3, 2018. Among them were a group of nine CIPA students and recent alumni, including Molly Conlin, Elgin Ford II, Elaha Mahboob, Alexandria Maloney, Mary McKean, Joseph Abu, Brettany Alayne Tucker, Eleanor Wen, and Melissa Brown; MRP students Kristen Collins and Grant N. Thompson; law student Cyril Heron; BME students Tibra Wheeler and Taylor Walker; and MAE students Xiangkun (Elvis) Cao, Zhengda Lu, and Xu Liu.