Highlights from Announcements 12/16/19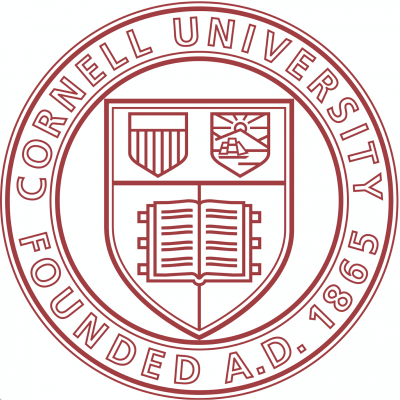 Vacation and Holidays for Graduate Students on Assistantships/Fellowships
The General Committee of the Graduate School, which includes graduate student members appointed through the Graduate and Professional Student Assembly, approved Graduate School legislation regarding holiday and vacation time for funded graduate students, effective 1/1/20. The General Committee affirmed the overall principle that graduate students can benefit from time devoted to rest, relaxation, and renewal away from the pressures of research, scholarly endeavors, service responsibilities, and academic study and that graduate fields, special committees (academic advisors), graduate faculty, and assistantship supervisors should encourage graduate students to take time away via university holidays and planned vacation.
To implement these provisions, University Policy 1.3, Graduate Assistantships has been updated, effective 1/1/20. We encourage all graduate students who have or anticipate having assistantship funding to read it. Policy 1.3 applies to all graduate assistantships, including teaching assistant, research assistant, graduate research assistant, and graduate assistant appointments. Key components are summarized here, but please read the full policy for details:
University holidays, vacation, and other time away: Graduate students appointed on any combination of full assistantships or fellowships for spring, summer, and fall terms are entitled to two weeks (10 weekdays) of annual vacation each 12-month period (August 21 through August 20) in addition to Cornell University holidays (when the university is officially closed); vacation time will be prorated for students appointed for shorter periods of time (e.g., four days for a student appointed on an assistantship or fellowship for only one semester during the calendar period August 21-August 20). Cornell University holidays (when the university is officially closed) generally include 12 days: Martin Luther King Jr. Day, Memorial Day, Independence Day, Labor Day, Thanksgiving and the following day, and Winter Break (generally six working days from December 25 through January 1). The new vacation time component of the policy takes effect beginning January 1, 2020. The policy also encourages flexibility between faculty and students to accommodate reasonable requests for personal time away (e.g., for religious observance, medical appointments, bereavement, etc.).
Summer appointments: The policy affirms that summer assistantship appointments must conform to Policy 1.3. Academic expectations for students appointed to partial summer assistantships are to be adjusted proportionally.
Supervision: The policy articulates that faculty and staff responsible for overseeing graduate students on assistantships should provide appropriate training and feedback to graduate assistants (TA, GA, RA, GRA).
Appointment letters: The revision includes a new appendix with detailed example appointment letters for each assistantship type.
Input for revising Policy 1.3 was solicited from graduate student leaders in the GPSA, the General Committee, faculty Directors of Graduate Studies, staff Graduate Field Assistants, the Educational Policy Committee of the Faculty Senate, academic deans, and other campus stakeholders.
If a graduate student and special committee chair and/or supervisor of the funded position are unable to reach agreement on appropriate scheduling of requested vacation time, use of university holidays, or requests for additional time away for personal reasons, the Director of Graduate Studies should be consulted to help mediate a resolution. The Graduate School associate dean for academic and student affairs may be consulted as well.
Please read University Policy 1.3 in is entirety, and direct questions about the policy to the Graduate School associate dean for administration, gradstudserv_assoc_dean@cornell.edu.
---
Student Spotlight: Alicia Cintora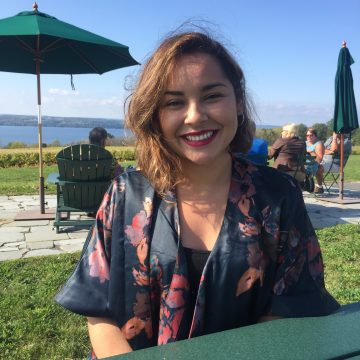 Alicia Cintora is a doctoral student in materials science and engineering from Chicago, Illinois. After completing her undergraduate degree at the University of Illinois at Urbana-Champaign, she chose to pursue further study at Cornell due to her field's supportive atmosphere.
Read the full student spotlight
Interested in what other graduate students are doing both on and off campus?
Check out our student spotlights, Q&As with current students about their research, hobbies, and experiences at Cornell.
---
Kudos!
Doctoral Students Attend Annual D.C. Congressional Trip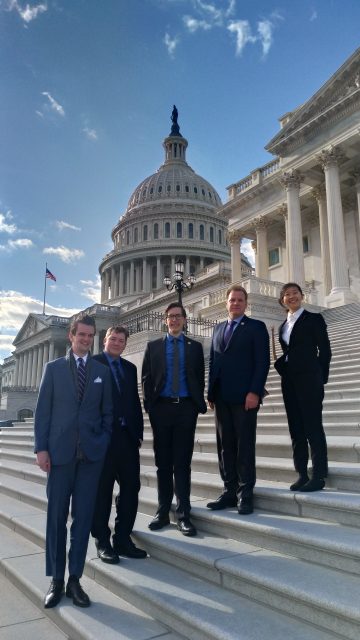 Led by Prof. Chris Schaffer, Meinig School of Biomedical Engineering, four doctoral students attended an annual congressional trip to Washington, D.C., organized by Cornell Advancing Science and Policy (ASAP). The group visited with staff from the offices of seven Senators and Representatives to discuss and advocate for three science policy issues. David Specht and Timothy Bumpus, fifth-year doctoral students from applied physics and chemistry and chemical biology, respectively, brought up issues related to new biotechnologies and their impact on U.S. national security. Joseph Long, a third-year doctoral student in biomedical engineering, discussed the importance of investing in a workforce that ethically advances the biotechnology industry. I-An Su, a first-year doctoral student in human development and licensed capital defense attorney in Taiwan, proposed developing a National Institute of Forensic Science based on recommendations from the 2009 PCAST report.
Doctoral Student Publishes Manuscript in Conservation Biology
Doctoral student Josephine E.M. Martell and Professor Amanda D. Rodewald published "Frames, facts, and the science of communicating environmental crises" in Conservation Biology.