Highlights from Announcements 12/23/19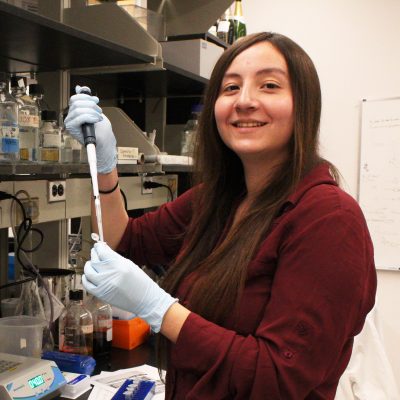 Student Spotlight: Irma Fernandez
Irma Fernandez is a doctoral student in biochemistry, molecular and cell biology from Michoacan, Mexico and Los Angeles, California. After studying pharmaceutical chemistry and English/Spanish literature at UC San Diego, she chose to attend Cornell due to its supportive and highly collaborative environment.
Read the full student spotlight
Interested in what other graduate students are doing both on and off campus?
Check out our student spotlights, Q&As with current students about their research, hobbies, and experiences at Cornell.
---
Staying in Ithaca Over Break? Check Out These Resources!
If you plan to stay in Ithaca over winter break, check out the information below to find out what's happening around town!
---
Kudos!
Doctoral Student and Big Red Barn Director Recognized for Sustainability Efforts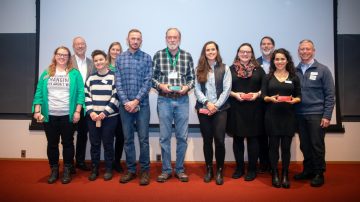 Laura Figueroa, doctoral student in entomology, and Jennifer Forbes, director of the Big Red Barn, received the Cornell University Partners in Sustainability Group Award for creatively applying sustainable solutions to waste at the Big Red Barn during the 2019 Sustainability Leadership Summit on December 17. Read more about the summit.
Doctoral Students Publish Manuscripts
Natural resources doctoral student Josephine E.M. Martell and Professor Amanda D. Rodewald published "Frames, facts, and the science of communicating environmental crises" in Conservation Biology.
Nicholas K. Fletcher, a doctoral student in ecology and evolutionary biology, published a manuscript in the journal Ecology and Evolution with advisor Jeremy Searle. Authors on "Glacial cycles drive rapid divergence of cryptic field vole species" include Fletcher, N. K.; Acevedo, P.; Herman, J. S.; Paupério, J.; Alves, P. C.; and Searle, J. B. (2019).
Doctoral Alumnae Co-Author Book
Cornell doctoral alumna Jennifer Brown Urban, Ph.D. '08 co-authored "Building a Career Outside Academia: A Guide for Doctoral Students in the Behavioral and Social Sciences", published by the American Psychological Association Press, with other doctoral alumnae J. Zoe Klemfuss, Ph.D. '11; Sarah Clement, Ph.D. '12; Lisa A. Gennetian, Ph.D. '98; Jane L. Powers, Ph.D. '85; and Lisa A. McCabe, Ph.D. '99.