Highlights from Announcements 2/15/21
Graduate School Spring 2021 Town Hall
Tuesday, February 16, 4:00 – 5:00 p.m. – Register for the Zoom link
Join Dean and Vice Provost Kathryn Boor for a Graduate School town hall to kick off Spring 2021. University leaders, including Vice Provost Gary Koretzky, Anne Jones (Director of Medical Services for Cornell Health), and representatives from the Office of Global Learning, the Graduate School, and Career Services will join us to address a range of topics including:
Cornell's COVID-19 response
Vaccines
Assistantships
Funding
Immigration/visa concerns
Mental health
And more.
Submit questions in advance or during the town hall.
---
Public Safety at Cornell Survey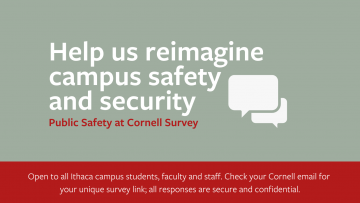 Contribute your voice to the Public Safety Advisory Committee survey on campus safety and security. Check your Cornell email for your unique survey link. Responses, which are due by Feb. 21, are secure and confidential.
---
Slippery Character
Meet John Wyatt Greenlee, Ph.D. '20–a.k.a. the 'Surprised Eel Historian'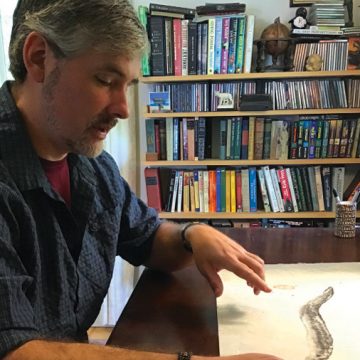 Have you ever wondered how much it would cost to pay a year of Cornell endowed tuition entirely in eels? No? Well, one recent doctoral alum has. And he can tell you, too: a whopping 213,024.

John Wyatt Greenlee, Ph.D. '20, knows his eels. The medieval studies grad calls himself the "Surprised Eel Historian" on Twitter, where he shares eel-related factoids both vintage and modern on a near-daily basis–including the observation that since eels cost the equivalent of 33 to 66 cents each in medieval England, "hotdogs are a good modern analog" for their price point.
Read the Cornell Alumni Magazine story
---
Alumnus Spotlight: Adem Efe Gencer, Ph.D.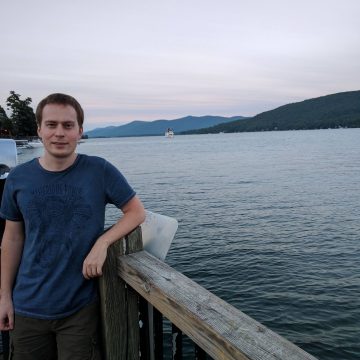 Adem Efe Gencer, Ph.D. '17, is an alumnus of the computer science program at Cornell who now works at LinkedIn as a staff software engineer. His dissertation on blockchain is the most retrieved Cornell dissertation in the ProQuest database over the past eight years.
Read the full alumnus spotlight
Interested in what other alumni have accomplished since leaving Cornell?
Check out our alumni spotlights, Q&As with former students about their current work, experiences, and skills learned at Cornell.
---
Kudos!
BMCB Doctoral Candidate's First-Author Paper Published
Biochemistry, molecular and cell biology doctoral candidate Irma Fernandez's first first-author paper, which investigates the role of SIRT5 in breast cancer, has just been published and will set the stage for novel therapeutics targeting cancer cell metabolism. Read the paper and the project's undergraduate researcher's blog about their cancer patient and DEI outreach.
---
Computer Science Doctoral Student's Paper Featured on Top Tech Website
Chinasa T. Okolo, a doctoral student in computer science, recently had a paper featured on VentureBeat, a top tech website.