Highlights from Announcements 4/13/20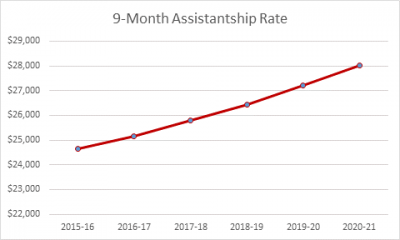 New: Stipend Increase: 2020-2021 Stipend Rates Announced
Cornell's Board of Trustees approved a 3% increase to the graduate stipend rate, effective August 21st of this year. The base academic year assistantship stipend will be $28,036, up from the 2019-20 rate of $27,218.
The 12-month assistantship rate, for students who have standard summer RA or GRA appointments, will be $37,384. The 2021 Summer Sage fellowship stipend for fellows in the humanities and certain social sciences has also been increased by 3% to $5,907.
Students supported on assistantships receive their stipend for an appointment averaging no more than 15 hours per week of service in addition to the academic responsibilities of their degree program. They also receive health insurance coverage and full tuition credit.
For the 11th consecutive year there has been no change to the tuition rates for doctoral or most research master's programs. They remain at $20,800 and $29,500 for contract and endowed programs, respectively. Student Health Plan (SHP) rates are expected to be published in May.
---
New: Graduate School Emergency Fellowships for Summer 2020
The Graduate School has established a fund to provide $3000 emergency fellowships for students who are facing financial hardships as a result of cancelled summer internships, TA opportunities, or other disruptions to planned summer funding.
These special fellowships are available only to students who are in good academic standing, are within the period of guaranteed funding, and whose planned summer funding was disrupted by COVID-19. Requests for consideration should be made directly to your graduate field through the DGS.
Funds are limited. Notifications will be made by mid-May.
---
New: Expanded COVID-19 Coverage for Student Health Plan Participants
SHP/SHP+ is currently providing the following benefits for plan members who require testing and/or treatment for COVID-19.
Effective 3/6 – 6/3:
100% coverage for COVID-19 testing and the associated visit that accompanies that testing
100% coverage for ANY Telehealth service inclusive of mental health and medical care
Advanced refills on 30-day and 90-day medications at the Cornell Health Pharmacy
Effective 3/27 – 6/1:
100% coverage at any hospital for an inpatient admission for COVID-19
Learn more about SHP plans and view expanded coverage. Questions? Please email studentbenefits@cornell.edu.
---
Extension of Spring Assistantship Period, Stipend Supplement
April 9, 2020
Dear Student,
The events of this spring semester have disrupted the normal rhythms of our lives and of Cornell's academic calendar. While many undergraduate students made hasty plans to travel home in mid-March and prepared to resume classes remotely on April 6th, many graduate students spent that time reworking their research and academic plans.
We know that current TAs have been helping move course content online and preparing to make this semester a success for their students. Due to the break in instruction, classes now extend further into May. As a result, the Provost has approved an extension to the spring appointment period of all graduate assistants with a corresponding increase in spring stipend.
The Spring 2020 assistantship period has been extended from May 15th to May 20th. The additional stipend awarded for this spring appointment period will be $456.33 for students receiving the base of $13,609/semester.
In response to student and faculty feedback, the University had previously planned to shift the assistantship periods beginning in Fall '20 to bring them into closer alignment with the academic calendar. This is described in University Policy 1.3 (pp. 10-11). This adjustment of 5 days represents an acceleration of that planned change.
Appointment Dates:
Spring 2020
Old: 1/1 – 5/15
New for Spring 2020: 1/1 – 5/20
Summer 2020
Old: 5/16 – 8/15
New: 5/21 – 8/20
Fall 2020
Old: 8/16 – 12/31
New: 8/21 – 1/5
Spring 2021 and beyond
N/A
New: 1/6 – 5/20
Although this consideration is most acute for TAs, the shift will apply to all assistantships (TA, GRA, RA, GA) in order to keep the appointments consistent and to recognize that students frequently move between appointment types.
We recognize that this spring has been immensely challenging. The outpouring of creativity, resilience and positivity we've seen from Cornell graduate students has been inspiring.
This adjustment that extends funding further into May recognizes the efforts of all graduate assistants but especially those TAs whose efforts have been so meaningful to the students who are now engaged in classes from every corner of the world.
Warm regards,
Jason
Jason A. Kahabka
Associate Dean for Administration
---
Registrar: COVID-19 Deadline Extensions
Spring 2020 Drop Deadline & S/U Grading Option: The last day to drop courses or change grading basis has been extended to Tuesday, May 12. See the message, "Changes in Course Grading Policy for Spring 2020", for detail on S/U grading options. Students can drop courses with a W and petition to change the grading basis to S/U between May 12 and May 23.

Thesis/Dissertation Submission Deadline: The thesis/dissertation submission deadline has been extended to Friday, May 15. Refer to the Thesis & Dissertation Planning Timeline for detailed information on deadlines and submission requirements.
Due to the rapidly evolving situation, students should continue to monitor their email and the university websites for future updates.
---
Cornell Tech Students
We know some of this information is only relevant to Ithaca based students. For other information, please refer to the Cornell Tech weekly Student Services Newsletter sent on Wednesdays and check the Cornell Tech COVID-19 Updates page.
---
Virtual Science Conference for Girls is April 18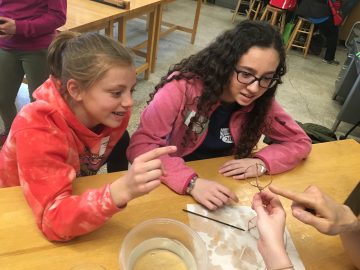 When the annual Expanding Your Horizons (EYH) conference – a day of hands-on science activities for 7th through 9th grade girls – was forced online due to the COVID-19 outbreak, organizers got some unexpected benefits.
The virtual format will allow for expansion – in recent years, the conference grew so popular that participation was limited to 500 students, selected by lottery. But now the April 18 event, hosted via Zoom and livestreamed on YouTube, will welcome students of all ages and genders from all locations for a full day of talks, panels, workshops and demonstrations.
---
Guidance for International Students and Faculty
Access to online platforms for international students in China:

Students in mainland China cannot access: Google products (including Cornell student email accounts), Facebook, YouTube, Twitter, Box/DropBox, Skype, LINE, Kakao Talk, Instagram, Whats App, or FlipGrid
Students in mainland China can access: Zoom, Canvas, Schoology, OneDrive, Office Online, iCloud, Wechat
---
Parenting While Working Remotely
A significant transformation due to COVID-19 has been the school closures, raising challenges for parents, caregivers, educators, and students alike.
Many faculty, staff, and some students had to rearrange their individual, work, and family needs, figuring out different expectations for school work, rethinking meals, supplies, and local services, and managing our own and others' anxiety.
The Office of Faculty Development and Diversity have compiled some suggestions on issues to consider or approaches to managing your new reality. These are just suggestions, understanding that people would have to adapt these to their resources and individual situations.
---
Resources for Focusing on Remote Work
Whether you're working, teaching, or learning from home, figuring out how to focus on your work is difficult while surrounded by many distractions. Below are a few resources and articles to give you ideas on how to refocus on the tasks at hand.
Cornell Partners:
Resources:
Articles:
---
Maximizing Zoom
Zoom offers a variety of advanced features, several of which are designed to help users increase security. With numerous incidents of "Zoombombing" being reported, this guide to maximizing Zoom from Cornell University's Student and Campus Life provides steps instructors and TAs can take to help keep their classes secure. View the guide.
Looking for more remote working, teaching, and learning resources?
View our compilation of tips on the Resources for Remote Working, Teaching, and Learning page.
---
Student Spotlight: Diana Obregon Corredor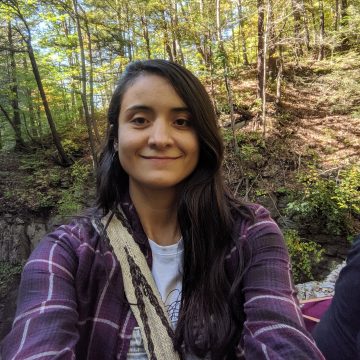 Diana Obregon Corredor is a doctoral student in entomology from Bogota, Colombia. After earning her undergraduate degree at the National University of Colombia, she chose to pursue further study at Cornell due to its research opportunities, her advisor, and the reputation of the entomology program.
Read the full student spotlight
Interested in what other graduate students are doing both on and off campus?
Check out our student spotlights, Q&As with current students about their research, hobbies, and experiences at Cornell.
---
Kudos!
Master's Candidate Publishes Piece About Virtual Defense
Rachel Mady, natural resources, published a piece in the PLOS ECR Community blog about her experience giving a virtual public seminar and master's defense.