Highlights from Announcements 4/5/21
COVID-19 Vaccination, Fall Instruction, and Virtual Town Hall
Cornell leadership announced on Friday that the university is requiring vaccination for students returning to Ithaca, Geneva, and Cornell Tech campuses for the fall semester and provided several possible plans for Fall 2021 instruction. Read the full statement for more information.
Cornell will hold a virtual Town Hall for all members of the Ithaca, Geneva, and Cornell Tech campuses on Thursday, April 8, from 12:00 – 1:00 p.m., to answer questions about plans for the fall semester. Questions can be submitted in advance of the Town Hall through Wednesday, April 7 at 12:00 p.m.
---
Upcoming Interruptions and Changes to Library Services
Plan ahead for summer library research keeping in mind upcoming interruptions and changes to essential library services: borrowing, Borrow Direct, Interlibrary Loan, and Hathi Trust Emergency Temporary Access Services (ETAS).
---
Student Spotlight: Amelia-Juliette Demery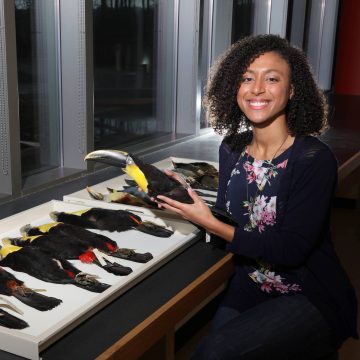 Amelia-Juliette Demery is a doctoral candidate in ecology and evolutionary biology from La Crescenta, California. After attending California State Polytechnic University, Pomona, she chose to pursue further study at Cornell for her advisor, research opportunities, and the chance to spend several years in upstate New York.
Read the full student spotlight
Interested in what other students are doing both on and off campus?
Check out our student spotlights, Q&As with current students about their research, hobbies, and experiences at Cornell.
---
Kudos!
Doctoral Candidate Interviewed for Science Careers Article
Brian Schaefer, a doctoral candidate in physics who has met all degree requirements, was interviewed on his data science internship for Science Careers. In the article, he discusses his experience during a virtual data science "boot camp" and how it influenced his decision to accept a job offer for his current role as a data scientist with Vectra AI, a cyber security software company.

Read "How Ph.D. students can make the most of virtual internships" and learn more about applying experiential learning to career development training.
---
Doctoral Candidate Published in Scientific American
Soil and crop sciences doctoral candidate Janani Hariharan published an opinion article in Scientific American about how culture collections help make science more open, collaborative, and reproducible. Read "Guardians of the Microbial Galaxy."
---
Doctoral Candidate Selected for SciPol Scholars Spring 2021 Cohort
Biomedical engineering doctoral candidate Joseph Long was accepted as part of the second National Science Policy Network SciPol Scholars cohort for Spring 2021. The scholars will participate in a six-week boot camp where they learn key skills in science policy, communication, and professional development. Using skills from the workshop, scholars are eligible to work in a "residency" with host organizations in the policy realm.