Highlights from Announcements 8/10/20
Attention Incoming Graduate and Professional Students:
The Orientation Hub is Open!
For registration links, please view Graduate School Announcements from August 10, 2020.
Orientation 2020 includes a live program, online modules, tips from current students via a panel webinar, and online social events to help you connect to other incoming students hosted by the Big Red Barn Graduate and Professional Student Center.
Upcoming Events
Orientation Graduate School Welcome Program – The recording of the August 10 live, formal Orientation program will be posted by next Monday.
Transitions workshops – Learn about developing a strategic plan, mentoring, funding, time management, responsible conduct of research, and navigating relationships.
Student Panel: Words of Wisdom – Hear tips from current students and learn about what it's really like to be a graduate student.
Big Red Barn Graduate and Professional Student Center – Attend a social mixer and take part in icebreaker activities to meet new and current students. All events will be online.
Explore our Orientation Hub to learn more about graduate study at Cornell and find links to important offices, resources, and support.
We hope the information provided helps you make a successful transition to graduate school.
Please note: To view Orientation materials on Canvas, you must first activate your NetID.
---
Graduate School Fall 2020 Information
The Graduate School has compiled information on the Fall 2020 semester, addressing arrivals to Ithaca, quarantine requirements, testing, and related FAQs. For more information, view the new Fall 2020 Information page.
---
Support for Families During the Pandemic — Student-Parent Survey
"Since the beginning of the pandemic, working families have been caring for children, disabled adults, and elders with dramatically lessened resources from schools and caregivers, and difficult family life issues continue to emerge. Simultaneously, care programs and schools are facing challenging decisions about whether and how they can deliver services/instruction in safe and healthy environments.
We know that many of you are feeling overwhelmed, tired, and worried about what the coming year will look like for you and your family. As K-12 schools are rolling out tentative fall plans, many families are having to make care plans quickly, sometimes without a lot of details.
Recognizing this, we have put together a COVID-19 Family Life Working Group, with representation from faculty, staff, and students, to better understand these challenges. If you would like to provide feedback and suggestions to the working group, please do so by Aug. 13. The working group will issue recommendations to university leadership by Aug. 24."
Excerpt from email sent by Mary Opperman, vice president and chief human resources officer, and Avery August, associate vice provost, on August 7. For full text, please see "Support for caregivers" on Cornell's COVID website.
The Working Group for Students includes the Students with Families Advisory Committee members and student-parent representatives. Please contact Janna Lamey (janna.lamey@cornell.edu), Working Group member, chair of the Advisory Committee, and senior assistant dean for graduate student life if you have any questions or concerns.
---
Ithaca Campus Messages and Updates
For more information, visit Cornell's COVID-19 and Reactivation Planning webpage.
---
Research Approvals Engaging Human Participants
As Cornell research activities have resumed, the Cornell Institutional Review Board on Human Participants (IRB) has developed guidance and identified other university requirements relevant to researchers planning to restart their human participant research operations.
If you are seeking to engage or re-engage with your research/scholarship involving human participants, consult with your faculty supervisor/special committee chair about the process to gain university approval to conduct your research, and review the IRB guidance.
---
Social Distancing and Reopening Guidelines
If you are concerned about individual or group behaviors related to COVID-19 prevention guidance, you may file a complaint using New York State's COVID-19 Complaint Intake Form, which allows for anonymous submission, or by calling the NYS Hotline.
Issues may include use of face coverings, gatherings over the allowable limit, failure to practice proper distancing, or violations of the NYS travel advisories and required 14-day quarantine (changed to 10-day quarantine on 1/6/21).
Report a complaint:
For more information, view Tompkins County's social distancing webpage.
---
TA Resources for Course Accessibility
Senior Lecturer Sue Merkel, who is also the associate director of academic programs in the College of Agriculture and Life Sciences, prepared the following list of resources, suggesting these would be very helpful to may graduate teaching assistants as they prepare to teach online or remotely this fall:
---
Nominate a Postdoc for Postdoc Achievement Awards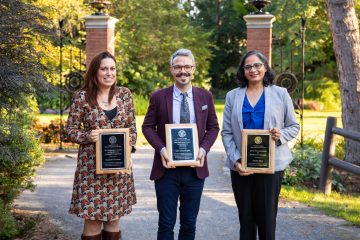 We are pleased to announce that nominations are open for the annual Postdoc Achievement Awards at Cornell University. These awards will be presented during the National Postdoc Appreciation Week, September 21-25, 2020.
To nominate a postdoc, please complete the online nomination form by the August 28 nomination deadline.
The Postdoc Achievement Awards honor and showcase postdocs who have made outstanding contributions to community or organizational change and show a commitment to promoting equity and inclusion at Cornell and/or throughout society as a whole. Every year, at least one of each of the following awards will be granted to deserving postdocs:
Achievement Award for Excellence in Leadership
Achievement Award for Excellence in Community Engagement
Achievement Award for Excellence in Mentoring
For award descriptions, view the nomination form.
---
Alumnus Spotlight: Mohammed AlAmer, Ph.D. '20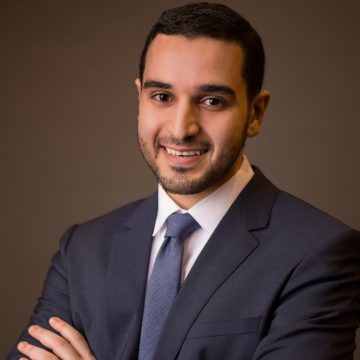 Mohammed AlAmer, Ph.D. '20, is a recent alumnus of the chemical engineering program at Cornell. After earning his bachelor's degree at McGill University and doctorate at Cornell, he will be joining Saudi Aramco's Research and Development Center as a research scientist in Dhahran, Saudi Arabia.
Read the full alumnus spotlight
Interested in what other alumni have accomplished since leaving Cornell?
Check out our alumni spotlights, Q&As with former students about their current work, experiences, and skills learned at Cornell.
---
Kudos!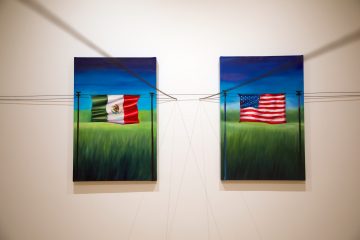 M.F.A. Student Receives Elizabeth Greenshields Foundation Grant
Paloma Vianey, a M.F.A. student in visual arts, received an Elizabeth Greenshields Foundation grant. This internationally prestigious grant from the Canada-based foundation is open to art students and emerging practitioners in visual arts from any country. Learn more about the Elizabeth Greenshields Foundation.