Highlights from Announcements 8/5/19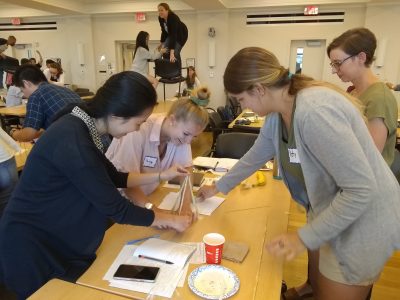 Finding Success Through Failure
Encountering failure is inevitable. Whether it takes the form of an unsuccessful experiment or a job rejection, everyone experiences failure. But, according to Dr. Susan Anderer '97, no one can be completely successful without it.
"Failure is an interesting word, if you think about it. It has some negative connotations to it, but you actually can't get anywhere without it," she said. Her talk, "Failure: The Essential Ingredient for Success," was part of the leadership retreat presented by the Graduate and Professional Women's Network (GPWomeN) and President's Council of Cornell Women (PCCW).
By dissecting events that could be perceived as failures in both her life and that of Ruth Bader Ginsburg '54, Anderer gave attendees perspectives to consider when reflecting upon their own failures.
---
Student Spotlight: T.K. Daisy Leung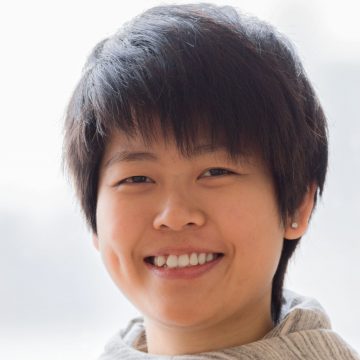 T.K. Daisy Leung is a doctoral student in astronomy and space sciences from Hong Kong. She chose to attend Cornell after completing her bachelor's degree at the University of California, Berkeley for its opportunities and location.
Read the full student spotlight
Interested in what other graduate students are doing both on and off campus?
Check out our student spotlights, Q&As with current students about their research, hobbies, and experiences at Cornell.
---
Kudos!
Two Doctoral Students Selected to Receive 2019 Gilliam Fellowships for Advanced Study
The Howard Hughes Medical Institute awarded grants to 44 doctoral adviser-student pairs to improve faculty mentoring skills, support new scientific leaders, and foster diversity and inclusion in science. Irma Fernandez and adviser Robert Weiss and Ferra Pinnock and adviser Susan Daniel were selected as two of the 44 pairs. Both Fernandez and Pinnock are also Graduate School Dean's Scholars.
Learn more about the fellowships and recipients.
Nine Doctoral Students Receive 2019 USDA-NIFA Predoctoral Fellowships
NIFA recently awarded 75 Predoctoral Fellowship grants that support graduate education in agricultural related disciplines. These fellowships will develop new scientists and professionals to enter research, education, and extension fields within the food and agricultural sciences. The aim of these grants is to cultivate future industry, government, or academic leaders who are able to solve emerging agricultural challenges of the 21st century. These grants are a part of NIFA's Agriculture and Food Research Initiative – Education Workforce Development.
Cornell recipients include: Samuel Reichler, Taylor Cyle, Zoe Dubrow, Taylor Anderson, Nathaniel Sibinga, Michelle Duong, Jenna Hershberger, Joshua Herskovitz, and Emma Farquharson.
View the full list of recipients.
M.P.H. Student Presents on Studies to Inform Equine Medicine and Diagnostic Testing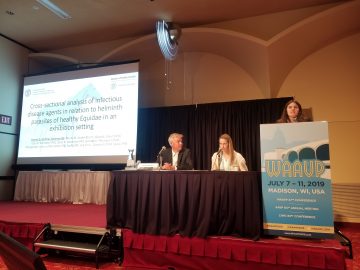 Hayley Hofmar-Glennon, a rising second year master of public health student, is working on a practicum project in the College of Veterinary Medicine which connects the program of microbiology and immunology to the New York State Animal Health Diagnostic Center.
Using a new high throughput testing platform, she analyzed a data set of samples from healthy horses from a state fair to determine pathogen prevalence and the connections between different infectious agents, a study that connects to the "hygiene hypothesis" that intestinal parasite infection may be protective for other diseases.
She gave a presentation on this work last month at the World Association of Veterinary Parasitologists in Madison, Wisconsin and will also give a talk at the American Public Health Association annual meeting in Philadelphia, Pennsylvania in November. Her studies will help inform equine medicine and diagnostic testing and allow a better understanding of zoonotic transfer of potential pathogens at exhibitions.