Highlights from Announcements 9/14/20
From the Registrar
Course Add Deadline is this Wednesday!
Don't forget that the last day to add courses or adjust credit hours is this Wednesday, September 16. Please check Student Center to verify that:
You are properly enrolled in all your courses
The credit option, if available, is correct
Your grading option is correctly set to letter grades or pass/fail or audit
In accordance with university policy, changes will not be permitted after Wednesday so be proactive and confirm your enrollment is correct.
Last Day to Register Without Late Registration Fee is this Friday!
The last day to register without being charged the $350 late registration fee is this Friday, September 18. To check your registration status, log into Student Essentials.
If you are registered, your Registration Status will state "Registered" with a green checkmark.
If the green checkmark is not present you are NOT registered.
Click on "more information" for complete details on holds preventing registration and steps to resolve the hold.
---
COVID-19 Protection Kits Available
Graduate students can pick up a "welcome kit" containing COVID-19 protection supplies at the Cornell Store. Each kit contains a thermometer, two face coverings, and hand sanitizer. They are free of charge. Students can pick one up at the Main Campus Store (entrance facing Day Hall), or at the Ithaca Commons Store. Kits are available anytime during store operating hours right at the entrance doors.
---
Surveillance Testing Improvements
After a few challenges during its first week, Cornell's surveillance testing program is now delivering quick, efficient service with new features to aid in flexibility.
Beginning this week you can easily request an exemption from testing if you are traveling and away from Ithaca. You can also request that your testing be moved to a different day. Additional appointments have been added so there are now approximately 40% more testing appointments available each day. Here are some helpful tips:
Late afternoons are often peak demand. Schedule form mornings to avoid lines.
New appointments are added throughout the day. If you log in and don't find a good time check back at midday.
Weekdays have less demand and shorter lines.
Add the Daily Check website to your phone!
Note: You will only be contacted if evidence of COVID-19 is detected from your sample, in which case the Tompkins County Health Department will contact you. Please be sure to answer calls from a 607 area code, even if the caller is not listed in your contacts; it may be the health department calling with important information.
Visit the Surveillance Testing webpage for more information.
---
Student Travel Guidelines and Updates
Cornell students living in the greater Ithaca area are expected to remain in the region. Students who have to travel outside of the greater Ithaca area due to exceptional circumstances (e.g., a family emergency) must follow all New York state and Cornell requirements prior to leaving and upon returning to the Ithaca and Cornell communities. Travel outside the area must be registered with Cornell.
The Cornell COVID website Travel page has been updated to clarify guidelines on student travel during the Fall 2020 semester and includes newly updated FAQs.
---
Order Ahead with GET Order
Cornell Dining has added five of our cafés to GET Order, our mobile ordering service, as a way of reducing the amount of time guests need to spend in our eateries. Order in advance to reduce your contact and interaction with staff at our cafés, and be more efficient with your time. You can place your order hours ahead if you're sure of your schedule, or simply before walking over. Just skip the line and grab your meal from the pickup station. Learn more.
---
Access to Primary Sources at the Library
Many of Cornell University Library's rare and distinctive (RAD) collections are available digitally, and the library is now preparing to reopen reading rooms by appointment to give the Cornell community more access to physical primary and archival sources vital to scholarship.
Would you like to be alerted as soon as these reading rooms reopen? Please let the library know through this survey. To help the library help you, the survey also asks for quick information on your current research and teaching needs.
In the meantime, you can request digital scans, free of charge, from the library's RAD collections. In addition, curators, librarians, and archivists are glad to arrange conversations by Zoom to discuss your or your students' research plans. Please visit the library's "hybrid library for a hybrid semester" page for more information on these services.
---
Reserve Study Spaces
You can now reserve space in rooms designated for studying through the "Book a Study Space" feature, available in Cornell Chatter (website and app). Learn how to use the feature to reserve a quiet space for reading, writing, listening; an interactive space to use Zoom or other videoconferencing; or a small group space.
Right now Book a Study Space has spaces in some college buildings. Eventually it will include the Cornell libraries. The colleges, schools, and libraries set the hours and monitor use of the spaces. Each space has a cleaning station, and Cornell's custodial staff clean the spaces once a day.
---
Upcoming Events and Resources for New Students
Upcoming Transitions Workshops – Learn about responsible conduct of research and navigating relationships.
Information in the Orientation Hub
Not Anymore Program – Interpersonal violence prevention program. Required for all students.

Note: On the Account Set Up page, you should see your name and NetID. To verify, click "Create Account". Then, begin the program.
Additional Resources
Please note: To view Orientation materials on Canvas, you must first activate your NetID.
---
Downtown Ithaca's Reminders to Social Distance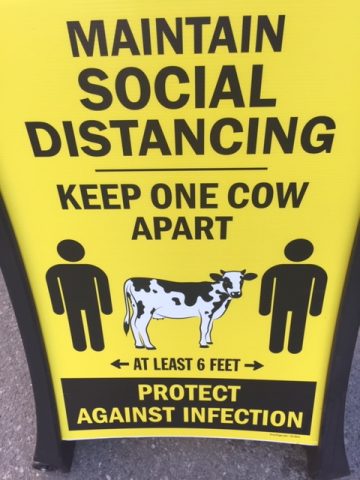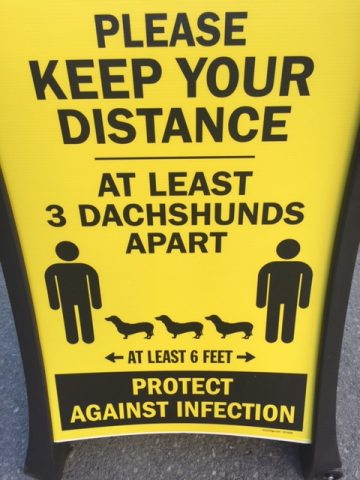 Adhering to social distancing guidelines is an important part of protecting yourself and others during the COVID-19 pandemic. Aurora Street, also known as restaurant row, in downtown Ithaca is reminding patrons to social distance by imagining one cow or three dachshunds between customers.
Photos by Associate Dean Jan Allen.
---
Register to Vote
To vote in state or federal elections, you must be a registered voter.
To register in New York state, you must be a United States citizen, be 18 years old by the date of the election in which you want to vote, reside at your present address in New York state for at least 30 days before an election, and not claim the right to vote elsewhere. This year's in-person registration deadline to vote in the upcoming November 3rd General Election is October 9, 2020.
Out-of-state students may register to vote by completing the National Mail Voter Registration Form. To order a printed version, contact the U.S. Election Assistance Commission (866-747-1471; clearinghouse@eac.gov). After filling out this form, you must send it to a state or local election office for processing. See state-specific instructions included in the form for additional information. The national form also contains voter registration rules and regulations for each state and territory.
For more information, view the full university message from September 8, 2020.
---
Student Spotlight: Eugene Law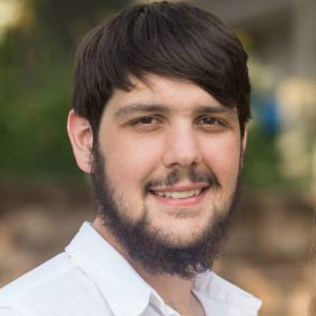 Eugene Law is a doctoral candidate in soil and crop sciences from Syracuse, New York. After attending SUNY College of Environmental Science and Forestry in Syracuse, he chose to pursue further study at Cornell due to the high ranking of its agricultural science programs as well as the location.
Read the full student spotlight
Interested in what other graduate students are doing both on and off campus?
Check out our student spotlights, Q&As with current students about their research, hobbies, and experiences at Cornell.
---
Kudos!
Alumnus Interviewed about Business
Leonardo Texteira, Ph.D. '09 (microbiology), and Diego Rey, Ph.D. '10 (biomedical engineering), partnered with Jason Springs, M.B.A. '09, to start GeneWeave Biosciences, bringing together their technical expertise with business. Despite the financial downturn of 2008, their persistence resulted in an initial round of funding for their idea to fuel their in vitro diagnostics company which led to an eventual buyout by Roche for $450M in 2015. They are now CEO, CSO, and CTO of their new endeavor, Endpoint Health, that launched in 2018 and is now poised to bring life-saving targeted therapies to patients with critical illnesses like respiratory distress such as is caused by COVID-19.
A recent interview/podcast by Alejandro Cremades (author of "The Art of Startup Fundraising") highlights the key elements to their success including how to build a strong team, the importance of listening to customer needs, and persistence to create convincing presentations. These are all part of developing an entrepreneurial mindset.
For more on entrepreneurship and innovation, view the Graduate School's entrepreneurship tips or the Careers Beyond Academia LibGuide.