Researchers Celebrate Black Scholarship with Second Annual Symposium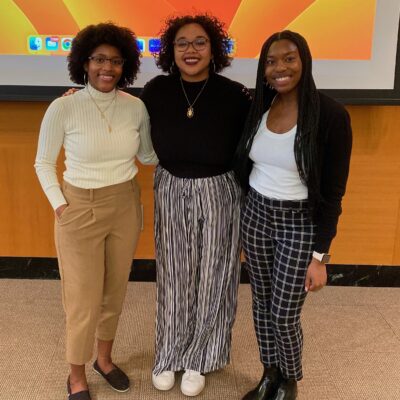 May 22, 2023
By Katya Hrichak
The second annual Black Excellence in Research Symposium brought together graduate and undergraduate students from across the university on May 2 to learn about their peers' work.
"There are so many great people in our community, excellent Black researchers on this campus doing fantastic work, but we didn't know each other or what anyone was doing," said Jawuanna McAllister, a doctoral candidate in biochemistry, molecular and cell biology, co-president of the Black Graduate and Professional Student Assembly (BGPSA), and symposium co-organizer, during the introductory remarks. "This symposium really seeks to uplift and highlight all of the amazing work our Black researchers are doing here at Cornell."
The symposium, which was open to all graduate, professional, and undergraduate students at Cornell, featured a keynote, six research presentations, and one lightning talk, which spanned the disciplines and celebrated the work of all involved in support of this year's theme, "We Out Here!"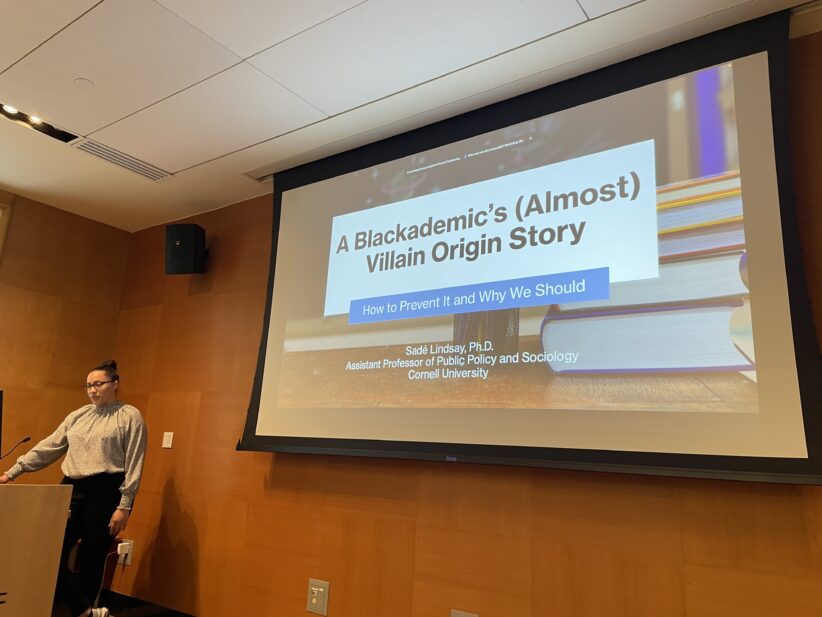 During the keynote address, Sadé Lindsay, assistant research professor in the Cornell Jeb E. Brooks School of Public Policy, spoke about her experience as a scholar-activist conducting community-engaged research. Her presentation, "A Blackademic's (Almost) Villain Origin Story: How to Prevent It and Why We Should," addressed challenges early in her graduate career that complicated her path forward, making her question if academia was the right direction.
"I want to try and prevent this as much as possible, especially for Blackademics doing community-engaged kinds of research," she said. "I think these are the moments that are what create these leaky pipelines."
Lindsay encouraged students to pursue research meaningful to them and create support and form networks for one another.
Industrial and labor relations doctoral student and BGPSA co-president Chadé Darby appreciated the insight and messages in Lindsay's talk, having contemplated scholar-activism in the academy and community-engaged research herself. A co-organizer for this year's symposium, Darby looks forward to helping plan the next iteration of the event.
"Being at a predominantly white institution can be an isolating experience for Black students," she said. "Creating this space where the attention is all on the amazing work we are doing as Black scholars is integral and a great way to build community among Black students from varying disciplines."
The Black Excellence in Research Symposium was hosted by the Black Graduate and Professional Student Association with support from the Graduate School Office of Inclusion and Student Engagement.