SPR Promotes Regular Feedback, Transparency – Even in Times of Uncertainty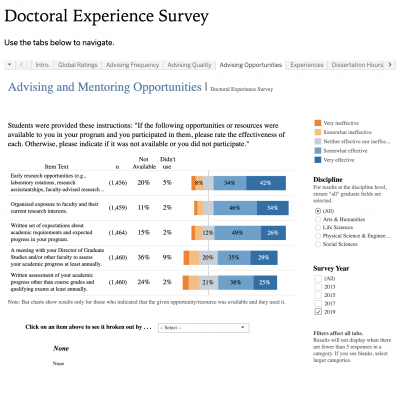 By Katya Hrichak
Since rolling out the Student Progress Review (SPR) requirement in 2017, the Graduate School's Doctoral Experience Survey data shows increased satisfaction in students' abilities to gain regular, written feedback from their advisors. With the recent shift to remote work by students and faculty alike, the SPR becomes an increasingly important tool both for maintaining clear communication between advisors and advisees and for documenting the impacts of COVID-19 disruptions on research and academic progress.
With the SPR, research degree students and their advisors are asked to have, at a minimum, one formal, documented conversation per year about academic progress and future plans. Like so many conversations this spring, these conversations are now taking place via Zoom, Skype, or telephone.
According to Associate Dean for Administration Jason Kahabka, the discussion between student and advisor improves transparency in the advising relationship and clarifies expectations.
"Having clear expectations is the number one way to make sure that students can make progress. Our students are really high achieving, capable, and academically proven, but advanced research degrees are different from previous schooling. Part of the change is that students are often not completing lots of short-term assignments and taking quizzes or exams every few weeks and getting feedback as they did as undergraduates," he said. "So, how do students get meaningful feedback? Through regular conversations and written comments in the SPR."
The SPR prompts students to reflect on recent accomplishments, challenges, and goals and is shared with the special committee chair. Chairs then indicate whether progress has been excellent, satisfactory, needs improvement, or unsatisfactory. The documented feedback is shared between the student, members of the student's special committee, and the faculty director of graduate studies (DGS) of the student's field.
Directors of Graduate Studies across campus have reported that the tool is incredibly useful in monitoring student progress, identifying areas where programs can adjust their curriculum, or strengthen mentoring.
Although students commonly note apprehension over submission of the SPR, Kahabka wants everyone to know that the process is meant to be a helpful tool for staying on track.
"We all have the same goal, which is helping students be successful," he said.
Related: