Students recognized at second annual Dean's Scholars Pinning Ceremony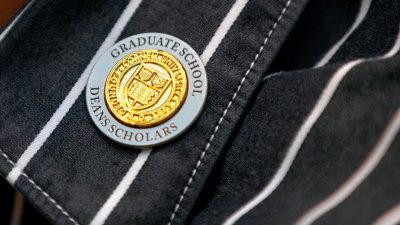 By Katya Hrichak
The Graduate School Dean's Scholars Pinning Ceremony might have celebrated its inaugural year in 2017, but the 2018 ceremony was not without its firsts.
The Pinning Ceremony honors recipients of competitive diversity-focused fellowships, including the Deans Excellence Fellowship, Deans McNair Fellowship, SUNY Graduate Diversity Fellowship, McNair SUNY Graduate Diversity Fellowship, Mellon Mays SUNY Graduate Diversity Fellowship, Provost Diversity Fellowship, Cornell Colman Fellowship, Cornell Sloan Fellowship, and Cornell GEM Ph.D. Fellowship.
This year, the Graduate School welcomed over 30 new and continuing Dean's Scholars at the Sept. 26 ceremony. Of these, several were the recipients of the first Graduate Dean's Mellon Mays Fellowship and the new Cornell Initiative for Maximizing Student Development (IMSD) Program, developed by Vice Provost for Academic Affairs Avery August.
"[IMSD] is a very supportive program, with weekly meetings for us to encourage one another, exchange tips and insights, and give and receive feedback," said Mariela Rivera De Jesus, biomedical engineering doctoral student and one of the first Cornell IMSD Program recipients.
Induction into the Dean's Scholars Program helps students network and establish connections across graduate fields by attending professional and community development events sponsored or co-sponsored by the Office of Inclusion & Student Engagement (OISE) and its partners, some of which include Diversity Programs in Engineering and Cornell University Center for the Integration of Research, Teaching, and Learning (CIRTL at Cornell).
Connor Rechtzigel, a doctoral student in anthropology and the first Graduate Dean's Mellon Mays Fellow, says he looks forward to the opportunities afforded by being part of the cohort.
"These spaces and conversations are so necessary, particularly for students who hold non-normative identities in a predominantly white, heterosexual academy," he said. "On the one hand, then, the Deans Mellon Mays Fellowship commits me to continually exploring how queerness and power intersect with my own research; on the other hand, it commits me to continually question, listen, and grow with my peers."
Another first for the ceremony included the pinning itself. This year, the newest members of the Dean's Scholars received a pin from last year's scholars to welcome them to the community. This is a tradition Sara Xayarath Hernández, associate dean for inclusion and student engagement, sees being carried forward into the future.
"I was thrilled to be a pinner in the ceremony because it is incredibly encouraging to witness the power of such a simple gesture," said Amanda Recupero, a doctoral student in Romance Studies and Deans Scholar recognized at last year's ceremony. "With this ceremony, we welcome new people into a growing community, recognize the challenges they overcame to get here, and congratulate them on this achievement. That this community continues to grow with intentional and valuable activities such as this one is inspiring and warming."
Each scholar receives a pin with a round, gold center containing the Cornell seal, representing the scholars' achievement, surrounded by an outer ring of silver, representing their persistence.
"I'm quite honored to be a part of the cohort of so many talented and brilliant scholars in so many different disciplines and that my hard work and achievements have been recognized by being included as a Scholar," said Rivera de Jesus.
Katya Hrichak is a communications assistant in the Graduate School.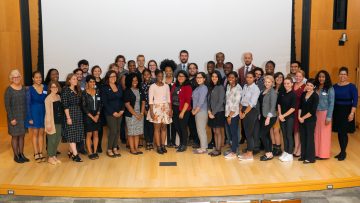 Related Resources: