Postdoc Spotlight: April Sutton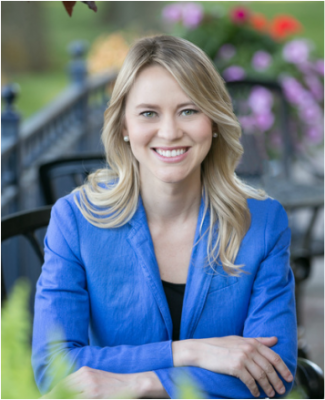 Sociologist and Frank H.T. Rhodes Postdoctoral Fellow April Sutton is featured as part of Cornell's Postdoc Appreciation Week 2016.
What is your area of research?
My research cuts across the areas of stratification and inequality, education, gender, labor markets, race and ethnicity, and work and occupations. My motivation is to enhance our understanding of 1) the link between education and labor force outcomes, and 2) how and why critical life transitions shape inequality. I am especially interested in how communities, schools, and other institutional contexts strengthen or weaken gender and racial/ethnic inequalities in education, work, and family formation outcomes.
How has your background influenced your scholarship?
As an undergraduate at Vanderbilt University, I grew interested in educational disparities and spatial inequalities for a few reasons. First, I noticed striking differences in the educational opportunities that my high school offered in rural Georgia compared to those where my college peers attended high school. My high school had a 48 percent graduation rate, a 10 percent college attendance rate, and one of the highest teen pregnancy rates in the state. Where many Vanderbilt students entered college with a year's worth of AP credits, my high school offered no Advanced Placement courses, and, even now, does not offer physics. Second, in my sociology courses, it surprised me that rural education and rural social problems more generally attracted little contemporary sociological attention.
These experiences in college, combined with my coursework in American and Southern studies and sociology, sparked my interest in studying educational inequalities and marginalized populations and communities that are often pushed to the edges of the discipline. My research focuses on inequalities that emerge at the intersection of gender, race/ethnicity, and/or place, especially those that have received scant empirical attention. In addition, I have developed a line of research that investigates how local labor market characteristics shape men's and women's educational and labor market opportunities. This allows me to hone in on a major source of inequalities across rural, urban, and suburban places without rendering any of these types of communities empirically invisible.
What else has influenced your thinking as a researcher or scholar?
I received some of my most valuable graduate training through participating in weekly article workshops that collected a group of scholars across sociological subfields and disciplines. Every participant read a working draft of a paper, and a faculty discussant and student discussant would critique the paper for about 10 minutes each before the rest of the group chimed in. This process taught me how to critique my own work from various theoretical, methodological, and disciplinary lenses, which I think leads to research with deeper and richer insights.
What other hobbies or activities do you enjoy in your spare time?
I enjoy discovering new music and going to shows, running around lakes, finding good hole-in-the-wall restaurants, listening to NPR podcasts, watching international and documentary films, and planning trips.
Why did you choose Cornell?
I chose Cornell because it provided me with a unique opportunity to learn from and collaborate with top scholars on my subfields of interest, including Kim Weeden, Dan Lichter, and Sharon Sassler. I also knew that I would be surrounded by scholars at the Cornell Population Center and Department of Sociology that would be producing and presenting high-quality research, and the kind of synergy that emerges in such environments is invaluable.
What's next for you?
I hope to obtain a tenure-track faculty position at a research university.
Do you have any advice for current graduate students?
Don't let topical trends in academia keep you from pursuing an important line of inquiry just because it's not "hot."
Interview by Sally Kral, communications and outreach assistant in the Graduate School