Student Spotlight: David Agyeman-Budu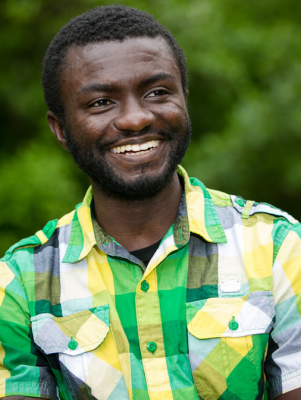 What is your area of research?
My area of research is developing an x-ray scanning probe technique called confocal x-ray fluorescence (CXRF) microscopy at the Cornell High Energy Synchrotron Source (CHESS). What we have been able to achieve is a high-resolution setup which does not suffer degradation in resolution for different fluorescent x-ray energies. CHESS is a high energy x-ray facility on campus that produces very intense x-ray beams: about four to five times order of magnitude higher compared to standard x-ray sources.
What inspired you to choose this field of study?
My interest has been in using nanotechnology to develop instrumentation techniques and I had worked on projects in that field as an undergrad. After my MEng, I had the opportunity to do so in a new context: Combining nanofabrication methods to developing novel x-ray instrumentation and I took advantage of it.
Why is this research important?
CXRF is an emerging analytical technique in x-ray microanalysis and what makes it attractive is the ability to isolate a specific and well-defined probe volume of x-ray interaction of a sample being investigated. The probe volume excludes signals from everywhere else from the sample and with that gives an experimenter the ability to specifically select sites of interest in a sample. This capability allows you to be able to not only know chemical information of the sample but also be able to know the particular position of interest. In this regard, you have a non-destructive probe that gives you a composition vs depth analysis and the sample does not need extensive sample prep to be analyzed since you can selectively look underneath the surface. What we have been able to achieve with our setup is eliminate the energy dependence which affects the depth resolution for different metals.
How has your background influenced your scholarship?
I am originally from Ghana where my interest in STEM has vastly evolved from what I could have possibly imagined as a kid. Though most of my initial schooling had been purely abstract, I found out that having the hands-on/practical experience made it more interesting. As a result, I gravitated toward being an experimentalist through the various work experiences from my involvement in research labs.
What else has influenced your thinking as a researcher or scholar?
Mentors. I am fortunate to have good mentors who have shaped my academic career so far. I would say that the greatest influences are from my co-advisers Professor Joel Brock and Dr. Arthur Woll, a senior staff scientist at CHESS. My research career has been directed by their advice and feedback from the seemingly mundane aspects of research to the milestones that I have been able to accomplish through my program. I'll also like to give a shout out to the residents who lived with me during my time as Graduate Resident Fellow at Flora Rose House on West Campus. In performing my duties as grad residential advisor, I learned so much about myself through our insightful and not-so-insightful discussions and interactions.
You're one of six doctoral students to receive a Commercialization Fellowship under the College of Engineering. Congratulations! Can you tell me a little bit about the technology you'll be developing during this fellowship?
The technology that I will be developing is directly related to my research with CXRF where I hope to explore commercialization opportunities in the marketplace for a scanning probe x-ray microscope. The optic that we have developed enables high depth resolution and a non-destructive way of obtaining the composition vs depth information of layered materials. Depth resolution gives us is the ability to tell the physical separation of thin layered materials. In some industries knowing this information and being able accurately quantify it is a critical part of their manufacturing process. The advantage of the setup is that, with a non-varying resolution, when probing a multi-elemental (or heterogeneous) sample you are able to get a more accurate measurement for different elements. It is my goal to find a way to translate what I have to something useful for a customer.
What are you most looking forward to about the fellowship?
I am excited and curious to explore what opportunities are out there that my research would be applicable to. I do have a set of ideas that I plan to work on and explore. I also expect to find more ideas through the program that I may not have given consideration to otherwise. In addition, I look forward to putting on a different hat which requires a certain level of skill in talking to customers, understanding their needs, looking the application landscape through the lens of that of a potential customer. I am therefore looking forward to being able to learn and apply these skills and over the course of six months.
In what ways will the work you do during this fellowship improve or expand your scholarship?
Rarely do good ideas alone end up being something successful commercially. There are a lot of factors that goes into play in supporting an idea and that is what I am exploring now through the fellowship program. I have actually started looking into market identification strategies which will then lead on to developing building customer relationships. As a researcher, this is a whole new way of looking at my work compared to what I have been doing so far in my program and I believe that these are valuable skills. The direct implications of our work should be accessed not only within the confines of academia but also though society as a whole and this impact can be in various forms such as commercial, environmental and societal. I am also eager to learn how to communicate well to people outside my field, understand how my work fits within the broad spectrum of opportunity and being able to develop skills in accessing the potential of a market. These are skills that I do hope to develop over the course of the program which would be useful even when I am done with schooling.
Why did you choose Cornell to pursue your degree?
I spent the summer after my junior year as an REU (Research Experience for Undergraduates) with the Nanobiotechnology Center at Cornell and that was my first hands-on experience with research. I worked in the lab of Professor Carl Batt and was fortunate to be mentored by a group of very supportive graduate students and postdocs. At the end of that summer, I was convinced of my decision to pursue grad school. The actual decision to come back to Cornell from the schools I got accepted into was not too hard to make since I liked the environment, the available resources and I wanted to be a part of the graduate school culture here at Cornell.
What's next for you?
My next milestone is looking forward to wrapping up and graduating. My original plan was to go into industry or a National Lab after I graduate in some capacity as a researcher. With what I am learning so far in this fellowship program, I am also exploring other trajectories which can present equally exciting career opportunities. I'm hopeful that this experience would lead to shaping up what I would want to do after am done with my program.
Any advice for incoming graduate students?
Take time to enjoy the experience outside the lab or classroom because that is the icing on top of your studies in grad school. There are lots of opportunities on campus as well as in the greater Ithaca community. Do not shy away and use those opportunities to learn new things about yourself. Time, as you will come to realize, moves at both a fast and a slow pace. It is important to know how to adjust your stride accordingly to match the pace you are in so that you can manage your affairs better and keep your sanity.
Interview by Sally Kral, communications and outreach assistant in the Graduate School