Student Spotlight: Elena Guzman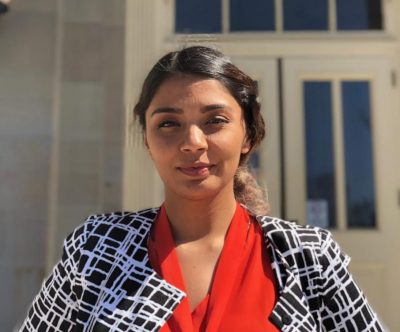 What is your area of research?
I am a Ph.D. candidate in the Department of Anthropology and I am currently writing my dissertation. My work is concerned with the ways art, media, and performance are used by marginalized communities to make meaning in the world and how the arts are used to illuminate disenfranchised voices. I am also a visual anthropologist and use film and photo as a part of both my practice inside and outside academia.
My research broadly focuses on performance, race, nation, and citizenship in the Caribbean. I conducted my fieldwork on the border of Haiti and the Dominican Republic. My research looked at the way that Haitians and Dominicans were reimagining the borders of their nations through performance. This includes public performances such as Carnival celebrations, Dominican Independence Day, Haitian Flag day, and the Rara festivals that happen throughout Haiti and its diaspora communities during the time of Lent. I found that these performances were one of the ways that Haitians and Dominicans in the border regions were able to dialogue with their nations and also reimagine and push the boundaries of their relationship with one another through cross-border exchanges and networks.
What inspired you to choose this field of study?
As an undergraduate I was drawn to anthropology as a field because it allowed me to center the voices, stories, and experiences of people. Anthropology allowed me to explore questions around my own identity and who I was in relation to the people around me. As an undergraduate I did research on Afro-Puerto Rican Bomba, a musical and dance genre. In this research, I argued that Bomba was a vehicle people were using to explore and engage in their Afro-Puerto Rican identity. This research led me on a journey in which I became invested in understanding how music and art could be used to think through and negotiate identity and history along with other cultural and political phenomenon. My research on the border builds on that line of inquiry by valuing the role the arts and creative expression plays in people's relationships to their nations and government; Art then becomes explicitly connected to politics and activism, allowing people to become active agents in their nation-states.
Why is this research important?
This research is important for different reasons but what inspires me to keep doing this work is that it allows me to use anthropological tools and attention towards people's experiences and the complexity of everyday life. For Haiti and the Dominican Republic this is essential because these two countries have a complicated history with each other. While the narrative often focuses on the tension between the two, my research seeks to add nuance to the conversation by highlighting the significant experiences of racism, violence, and xenophobia while also showing how people are not simply passive participants within these narratives and actively seek to reimagine these experiences.
How has your background influenced your scholarship?
As a Puerto Rican women of color and a first-generation college student my work is explicitly invested in highlighting and elevating narratives and experiences that are often erased or marginalized. In my life, I create and form kin through my identity as a Caribbean "diasporican/nuyorican" and my research follows this closely. My praxis is also invested in the notion of "lifting while you climb," thus mentorship is a crucial part of who I am as a scholar.
I understand you recently received a Mellon Mays dissertation writing grant. Congratulations! How did you learn about this grant and what was the application process like?
I'd first like to start off by saying how important Mellon Mays and other programs like McNair are for students because they seek to address the disparity of first generation and underrepresented minorities in academia. These programs are crucial and necessary.
This dissertation grant is one designed specifically for students who were a part of the Mellon Mays Undergraduate Fellowship. I participated in MMUF as an undergraduate at Hunter College CUNY and this program has supported my journey through the entire Ph.D. process. The dissertation grant is one of many programs Mellon Mays has to not only address the disparity of underrepresented minorities in academia but to retain those students and support them during the Ph.D. process so they can become faculty and address the disparity of underrepresented faculty.
What opportunities will this grant provide for you that you perhaps wouldn't have had access to otherwise?
This grant will allow me to continue to refine and write my dissertation. It also gives me the opportunity to do additional research and focus fully on writing.
Any advice for other graduate students interested in applying for grants or fellowships?
The grant writing process at any stage of the degree is such an arduous task. My main piece of advice is to find a community of people who are willing to give you feedback and help you refine your proposal. This not only includes your committee but also your colleagues, friends, and family. Each person will offer a different perspective that will only serve to better your writing and thinking on a topic.
What's next for you?
Dissertation writing! My goal is to finish by next year and move on to the next stage of my career. I will be applying for postdocs and faculty positions to keep moving forward with my research, art, and mentorship.
Interview by Sally Kral, communications and outreach assistant in the Graduate School