Student Spotlight: Aspen Russell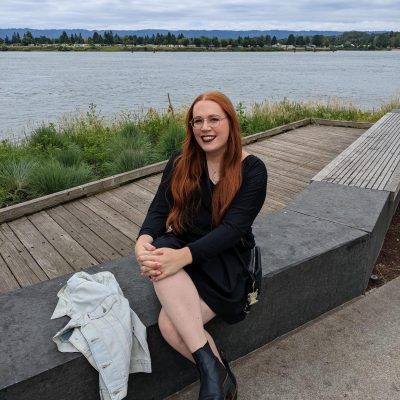 December 19, 2022
Aspen Russell is a doctoral student in information science from Hillsboro, Oregon. She earned a B.S. in computer science from American University and now studies the relationship between what a platform is, how it affects users, and the resulting interactions under the guidance of Natalie Bazarova, Karen Levy, and Drew Margolin.
What is your area of research and why is it important?
Do you ever wonder why the internet feels so toxic? Perhaps you have a great time, but there is a lingering, negative feeling toward the platform itself? I study the relationship between what a platform is (Reddit or YouTube or Twitter), how platforms affect what you are able to do (affordances), and the resulting interactions that occur. I have ongoing projects that codify responses to hate speech and harassment, the politicization of science on YouTube, and the labor of queer beauty vloggers. Each project points to inequitable user experiences and how platforms must shift to provide healthier spaces to congregate.
What are the larger implications of this research?
Essentially every person who wants to participate on social media can. That's billions of people around the world. As the internet has become more and more centralized around five websites, we need to be cognizant of how these platforms shape our connections to each other. Not only are we choosing to communicate on social media, but we are increasingly required to. Research about the implications of governance, moderation, and peer-to-peer conversation is vital to not only democracy and free speech, but, in a more grounded way, as a safeguard against mechanisms that can harm our relationships, such as misinformation and toxic speech.
Why did you decide to become a mentor with the MAC Mentoring Program?
During my first year as a Ph.D. student, I joined the MAC Mentoring Program as a mentee. As a first-generation scholar who grew up low-income and has various identities not represented in academe, it was pivotal to receive mentorship support. Moving into my third year, I feel I have reached a level of competency about the knowledge generation process and navigating the university that I would be well set to give back. A quote from a colleague years ago still speaks to me: "a hand up and a hand back." Hands up help you; they provide support. Hands back make sure we are bringing each other along.
Why is it important for students to participate in peer mentoring programs?
Mentorship is important for two reasons. First, academe was not built for marginalized scholars. Second, if we are to persist we must be tapped into a network of support. Having peers as mentors provides a bridge between the mentorship provided by your committee and the lived reality of being a Ph.D. student. What I have personally found validating is seeing women, queer people, and disabled people senior to me succeeding. It fundamentally changes my relationship to who I am in academe and has been pivotal in redefining what impact I want to make in my next career.
What are your hobbies or interests outside of your research or scholarship?
When I am able to take a day off and rest, I immediately feel myself drawn to writing. A conversation can spur a blog post, a scenic vista manifests as a poem, and returning home can turn into a chapter of fiction. I have also made incredibly meaningful friendships during my time at Cornell. This semester we have enjoyed live music, apple picking, and cider tasting together!
Why did you choose Cornell to pursue your degree?
I was the first student at American University to major in both computer science and women's, gender, and sexuality studies. While this was exciting, when I turned to Ph.D. programs it was incredibly difficult to find where I belonged and could succeed. Information science programs are an ideal fit and Cornell is top in the field. I was particularly excited at working with Natalie Bazarova, who runs the Social Media Lab. From a practical level, Cornell is an Ivy-League university, which is fully-funded and provides unprecedented opportunities when you graduate.