Student Spotlight: Hannah Cole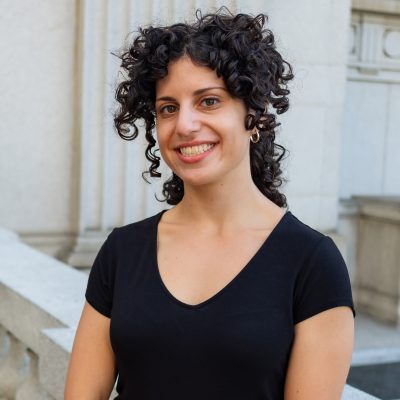 August 16, 2021
Hannah Cole is a doctoral candidate in comparative literature from Glastonbury, Connecticut. After attending Brown University as an undergraduate, she chose to pursue further study at Cornell due to the freedom to explore interdisciplinary interests through the comparative literature program as well as its faculty.
What is your area of research and why is it important?
I study representations of plants in 20th-century Caribbean literature, working with texts in English, Spanish, and French. In particular, I focus on the relationships that people build with the "weeds" that live at the edges of monoculture farms, because these native and nonnative plants can offer richer material and symbolic resources for human communities than cash crops. By tracing the roles of particular species in literary works, I show their significance in local botanical imaginaries.
What are the larger implications of this research?
The history of Caribbean islands is often told simply as a story of the plantation. While I acknowledge the significance of the plantation system in shaping Caribbean economies, cultures, landscapes, and populations (both human and nonhuman), my research complicates that narrative by showing how monoculture has never been complete. Understanding the ways that people have forged relationships with nonhuman life outside of the plantation makes space for stories of maroonage, ingenuity, and survival. These diverse knowledges provide clues for imagining how people and plants might live together after monoculture has been rendered obsolete.
What have you learned about digital approaches to scholarship as a 2021 Summer Digital Humanities Fellow?
The Summer Digital Humanities Fellowship exposed me to a broad range of digital methodologies and software tools for engaging with literary texts in novel ways. In particular, I learned how to clean the messy data gleaned from humanistic sources in preparation for analysis and visualization, recognizing that this preparatory stage is often one of the largest components of any digital humanities endeavor. Watching my colleagues' projects grow over the course of the summer inspired me to learn more about their digital approaches, which ranged from mapping to topic modeling to text analysis.
How will you take what you've learned over the summer and apply it to your research going forward?
I will continue expanding my website as a complement to my dissertation and as a public-facing mapping project. I plan to draw the insights gleaned from my data visualization into my close readings of the literary texts. I also intend to experiment with topic modeling as a way to make the method of reading I have developed more accessible to other scholars.
What are your hobbies or interests outside of your research or scholarship?
Outside of my research, I love all things bike-related, especially gravel biking, mountain biking, and bikepacking. I currently volunteer with Bike East Bay and the Mount Sutro Stewards.
Why did you choose Cornell to pursue your degree?
Cornell's comparative literature program has offered me freedom to explore my interdisciplinary interests in literature, ecocriticism, and digital humanities along with intellectual guidance and support from experienced faculty members. I am grateful to my inspiring community of colleagues and mentors.