Student Spotlight: Jumana Badar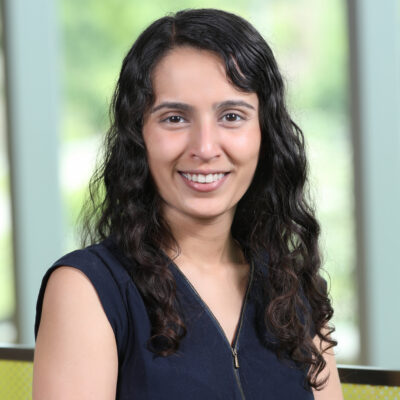 June 20, 2023
Jumana Badar is a doctoral candidate in biochemistry, molecular and cell biology from Mumbai, India. She earned her B.S. from St. Xavier's College and M.S. from SUNY Buffalo and now studies replication stress response under the guidance of Marcus Smolka at Cornell.
What is your area of research and why is it important?
DNA replication is a fundamental process that ensures faithful duplication of genetic information which is passed down to daughter cells.
Impediments to DNA replication, collectively termed replication stress, threaten the genetic integrity of the cell and can result in cell death.
Over the last few decades, scientists have figured out how cells respond to replication stress and safeguard genetic integrity. But we still don't know what happens once the replication impediment is removed. My research focuses on elucidating the molecules that enable cells to recover from replication stress, resume DNA replication, and continue proliferation. Through my work, we will gain a broader understanding of replication stress response, an important process for all actively dividing cells.
What are the larger implications of this research?
Highly proliferative cancer cells have an unstable genome and experience more replication stress than healthy cells. Cancer cells rely heavily on replication stress responses to tolerate high levels of replication stress and proliferate. Several chemotherapeutics exploit this dependency but have severe side effects. Hence, it is crucial to broaden our knowledge of replication stress and identify new druggable targets that can reduce chemotherapeutic toxicity.
Through my work, I hope to identify and target novel proteins in the replication stress tolerance pathway and open the doors for new and improved anti-cancer drugs.
What does it mean to you to have won the Harry and Samuel Mann Outstanding Graduate Student Award?
This is a highly competitive award given to a graduate student with exceptional scientific and personal communication skills. I am honored and humbled to be chosen as this year's recipient. I would like to thank my advisor, peers, and friends for their support that helped me become a better scientist and an effective communicator.
What will this award allow you to do that you might not have otherwise?
This award will enable me to seek out opportunities to gain new skills and exercise the ones I already have. This award gives me the freedom and resources to explore non-academic career opportunities. Additionally, I get to travel and discuss my science with brilliant scientists from all over the world. I also have the ability to collaborate with like-minded individuals to improve and expand our outreach and community engagement efforts.
What are your hobbies or interests outside of your research or scholarship?
I enjoy learning so I am always trying something new. Last month, I was really into art history. Right now I am learning Arabic, exploring Persian cuisine, and taking hip hop dancing classes.
Why did you choose Cornell to pursue your degree?
I almost didn't come to Cornell because Ithaca was too small for a big city girl like me. I changed my mind because Cornell offers an unparalleled sense of community, collaboration, and cooperation. Additionally, the breadth and quality of research here is outstanding.