Student Spotlight: Lara Fresko Madra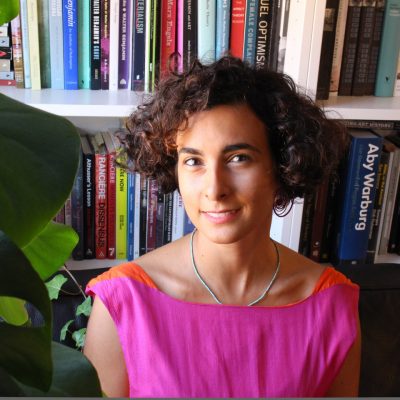 July 17, 2020
Lara Fresko Madra is a doctoral candidate in history of art, archaeology, and visual studies from Istanbul, Turkey. After earning a bachelor's degree in cultural studies and a master's in comparative literature, she chose to pursue further study at Cornell for the ability to use her professional experience as a writer and curator while working on contemporary projects.
What is your area of research and why is it important?
In the face of the current ethical urgencies caused by a long history of modernization, colonization, and racial capitalism, my project looks at the history of artistic practice through a lens that challenges the distinction between the aesthetic and the political.
My dissertation, tentatively titled Heterochronic Imagination and Historiography In Contemporary Art from Turkey (1990-2020) is an analysis of the manifestation of violent pasts and their continued reverberations in contemporary art practices from Turkey. Examining works by seven artists, I ask after how the last three decades of contemporary art from Turkey has reflected upon the tumultuous history of the country, from the transition from Ottoman Empire to the Republic in the early 20th century, to the following waves of constitutive violence. Imagination is an important category for me in looking at art practice and I'm interested in the shifts in how histories of violence are regarded in the present and how a shift in our perspective of the past can inform our present and future imaginaries.
What are the larger implications of this research?
Though my dissertation is specifically about contemporary art from Turkey, I treat artistic practice as a realm of intellectual history; not a simple space of representation but, more importantly, an interface for thought and reflection. I think that has global implications because among other things, it brings to fore an artistic methodology that attends to the dynamics of continuous practices of violence in forming the present and the future.
What inspired you to choose this field of study?
Before I came to Cornell I had spent half a decade working as a curator and writer in contemporary arts in Istanbul, my hometown. In that time, I was also politically involved and witnessed many modes of interaction between these two spheres of my life. I set out to better understand the different modes of doing and making and how their interactions had the potential to expand our field of vision and other sensibilities; particularly our sensibilities about how the past is written and how it resonates in the present.
What does it mean to you to have received a Newcombe Fellowship?
Doing a Ph.D. is a long, lonely process. A completion fellowship like the Newcombe gives you a sense of seeing the light at the end of the tunnel. It is such a privilege to have the time, security, and calm of mind to focus on writing, towards that light.
I must also say that I am grateful to the Graduate School for supplementing the fellowship with the student health insurance plan (SHP).
What will this fellowship allow you to do that you might not have otherwise?
I'm looking forward to writing at a faster pace because there will be fewer distractions like teaching, grading, advising, and other administrative tasks. I loved teaching while I worked on parts of my dissertation. It contributed a lot to my own work. If I were teaching a writing seminar, I'd feel like I was learning to write anew with them. If I were teaching a lecture course, there was always a moment where I'd find the answers to my writing problems in what I was teaching. But I think at this later stage in the process, it will be great to have the time to just focus on one thing.
What are your hobbies or interests outside of your research or scholarship?
I really enjoy cooking. COVID-19 also has me meditating and reading a lot more fiction.
Why did you choose Cornell to pursue your degree?
Academically, the field of art history at Cornell was one of the few places that appreciated my professional experience as a writer and curator. It was also welcoming of contemporary projects, where the academic work and writing is in conversation with current art practices. It's very cutting edge in that respect.
Personally, I grew up in Istanbul, where right before I applied to graduate school I witnessed (and participated in) the Gezi uprising. It was an exhilarating but also overwhelming time, and the counterrevolution that followed made the city—and the country in general—quite suffocating. Ithaca was a retreat for me, where I could live at a slower pace, enjoying the stars at night and the many different kinds of snow during the day, of course while spending the time in between at the library.