Student Spotlight: Matthew Law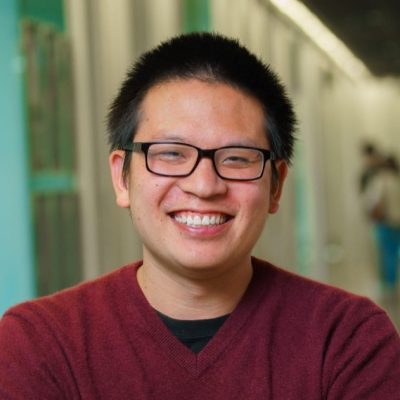 November 21, 2022
Matthew Law is a doctoral candidate in information science from Moorestown, New Jersey. He earned a B.A. in philosophy at Georgetown University and a B.S. in computer science from the University of Maryland Baltimore County and now studies how robots can help humans make creative decisions at Cornell under the guidance of Guy Hoffman.
What is your area of research and why is it important?
I study how robots can help humans make creative decisions when designing. Our robots use physical materials, like wooden blocks or paper notecards, to communicate ideas with human users. For example, one of our robots works with humans to organize ideas written on notecards into thematic clusters. Robots can employ scalable computational methods that complement human experience and intuition for design problems. For example, a robot might search for and evaluate many alternatives to a human's initial design. Since humans frequently think with their hands, interacting with robots through familiar materials offers an accessible interface to these benefits.
What are the larger implications of this research?
Human-robot collaboration is commonly used for physical tasks like fabrication or surgery. My research seeks to extend this knowledge to support cognitive and design activities. Many everyday problems involve complex design choices–for example, planning a class schedule involves managing constraints, balancing requirements and personal goals, and making decisions on partial information. I believe that affordable, desktop-scale robots offer a completely new way to think about supporting design activities with technology, building on existing and familiar material practices, like affinity-diagramming, to help people reflect on their choices, consider alternate opinions, resolve areas of uncertainty, and document their work.
Why did you decide to become a mentor with the MAC Mentoring Program?
I learned a lot of things as a Ph.D. student through trial and error and wanted to use my experiences to help others navigate challenges that I've learned are quite common among students, like dealing with imposter syndrome, making the most out of your relationship with your advisor, or choosing a research question. I also wanted to grow myself as a mentor and learn more about different academic cultures and experiences. Students in the MAC mentoring community span academic disciplines and the breadth of their experiences has really expanded my perspective on mentorship and academic life.
Why is it important for students to participate in peer mentoring programs?
Relationships are an important part of academic life and doing a Ph.D. can sometimes feel quite solitary. Participating in peer mentorship programs is a great, low-risk way to find and build support networks that offer community and resources. There are also a lot of hidden curricula in navigating a research career, and peer mentorship is one way that students can work together to help each other overcome this. Finally, serving as a mentor is a great way to learn about and develop effective mentorship practices and philosophies.
What are your hobbies or interests outside of your research or scholarship?
I have been slowly learning how to draw cartoons and have been incorporating this into how I teach and communicate my work. I also have four cats and like to play tennis badly with my wife.
Why did you choose Cornell to pursue your degree?
I was really attracted by the unique way that Cornell's field of information science values creative and human-centered work. Our field has a genuine commitment to understanding the human side of technology through multiple, cross-disciplinary lenses. This provides the opportunity and resources to pursue ideas in creative and multi-faceted ways.