Student Spotlight: Tinyi Chu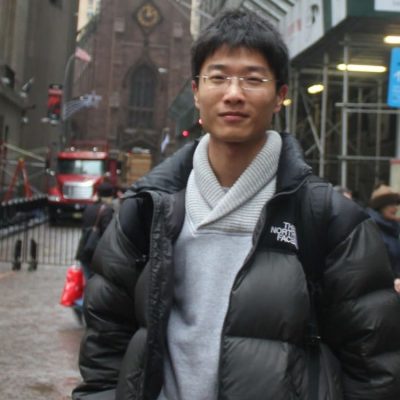 April 1, 2019
Tinyi Chu is a doctoral student in computational biology from Hong Kong. After studying at the Chinese University of Hong Kong, he chose to pursue a Ph.D. at Cornell in part due to the interdisciplinary approach to graduate study and collaborative environment.
What is your area of research and why is it important?
My research lies on the interface between information science and cancer biology. In Prof. Charles Danko's lab, I lead the development of computational tools to study glioblastoma, an aggressive brain tumor currently with no good treatment options. We ask how genes are turned on/off by a group of molecular switches known as transcription factors in the context of glioblastoma. Through statistical analysis, I discovered that the transcription factors in glioblastoma work as coordinated programs, and three immune program-related transcription factors are predictive of poor prognosis, highlighting the importance of the immune microenvironment in these tumors.
What inspired you to choose this field of study?
As an undergraduate, I was trained as a structural biologist and became fascinated by the beauty of mathematics used to solve the protein crystal structures from x-ray diffraction patterns. Ever since then, I started thinking about how math can be used to quantitatively understand biological systems. Rapid advances in the sequencing technology generated an increasing amount of data for various biological systems. These data encode enormous amounts of information, in which only a tip of the iceberg has been discovered. I believe that there will be more things math can do to help us understand the biology of various diseases by deconvolving information from these data.
What does it mean to you to have received the Hsien and Daisy Yen Wu Scholarship?
First of all, I think being awarded with the Hsien and Daisy Yen Wu Scholarship is an acknowledgement of my academic achievement as a graduate student. It greatly encourages me to take the leap and further my research to ultimately help cancer patients. More importantly, through this scholarship I have learned the inspiring story of the Wu family, who not only pioneered in scientific research as first-generation Chinese scientists, but also made substantial donations to the society and the Cornell community. Their son, Ray Wu, a distinguished professor at Cornell, used his own savings to organize a series of symposiums and exchange programs to promote the interaction among the scientists in China and the U.S. Deeply moved by their story, I believe that I shall also make efforts to contribute to the Cornell community and the scientific community in the future.
What are your hobbies or interests outside of your research or scholarship?
I enjoy playing the piano, especially the works by J. S. Bach. There is a fundamental connection between the harmonic theory in music and the measure theory in mathematics. Bach's works present the uttermost beauty out of these theories. I also love cosmology and star-gazing. I am very impressed by Ithaca's dark sky near the area of the Hartung-Boothroyd observatory, where the Milky Way galaxy becomes clearly visible to the naked eye in summer. I am also a trained table tennis athlete. I have a ping-pong table and a table tennis robot set up in my condo.
Why did you choose Cornell to pursue your degree?
First of all, I found that my prospective graduate program, computational biology, provided a very flexible coursework requirement. This turned out to be very important, as it allowed me to explore many of the great courses in mathematics, statistics, and computer science, and then to integrate them into my interdisciplinary research. Secondly, the friendly and collaborative research environment within and among labs also attracted me here. Lastly, the quiet and beautiful campus made me decide that Cornell was the place that I would like to spend my next several years to focus and do my Ph.D. research.