Graduate School Consolidates Professional and Career Development Listings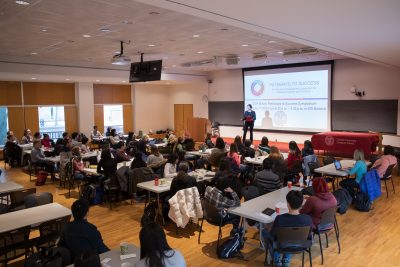 In a context complicated by uncertainties associated with the novel coronavirus, Cornell's graduate students have sought guidance about how to navigate academia, build transferable skills they need for a future career, and find community, but they have not always known where to turn. To consolidate career and professional development resources within the Graduate School and across Cornell, the Graduate School launched a new section on its website describing related offices, programs, and a calendar of events.
"Graduate and professional students often explore careers inside and outside academia simultaneously. Developing a central presence for all academic, career, personal, and professional development opportunities will make it easier to move seamlessly across Cornell's many offerings," said Barbara A. Knuth, dean of the Graduate School.
Included among these is Future Faculty and Academic Careers, the new name for a Graduate School program that has been helping students and postdocs become faculty since 2012; the Graduate School's Careers Beyond Academia, which supports doctoral students and postdoctoral scholars interested in industry, non-profits, entrepreneurship, government, or NGO; and the Office of Postdoctoral Studies, which supports graduate students interested in postdoctoral opportunities and postdoctoral scholars interested in faculty positions.
Cornell Career Services also provides career development for graduate and professional students. Here, students can get feedback on application materials, attend workshops, and find assistance on the job search from start to finish.
In response to the pandemic, Graduate School staff have pivoted to offer new rapid-response programming and opportunities for online programs and appointments about everything from finding motivation during crisis to beginning the job search.
"Appointments right now are even more important, as they allow me to connect with graduate students and postdocs and help them navigate their futures, brainstorm, or just listen to them talk about their concerns and issues," said Christine Holmes, director of postdoctoral studies. "Now more than ever I think that it is essential for all of us to connect and support each other."
Even while operating remotely, two of these offices are offering an Academic Job Search series online beginning in June. Open to all graduate students and postdocs, the series will be conducted entirely online.
For more information on the Graduate School's full suite of academic, career, personal, and professional development programs and other opportunities across the university, visit the new Career and Professional Development webpage.
Related: